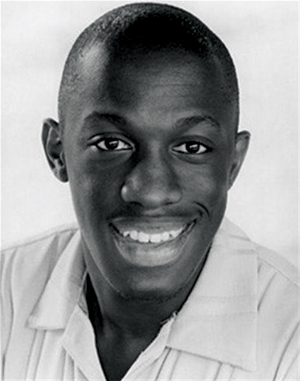 July 15 marks an historical occasion in British theatre. It is the first day of Walk in the Light; a week long festival honouring 50 years of black artists within the industry. Taking place at the National Theatre, the audience is invited to participate in a series of fascinating discussions with Britain's acting elite. And it is all down to one man and his big idea. Giles Terera is an actor, musician and documentary maker, but today the sole topic of discussion is his celebratory brainchild. Passionate, insightful and deeply appreciative of those who have paved the way for artists such as himself, it's a topic Terera has a great deal to say about.
How would you describe Walk in the Light?
I would describe it as a celebration of the achievements and contribution of black artists in British theatre. I came up with the idea at the end of last year and I put it to the artistic director of the National Theatre, Nick Hytner, and he was really excited by it. He put me in touch with Angus MacKechnie who's the festival producer; he does all the platforms during the summer. Angus had had a similar idea that was broader, because as he pointed out, there's lots of people. There's lots of stories and there's lots of years to cover. We had some meetings and it's grown into what it's become now which is a weeklong series of events.
Is a week long enough?
It's never long enough. It's 50 years so there is a huge amount of individuals and work and theatre companies, plays, characters, stories. There's a huge amount to cover! But we'll do our best!
The number of artists participating is phenomenal. Was it difficult to get people on board?
It's an ongoing thing to make sure that everyone can be there, but I think it's something that everyone recognises needs to be done. We're aware of so many other writers and performers but the people that we're talking about, the public at large may not be able to call to mind so easily their successes. So I think it's something that needs to be done so it's been fairly straightforward to make people aware of what the idea is and everybody has been incredibly enthusiastic.
You said the public at large aren't so aware of black artists and black productions. Why do you think that is?
I think things have been slightly shifting because of the efforts of the people that we're celebrating. But if you think back to the sixties and in the seventies it was difficult for black actors to get their work done and to be taken seriously. Getting good roles and not being marginalised was a struggle. Along with that comes a lack of coverage and acknowledgement within the media. I think there's more being written now and that's what we're trying to do; open up this subject and bring it to the attention of the public at large. It's not something, which is new. In sport, in politics in the arts, in everything, the contributions of black people don't get as recognised as the same actions from their white counterparts.
Walk in the Light has taught me a lot about people I didn't know and wasn't aware of. Hopefully if we can do that for other people, especially younger people then we'll have achieved some of what we set out to do.
You were born in 1976. Were there any actors that stood out for you growing up?
I never attended much theatre aside from seeing the yearly pantomime because it was expensive. I grew up watching films but it was people on television who I noticed most. So people like Lenny Henry and Gary Wilmot. There were actors; it's interesting that many of the older generation involved in the week you'd recognise from Eastenders or Casualty or Rising Damp but at the same time they were also forming theatre companies. They were writing their own plays, touring and trying to get their productions out there. So this was going on it was just that they had to struggle to get their works out to the public and there were obstacles, which they came up against. In fact this project has taught me a lot about people I didn't know and wasn't aware of. Hopefully if we can do that for other people, especially younger people then we'll have achieved some of what we set out to do.
Do you think the National has always been supportive of getting black British and African Caribbean works on the stage?
From what I can see no, not necessarily. I think in the seventies there was some question as to whether the kind of work that was being put forth was separatist or only for black people. But I think what's great about now is that Nick Hytner has been supportive. Not just of black artists also of Asian artists, Muslim artists, and so on - quite rightly as the National Theatre is meant to reflect the nation. It's been great and I think that's been why they've been so behind this idea.

Wasn't your first big break at the National in 1999?
It was, yes. It was the first thing that I did out of drama school. It was incredible and in fact that was where I got to work with in the space of one year; Don Warrington, Yvonne Brewster, Oscar James and so many other people. For me it was amazing. We were an ensemble of 50 actors and it was a dream really; I got to work with brilliant actors on brilliant plays in a brilliant theatre.
The individual events have titles such as 'In Discussion with.' What sort of format will the events take?
They'll be in the Olivier theatre and I'm chairing the first discussion, which is on Monday, July 15. There will be the artists on stage being chaired by a journalist or another actor and we'll be hearing their experiences and stories. The audience will also have the opportunity to ask any questions that they have. It's very much an interactive experience; the audience are as important as whoever is speaking. It's gonna be great 'cos the point is there's this wealth of experience of struggle sometimes or achievements which is useful. I say to drama students 'Come down for this week. You can learn a lot from these people.' Each one of these people has done writing, directing or acting and often all three and there's loads that can be learnt from that. It'll be fascinating to see through these artists what things have changed, what things haven't t changed, what things need to be addressed.
In your 14 years in the industry have you noticed any issues that need addressing?
Something which I've heard lots of actors talk about is typecasting in certain roles and then only being able to get so far with roles. It's one thing to say 'We will have black actors in this production' and quite another to say 'We'll have black actors who can play any role.' That's been a common thing that a lot of my peers have faced; you reach a certain level and can't go further which is why certain actors go to America or abroad for work because the roles available can be richer. I'm aware that things have got better in certain ways. I'm so glad to see more black writers putting on plays and more African black writers in the theatre. What I'd love to see is more black directors and people who run and programme theatres.
Why should people attend Walk in the Light?
I can speak for myself. I know that I will be richer for it. For me you are at your healthiest when you acknowledge where it is that you come from and are clear about where you want to go. Again for myself, to have a real understanding of what has come before me can push me on and help me going forward. It's not just about wanting to write a play or act in the theatre. What we do in the theatre is reflect what goes on in our society so it can only be a good thing if you hear the experiences of these people. You have people like Mustapha Matura and Carmen Munroe standing there going 'Ok. What is going on in our society now?' I think a theatre is probably the best place to be able to see what it was like to grow up in the fifties or sixties here - to come over from the Caribbean or Africa and make a life here. For me people should come and see it because they will be enriched by what has come before them and hopefully will be moved and inspired in their own lives.
Info: Walk in the Light is at the National Theatre from 15 – 21 July 2013. Book tickets
Related links