Doῆa Croll, The American Plan
Published:

Monday, July 8, 2013 1:51 PM

| Interview by

Gillian Fisher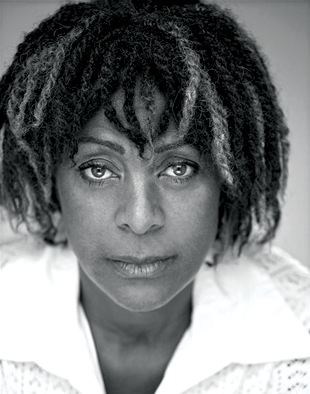 My preconception of Doῆa Croll has always been as something of a national treasure - an esteemed classical actress who has trodden the boards with the greats during almost 40 years in the business. That opinion is rather cemented when Croll arrives for rehearsals looking understatedly glamorous and reminiscing over 'no daytime rehearsals during Wimbledon' being written into RSC contracts.

Genuinely warm and outgoing as I speak to the actress about her upcoming play I somehow find myself discussing literature and the works of Tarantino. I find Croll incredibly adroit but also humorous with a natural flamboyance which comes across in her numerous roles from Doctors to Little Miss Jocelyn.

Currently playing Olivia in Richard Greenberg's The American Plan I am struck by the actress' expansive insight towards the American-Jewish community as well as her knowledge of a range of subjects. Croll is a truly fascinating and fabulous woman which goes to show that sometimes our preconceptions are absolutely right.
Can you describe The American Plan?
The play is about a young girl, Lily and her mother, Eva. Eva is old money, old Europe and got out of Germany just in time. It explores the neurosis that a lot of people felt in getting out of Germany. There's a whole survivor's guilt around the Holocaust. People who survived the concentration camps go through a lot of internal angst about it. Also Eva is very much European (affects snobbish pose). She doesn't start a meal with salad; that comes after the main. If she drops a diamond ring, it'll be there in the morning. (Laughs.) She comes up against two typical white Anglo Saxon Protestant boys and one, Nick played by Luke Allen has an affair with her daughter. But then when you scratch away at their stories they've got problems as well. It's a very American story.
What in the play is specific to the Jewish experience in America?
It's set in the sixties in the Catskills which is like the American-Jewish Butlins. It was a time when the Jews were excluded hugely from everything in America; the golf clubs and holiday retreats. They were all very WASP places so the Jews started places like the Catskills, which was a celebration of living the American dream. It was a time when the Jews were establishing themselves in America with their own banks and insurance companies. But people forget how it's only a 100 years since the Klu Klux Klan could march down the street with impunity. It was a bit like being a mason in England; nobody thought anything of it.
How does you character Olivia fit into the dynamic?
My character Olivia is a sort of companion to Eva, Diana Quick's character. Olivia, I don't know why the writer wrote Olivia. It's a very strange thing to say isn't it! (Laughs.) As an actor you can't always see what your character's function in the play is. She does help tell the story in that she's the bridge between the old world Eva and the daughter who's growing up in the new world. Because Olivia seems to be happy in either camp, she's not an equal but she's happy in either camp. If you've survived slavery you learn to be whoever they want you to be. That's a very subtle point but it's something I'm aware of in her relationship with Eva.
Have you struggled with portraying this character?
No, not really. I've had to struggle more with her movements than with anything else. It's the way she sits and the way she moves and the way she walks. I had to find a way for this character to move happily between either camp so she doesn't stand out. It's to do with elegance and poise. At one point Eva refers to Olivia as 'my maid' and essentially Olivia is the maid but she's more of a companion. She is the person who has brought up Lily; she gives advice and they have chats.
Would you describe Olivia as a typical 'mammy' figure?
I think that's a bit too simple. I remember during rehearsal the director didn't want us to have too much background and I pointed out that it's quite likely that she has her own children who she has had to leave to come and look after this one.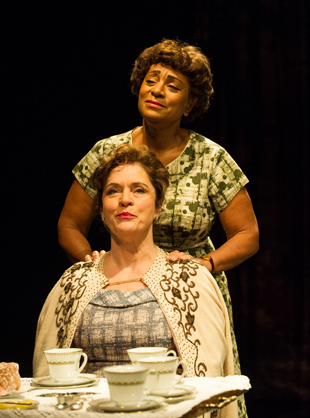 Have you read Kathryn Stockett's The Help which explored that issue?
A little simplistic I thought. It had never been done before; even now if it had been a first person narrative I doubt it would have been published. There are lots of slave narratives in America. There's one that I researched about a woman who hid her daughter in the roof of her cabin for three years. There were those kinds of stories but no one's made a film about any of those. (Laughs.) When I saw Django Unchained Quentin Tarantino was being interviewed afterwards and the audience were asking nonsensical questions. So I got up and said "There are a lot of slave narratives in America.
How much research did you do and did it shock you?"' And he said "No matter what violence and what cruelty you see in this film, there is a whole lot worse that went on and when you research it you realise how much slavery damaged everyone" And not just the slaves. If you remember Leonardo DiCaprio's character he's like a sun god. He owns everything; the land, the plants the people. Having that much power as a human being must damage you. For example do you think Adolf Hitler was damaged as a person?
Very much so. But I don't think he realised it until his power got taken away.
Exactly, that's exactly what happened in America. The power's been taken away from white people and you realise how damaged they've been. There's been a huge shift in America and I've witnessed it especially since Barack Obama has come in. That man has been so vilified in a way that no American president has been before.
What's your interpretation of the black experience in America during your own lifetime?
The black experience in America is different on so many levels to here. The blacks in America were always the minority so it made their experience very different to ours. Most people here are from the Caribbean so came from a place where they had always been the majority, unlike black people born in America. A black director friend of mine who went over to America couldn't get over the fear that black people had there. Like the Rosa Parks story; that happened many times before Parks made big news with it. It was done by many Caribbean blacks who went to America and were told to get to the back of the bus, and were like 'Are you crazy?' That subservient quality just wasn't part of their mindset
How do you think England is different?
The Caribbean experience in England is only about 50 years old. The black experience goes back to King John. You see paintings with trumpet heralds that are jet black from the 13th Century. In the 16th Century Elizabeth issues two edicts trying to get blackamoors out of England, but they were mostly Africans who were here. But the people who came over to England in a large number were from the Caribbean and again as they'd always been the majority back home they didn't consider themselves as 'other.'
What is next for you after The American Plan?
After this I'm going to Manchester to do All my Sons with Talawa Theatre and Don Warrington. I'm excited as this is only the second time I've done an Arthur Miller play. In fact the first was The Crucible; my very first job in theatre when I got my equity card, also in Manchester! But Don and I first worked with on Kwame Kwei-Armah's Elmina's Kitchen.
Why should people come and see The American Plan?
It's a great story, the writing is superb, the performances are fantastic, Diana Quick is brilliant and wonderful to work with. Great script, great company, great production. Come and see it.