Cush Jumbo considers herself to be a tryer and so far this personal trait has stood her in pretty supreme stead. Since launching her career in 2006 Jumbo has worked in both film and television being best known for playing Lois Habiba in Torchwood. Her impressive theatre credits include the Globe and the Royal Exchange where her portrayal of Rosalind in As You Like It won her the Ian Charleston Award. Now turning her hand to playwriting, Jumbo's debut play Josephine and I chronicles the life of music hall star Josephine Baker.

Speaking to the London artist about her inspirations for the play and her career thus far I find her enthusiastic and forthright. Extremely driven she appears to want to inspire this motivation in others. When I ask what she would like to do in her future career, Jumbo responds 'EVERYTHING.' To me that sounds daunting but incredible and I'm not entirely sure global domination isn't on Jumbo's to do list. One thing is for sure. Cush Jumbo is one actress and playwright who is going to give EVERYTHING a damn good try.
What inspired you to write a play about Josephine Baker?
I've always been interested in her as a child and as I got older I discovered more information about her, which I thought was fascinating. She has a mythic life; a Shakespearean kind of life and it seemed to me like a lot of people didn't have a firm idea of who she was. Not just my generation, but older people as well, and so I thought she'd be a great story to tell.
Can you remember how you were introduced to her as a performer?
I saw one of her films on Channel 4 when I was about seven or eight called Zouzou. It was a French musical with subtitles. I was a fan of old musicals and watched a lot of them but it was always very obvious that there was nobody in those films who looked like me. So seeing her starring in a movie not as a maid or a subservient character was very striking to me.
Were there any black actresses in Hollywood in the 1930s?
Not in terms of Hollywood no, and this is one of the most interesting things and why she is better known in France even though she's American. The movie industry in France was a completely different kettle of fish; there were black faces on the screen. That wasn't something that happened in Hollywood for a long time.
What format does the play take?
We cover the whole of her life, which is an epic journey in itself. The play's called Josephine and I and it parallels the life of Josephine and a modern day girl and what relevance Josephine has to that character.
Is the present day girl based upon you?
I don't think so. In terms of writing it maybe subconsciously. But no; I think she's just another person.
How did you research the role and was it challenging to find material on Baker?
No, it's been easy. I'd been writing the show for a couple of years before the Bush Theatre took it on so I've collected a lot of her stuff over the years. I've seen a lot of her films, listened to a lot of her music, read a few biographies and her autobiography but surprisingly there are hundreds of clips on YouTube of her dancing and her shows. It's one of the most incredible things about the internet when you're doing a show these days; everything is at your fingertips you don't have to go away and wait for the museum to open.
Is music a big part of this performance?
There's music and dancing in it. The show covers the whole of her life so from her being born in 1906 in St. Louis right up until she dies in 1975 so it's spanning quite a lot of different styles of music.
This is your debut play. How have you found putting pen to paper?
Well I don't think a pen was ever a big element in the process! (I rephrase to "fingers to keyboard") I've always been a big reader and I've always written poems, I just haven't published a play before. Me personally; I didn't find it strange to be sitting down and writing a play because I don't think of writing as being completely separate from being an actor. I think you go through a lot of the same processes; creating a character, looking at their journey, researching them and thinking about what a scene needs. It didn't feel like 'Oh God, I'm a writer now, I'm in writing mode' it felt comfortable, it felt like another facet of what I do. It is very exciting to be involved in the post production of it instead of just being an actor who auditions and comes in at that later stage. That's been a great learning experience.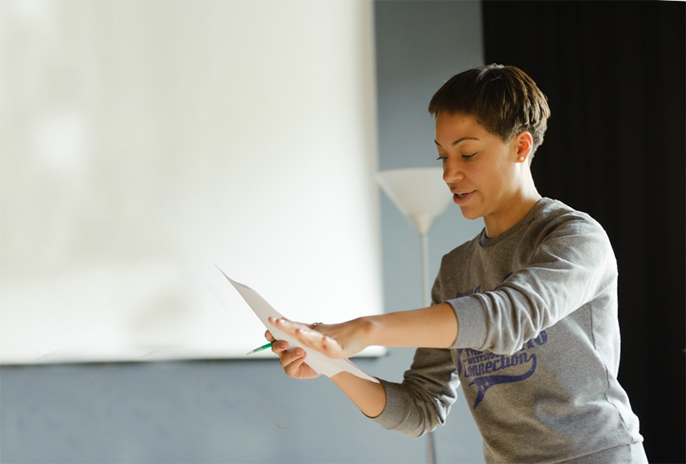 Do you come from an acting background?
My parents are good at acting, I'm not gonna lie! (Laughs.) But no, my parents are both psychiatric nurses. I suppose I come from a musical family, not because anyone plays the violin but both my parents sing around the house, they're both into lots of different kinds of music. They've always been supportive and encouraging of me; because what's most important to them is that we're all very happy in our careers. I think that they've had an experience where they've had to work very hard to survive and hold the family together so I think their big dream for their kids is that they do something that they love doing. There's no point in doing a job that you hate and you need to be doing a job for the right reasons. If you become an actor because you want to be famous or make money you're in the wrong job sweetie, 'cos chances are that will never happen. If you're incredibly lucky you'll be in work consistently but 70 per cent of the time that work won't be well paid and nobody will ever know your name. You've got to have a real love for it. Of course you have to pay the bills, but if you can teach your children that it's about them as a person it's not about who knows their name and how much money they've made you've done your job correctly.
Speaking of childhood lessons, you wrote a book called 101 Dance ideas for 5-11 year Olds. How did that come about?
It was a book that I co-wrote with an educational writer a few years ago. It was for P.E teachers and it was about encouraging them to incorporate more dance into their lessons. Apparently it does very well in the United Arab Emirates (laughs.) Dance was big part of growing up but not in a showy way. I started off doing a couple of hours on a Saturday when I was three or four and me and my big sister were quite good at it so by the time I was sixteen we were doing about eighteen hours of dance a week. But it was because we just really enjoyed it. We liked being part of a group and the discipline of it; I'm always encouraging parents to get their children into dance even if they don't want to be dancers. It's good for so many things; socialising, working as group, coordination and learning about how putting a lot of hard work in can produce a great product. To do something physically can be so much better for you brain than sitting at a table with a text book sometimes.
How did it feel being on the receiving end of the Ian Charleston Award?
Yeah, that was great. It was an award that I'd followed for a few years because it's for under thirties so it was the most age appropriate thing for me to win. It's something that makes you incredibly proud because it's for classical work and is supported by a load of other actors that are interested in the future of the theatre.
Do you have a preference for classical theatre or new writing?
Not at all, no. I've been lucky to play some of the roles that I have. A lot of them were my dream roles. Classical work is such a good experience but more than anything I just love to play interesting people, interesting characters and it doesn't really matter what era we are in.
What work do you see yourself doing in the future?
I see myself doing everything. Just everything. EVERYTHING; capital letters, full stop. (Laughs.) Somebody's got to do it, eh? I have some days when I say 'I can't' but I'm lucky I have people around me who tell me that I can. I don't know if I'm optimistic but I'm a tryer. There's always gonna people who give up and eventually somebody has to not give up and continue and I think I'm that person. Even if I don't succeed I'd rather have tried than not have bothered at all.
Why should people come and see this production?
They should come and see Josephine and I for multiple reasons. Firstly because it will be a great night out at the theatre. Second reason is that they'll find out about a woman who was known as the most magnificent woman of her time and if they don't know anything about her, they should. They should come and see it because it's something different; something that will surprise them.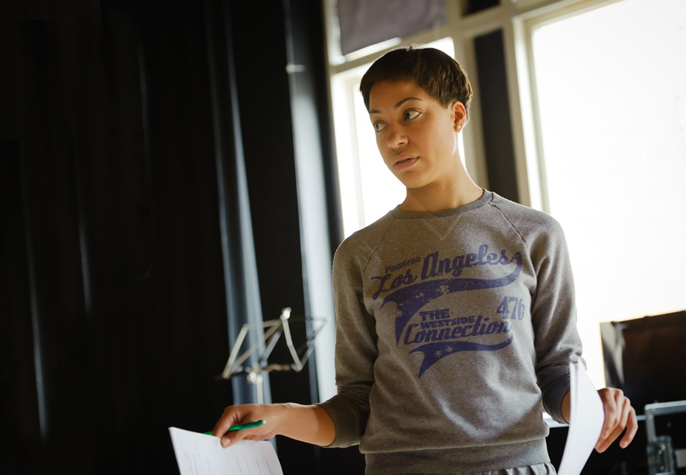 Info: Josephine and I is on at the Bush Theatre from 12 July to 17 August 2013
Related links
Win tickets to Cush Jumbo's Josephine and I at Bush Theatre
Read the Afridiziak Theatre News e-newsletter on Josephine and I