Vintage Star
Published:

Sunday, July 15, 2012 22:12

| Interview by

Karla Williams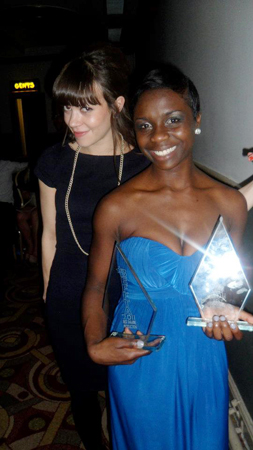 Vintage Star are an all female theatre company who first appeared in early 2011. Since then their sell out Soho Theatre show Conversations with Love was crowned Best Theatre Production in the 2011 BEFFTA Awards and their production Normal?, which explores the affects of mental health on siblings, has played as part of Oval's 33% Festival and the Happy Soul Festival in June 2012. They are now on their way to Edinburgh where Conversations with Love will play for a two week run as part of the Edinburgh Fringe Festival.

Afridiziak Theatre News caught up with artistic director Ann Akin, who wrote both Conversations with Love and Normal?, and producer Catherine Ashton to discuss the journey so far.
Who are Vintage Star?
Catherine: Ann Akin and myself founded vintage Star Productions, we're both professional actors who trained at Sylvia Young, The BRIT School and Drama Studio London. We combine physical theatre, music, voice and sign language to create inspiring and thought provoking performances. The harsh reality of this profession is that powerful roles and hard hitting work for females are few and far between. We want to empower and provide a new platform for the sometimes-unheard female voice.

Ann: Catherine and I have known each other since we were 16 and have always dreamed of running our own company and producing our own shows. So after 11 years of talking about it we decided to just take the plunge and do it.
And how did your first production come about?
Ann: We sent out a breakdown on Casting Call Pro for company members, as the original plan was to launch the company with the play Essex Girls by Rebecca Pritchard. I happened to be writing Conversations with Love at the same time and that play somehow managed to take over and change the course of our plans.
How would you describe your style of work – theatre or dance?
Ann: I think that our style of work is in some way the theatrical version of Lyrical dance. I've only created two shows to date both very emotive in their subject matter. But I love music and movement and I incorporate both into the work that I create and I think that I always will in some way.
What is Conversations with Love about?
Catherine: It's s a production consisting of a number of monologues about the different conversations one can have with love, told by five female cast members. Using love as the central theme it is a play that affects the audience in a very personal, reflective way.
And how was the piece conceived?
Ann: I had just come out of a situation that left me feeling fairly raw about love and I wanted to explore what I would say to love if it were personified. I wanted to create a piece that was intimately honest and challenging, reflecting the emotional turns that we all experience. When you are in or out of love it affects the way you speak, the way you move and music is also intertwined in your exploration of love. I interlaced the movement sections with sign language to give the piece an added depth of communication. I had never written for stage before, I only knew how to write poetry, so I just used what I knew and embarked on trying to create something that people may like.
You are now taking the show to Edinburgh – what prompted that decision?
Catherine: The show did so well in London and we had many people suggest to us that the show would do well in Edinburgh. We want the show to reach a wider audience so we decided that it would be a good decision to take the show to the Fringe Festival.
The show has previously played to sell out audiences in London – are you hoping for the same success in Edinburgh?
Ann: We would love to reciprocate the success that the show has already had because we really do believe in it and have worked very hard on it.
There will be lots of diverse, exciting shows playing at Edinburgh – why should people come see Conversations with Love?
Ann: Conversations with Love is an innovative, fresh and dynamic new exploration of our relationships with love. It has the power to make you laugh and then in a moment, can make you cry. Love is universal, so it's a show that appeals to everyone.

Conversations with Love will be playing at The Whitespace 11 Gayfield Square, Edinburgh EH1 3NT from 10th – 23rd August 2012 (excluding Tuesdays) at 8.20 pm. Tickets are £9/£7.
www.vintagestarproductions.co.uk
---
Related links
Afridiziak Theatre News review: Conversations with Love
Normal? at the Happy Soul Festival
Afridiziak Theatre News review: Normal?
Conversations With Love OFFICIAL TRAILER