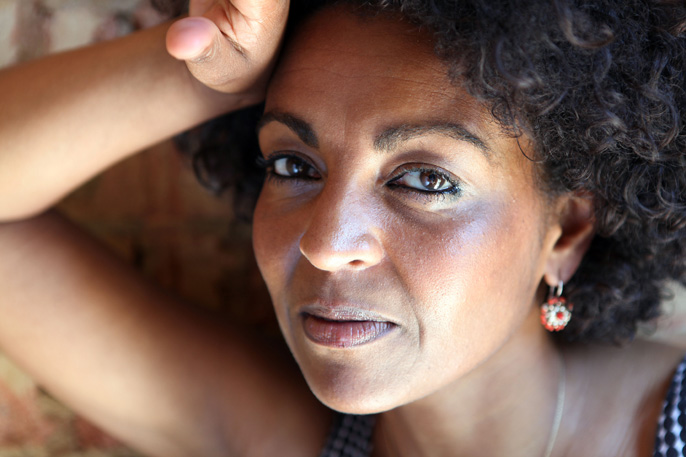 Adjoa Andoh is one of the best-known black British actors of our time. Having played numerous long running roles in family favourites such as Casualty and Doctor Who she is firmly established as a star of the small screen. But this woman's talents seem to know no bounds; she is also a patron of Fairtrade, a licensed Reader in the Church of England and is currently playing Portia in the Royal Shakespeare Company's production of Julius Caesar. Speaking to Andoh about her role she is full of intelligent reflection and is passionate about the wider significance of the production. Absolutely consumed with excitement for the work she is doing Andoh tells me to stop her if she rambles. I wouldn't want to stop this fascinating woman talking for a single second.
How is the tour of Julius Caesar going?
It's going fantastically well. I don't always rave about things I do, but I can tell you I'm so proud to be part of this play. It's a beautiful piece of work with fantastic classical actors that happen to be black doing a production that's set in East Africa which tells the story of Julius Caesar brilliantly. Julius Nyerere, the president of Tanzania called it 'The African Play' and he actually translated it into Swahili. It's the play that Nelson Mandela initialled when they had a complete works of Shakespeare that was smuggled into Robben Island under a prayer book cover. This play meant something really profound to people in extreme circumstances. It's so current and so significant in terms of what's happening in the world right now. You look at modern day Iraq or Afghanistan where you have these very charismatic, determined and quite dictatorial leaders, what happens when you get rid of these people? That's what the play is really about. This story has been told across the world and I think we'll see it in extreme ways. We'll particularly see it in countries that have been colonised for a long time and then decolonised and I'm not just talking about African countries. You saw it in the Balkans when they had the wars in the 90's too.
What does the African setting bring to the production?
We're really fabulous actors who can nail Shakespeare. I want all audiences to come and see it; it's a stunning production of Julius Caesar for anybody to come and see".
It brings a huge amount because the play explores the tensions involved when a nation is trying to work out what kind of country they want to be. This is the situation Africa as a continent is right in the middle of. Africa's been colonised for centuries and we're trying to find systems of political government that work for us. Whereas during the centuries that we were colonised, Europe was working all that out and they still haven't quite sorted it; Belarus is a one party dictatorship and that's right on our doorstep. So I think everybody is asking Africa to condense all those years of coming to a democratic process that Europe has had into 50 years. So when people say things like 'Oh, African leaders are so corrupt, blah blah blah' I just think 'No, we're not. We're amazing actually!' We've had so little time to work out how we're going to do things and overcome colonisation and try to sort things out in countries that have been traumatised by colonisers forcing tribes together who would never normally interact. There's so much to sort out.
How do you feel the situation is in east Africa at present?
I think things are working well in some cases and not so well in other areas. I'm one of the patrons for Fairtrade with Allegra McEvedy, and I recently interviewed a peanut farmer, a lovely woman from Malawi. Malawi in East Africa was created as a country to provide a workforce for colonisers so for years people have not been in control of their own economic productivity. So Fairtrade has been supporting peanut farmers by arranging time-shares, contract agreements, sorting out healthcare and so many amazing things. I think in partnerships with organisations like Fairtrade there are good news stories all across east Africa, but there are bad news stories as well. They're dealing with the ravages of war. I think it's really astonishing how thriving these countries are considering their history. Right now all this stuff that's coming out about the way the British treated the Kenyans when they were fighting for independence, the torture that went on, the physical abuse, the sexual abuse, the lies, the stealing of land, horrendous stuff and it was our marvellous democracy doing that.
How do you feel the Shakespearian language translates into an East African accent?
In terms of the Shakespearian language, the quality of English spoken in an eastern African accent is astounding. I'm from Ghana and it's not as posh or as clipped as a West African accent, the east African accent is sort of softer mellower sound. It works beautifully with the language and I think you can hear the language more clearly than you can in a Received Pronunciation accent. When you think of the accent Shakespeare would have heard his plays spoken in, it would have been West Midlands, a bit Brummie. I think there's music to Shakespeare that RP can completely neutralise. I mean when Shakespeare was writing his plays they were being performed outdoors, all sorts of ghastly screaming coming from down the road, the streets stank, there's all the noise of outdoors and people in the audience buying and selling bodies and food. So the plays had to be really arresting and that's all in the language and in the storytelling and our production is definitely a grab your attention production. I completely get the logic of why this play has been set in Africa. In Accra I've seen witchdoctors walking down the street with white stripes all across their body and it's as normal as seeing someone talking on a mobile phone. Shakespeare grew up in rural Warwickshire where people still believed in the Green Man and the old spirits in the land and there's a much closer connection with the earth that's still present in Africa. We've got the most amazing band of musicians from the African Diaspora and the whole play is being supported by the set and the music. One of our choreographers is now working on the Olympics, so it's really good quality cast and whole production team.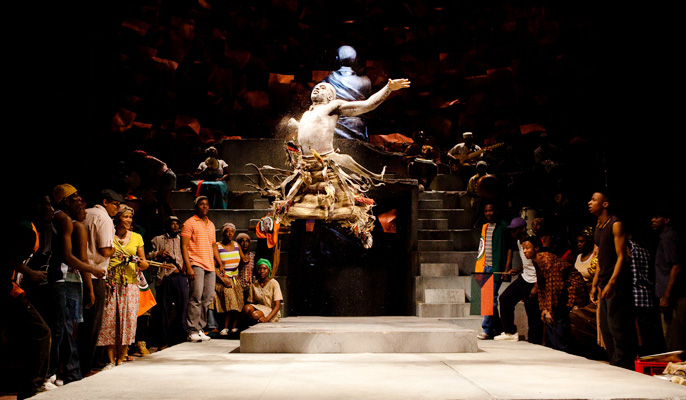 Do you feel this play symbolises the Royal Shakespeare Company taking a new direction?
Oh yes. One thing that's really exciting for me is that Greg Doran who's directing it has been appointed the new artistic director at the RSC and Julius Caesar is almost like a calling card or a benchmark saying 'This is what I'm going to do with Shakespeare and I'm going to energise him in this particular way.' That's already been happening in the RSC, there was a great production of Much Ado about Nothing with Meera Syal, and Paul Bhattacharjee and I recently saw Richard III performed with a fantastic Irish actor Jonjo O'Neille playing the role with an Irish accent and it worked brilliantly. I have to say I love not being the only black actor in a cast for once. We're noisy and we're funny and we're full of energy and we're also really fabulous actors who can nail Shakespeare and I really want a black audience to come and see this show. I mean I want all audiences to come and see it; it's a stunning production of Julius Caesar for anybody to come and see. I've spoken to so many people who did Julius Caesar for O level and it was so boring. I actually did it for O level in 1978 and I really hated it, but this production has completely rehabilitated it for me.
You often play very strong rather matriarchal roles. How does your role as Portia differ from that because I've always considered her to be quite a submissive character?
Well my Portia isn't let me tell you! I love playing as wide a range of parts as I can get. I remember doing Wire in the Blood where I was playing a woman with Munchausen by proxy, so she was basically killing her children and it was a very distressing character which was great to play. I love playing people who are a mess. For me the key to Portia is her relationship with Brutus. I read Plutarch's Julius Caesar, the story Shakespeare based his play upon and it explains that Portia and Brutus were first cousins. Her first husband died and she was supposed to marry another elderly gentleman to form political allegiances, but married Brutus as it was a love match. She was the daughter of the great spirit philosopher Cato who really believed in the democratic process of the senate. So Portia was a very political animal, she'd grown up in that household so when she and Brutus married it wasn't just love on a romantic level; it was love on a philosophical and political level as well. I don't have much stage time but what I wanted to reflect in that time was that this is a marriage of equals. She often talks about having a man's mind, but a woman's might. So that's my take on her.
Congratulations on making your Hollywood debut in Clint Eastwood's Invictus. Does America have a strong pull for you as an actor?
I think for me as an actor the pull of working anywhere you get decent work is strong. I would love to do some work in the states but I have teenage children in school and they're going to finish their education over here. It's quite a tricky balance; family and work. I had a brilliant ten weeks over there and worked with one of the genius directors of our age and I worked with an incredible actor in Morgan Freeman. And it was South Africa and Nelson Mandela so it was very meaningful for me.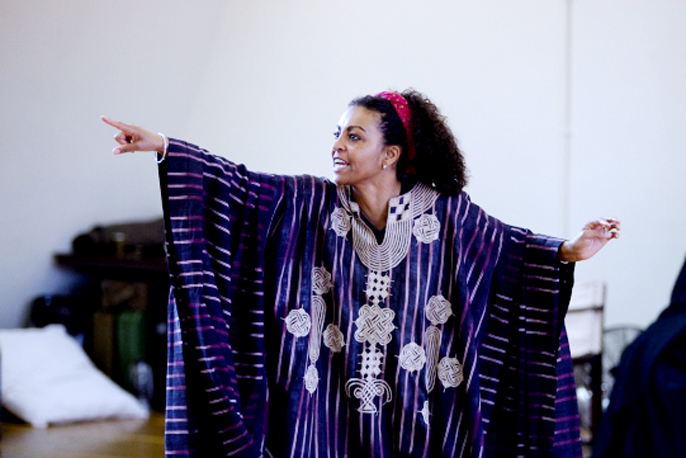 It was a very political movie as opposed to being sheer entertainment.
That's it absolutely and to me that had a very special value. I remember when I was little and my parents tried to explain what apartheid was and as my mum's white they said 'If we lived in apartheid me and your mum wouldn't be married and you and your brother would live in a different place from me and your dad.' How crazy is that? So to go and work in South Africa was profoundly moving. People were working so hard to try and improve their lives and were so generous and so loving and kind. I was blown away by it really, it made me very humble and it made me come back and take a look at myself and how I was contributing to the world.
As well as an actress you're also a licensed Reader. How does that fit into your life?
I am, I'm a reader in the Church of England. I studied for three years at Southwark cathedral, I was actually filming Doctor Who quite a lot at that time so I was sitting on trains working on assignments and emailing essays manically. I've been doing it very happily for the last two and a half years in my churches in south London and it's a huge support in my life and a lovely thing. So I'm trying to be a groovy reader come actor as well as a mother and wife.
How difficult is it to balance your role as a mother and wife with your work and other commitments?
It's a juggle but I think working mothers find that anyway. Life is a juggle and there's one incident of guilt after another but I think it's good for my children to know that women work very hard and are capable of doing everything available to them. We have great energy and strong work ethics and big appetites for fun and we do all that and still sort out whose socks are whose and order the dog food. We're amazing. I feel I live a very full on but very privileged life. I get to work with lovely people, get to be a part of interesting ideas and be exposed to things I wouldn't be exposed to otherwise. It's a wonderful thing.
---
Related links
8 Aug - 15 Sept | Royal Shakespeare Company's Julius Caesar comes to London's West End for the World Shakespeare Festival
Afridiziak Theatre News interview with Ray Fearon


Julius Caesar touring trailer | 2012 | Royal Shakespeare Company