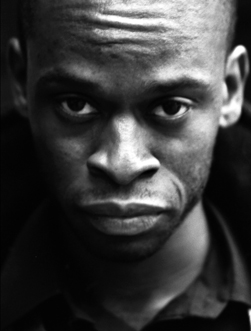 Fela! The remarkable production that illustrates the controversial life and success of afro beat legend Fela Kuti arrives this summer at Sadler's Wells. In the lead up toward the excitement, we caught up with Sahr Ngaujah a talented actor, musician, theatre director and leading performer before he takes to the stage in London. Olivier award nominee Sahr tells us all about life in front of an audience, his earliest memories in theatre and some of his unique upcoming projects.
It's a pleasure to interview you Sahr, it's amazing that the musical Fela! will arrive at Sadler's Wells this summer. How does it feel to be playing the leading role of a musical charting Fela Kuti's controversial life as an artist and political activist?
Well, it's an honour to play Fela. On one level he meant a lot to many people all over the world, especially to Africans.
The production is all about celebrating him as a pioneer and his success in the world of afro beat music. What are the most challenging aspects of your leading role? And how are you preparing for it?
It's a physically demanding and demanding role, in the creative process I wanted to give myself a challenge. Fela's a unique person, and he is one of a kind. It took a lot of work and close study, of his mannerisms. Before the show I eat a nice meal, take vitamins and minerals do focus exercises, maybe run a few miles.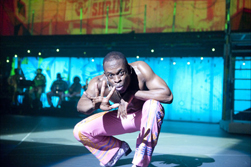 Has been watched by many people, But in particular was a big success in New York, do you think that the production provides an accurate portrait of Kuti's life?
The production isn't designed to give a portrait of his life. It is more about, okay on one level it's an introduction to afro-beat and those who haven't heard of Kuti. On another level; it is meeting a human being in one particular moment. It's not a biopic. I think it has more to do with meeting Fela as humanity. Fela was a human being, he was a rock star, he was ganja smoker, he was jailed over 200 times and he was all kind of things. It has to do with all of those things, and not everybody liked this. That's the thing that I find fascinating.
What are the hardest things about working in theatre and on Broadway?
I've been working on stage for 17 years. I suppose for someone just starting out, they're luckier the earlier they start; it gives them a chance to learn the basics. Nobody gets into this business to make money... I've always made art since I was kid.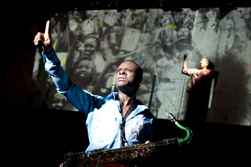 What are your earliest memories in acting?
I was always making a show for my mother's house guests. I started performing for paying audiences when I was 15-years-old.
I imagine your schedule must be busy, and that you travel a lot, where are some of your favourite places you've visited?
There's loads man, we just played the show in Lagos, Nigeria. I directed a show in South America, in the Amazon jungle. I think Iceland is a magical place. I have a lot of dear friends in London; it feels like home. The world is so full of beauty. The more I can see the happier I will be.
I know you are from West Africa, take me back to your country of origin. Have you been or do you visit there often?
I am from Sierra Leone; recently I've visited more frequently.
How did it feel to be nominated for an Olivier Award?
[Sighs] Well it was a really... It's funny you know when I get up to do the show or any show, I'm not thinking of things like awards, I was shocked , it wasn't something that came into my consciousness. I was just shocked; I didn't even think about. I was pleased. [Laughs]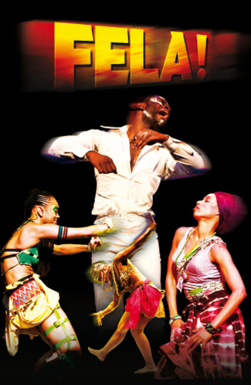 In your successful acting career, are there any performers that you admire? Who inspires you most, especially in your developmental process?
In this context, at a certain point of my life, I never imagined doing a Broadway show. I was always impressed with the work of Ben Vereen; from an early age. Particularly within the context of the type of shows considered Broadway.
What other projects are you working on? What's next for you?
The US tour starts after this one ends. I've been working on some music with a group called Super Human Happiness. It's an ongoing project called Sahr vs Super Human Happiness. They're based in Brooklyn. Production wise there are a few people that have handed me some scripts. We'll see.
What advice would you give to anyone who wanted to go into your line of work? And what tips would you give them to survive in the industry?
There's a lot of space there. Whatever effort that one would put into their work, go beyond it. Whatever effort you put in, go further.
---
Related links
Fela! the Musical is at Sadler's Wells until 28 August 2011
*special Afridiziak reader offer* get discounted top price tickets to see Fela
Afridiziak Theatre News review – Fela! on Broadway
Afridiziak Theatre News review – Fela! National Theatre
Afridiziak Theatre News interview - Professor Wole Soyinka