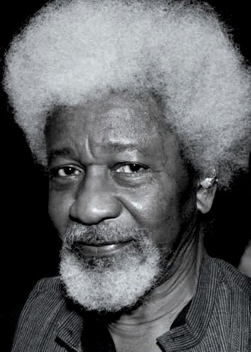 In benefit for theatre company, Collective Artistes, friend and patron of the organisation, Nobel Laureate professor Wole Soyinka discussed culture and politics at the Southbank Centre with the Centres' artistic director Jude Kelly OBE at a gala evening in June, 2011.

Afridiziak Theatre News was one of the few publications that Professor Soyinka agreed to speak with during his brief visit to the UK ahead of the gala evening.


Professor Soyinka, it's a privilege to meet you. Thank you for agreeing to the interview. The main reason for your trip to the UK is for the Benefit event to raise funds for Collective Artistes. How do you think organisations such as Collective Artistes can influence society for the better through theatre?
By being what it is and doing what it does and that means addressing themes which are not necessarily of relevance but which contribute to society and the community. I don't want to suggest the themes that a group like Collective Artistes addresses in theatre must be of immediate relevance to that community. No, it can be something different to the immediate concerns but at least it expands the mind of the group and becomes a sort of adventure in understanding the world.
Back in the late 50s when you were in the UK and wrote your first plays, "The Swamp Dwellers" and "The Lion and the Jewel," both tackling the uneasy relationship between progress and tradition in Africa. Where do you think Africa sits now in terms of the balance between progress and tradition?
When we talk about balance I think more about the organic evolution in other words what you might call tradition will continue to be placed side by side with progress. In many instances you find that tradition isn't static and tradition grows out of people's daily concerns, daily lives and productivity and so on. It continues to evolve and therefore it encounters new phenomena and thereby evolves even further. So when you draw the line strictly between progress and tradition it becomes difficult. It's kind of symbiotic.
Is tradition still influential in Yoruba society now?
Yes, very much so in many ways. We're talking in terms of creative modes, in cuisine, clothing and attire, social events like marriages, births, funerals and so on.
As a play reader for the Royal Court theatre – what was it like being involved with such an establishment?
It was exciting. It was a transformative period for theatre in the UK at the time. I was fortunate to have been in that cusp of transformation. The Royal Court theatre was adventurous and progressive. George Devine was a real genius as both the Royal Court's theatre director and manager. He was innovative and took his kind of imagination to recognise immediately the drawing room theatre was over or at least fading out and this crop of young people such as John Osborne and Arnold Wesker represented the future and he saw it and recognised it and immediately dedicated himself to exposing it.
How did your experience at the Royal Court influence you as a playwright?
I think it was the atmosphere of working within ferment. You see the theatre of John Osborne, Arnold Wesker, was different to the theatre that I wanted to write – that was clear. So what I took from it was that sense of creative ferment that this is a natural state to be in. We of course bounced ideas off one another so there was a good relationship between us even though we were doing different things.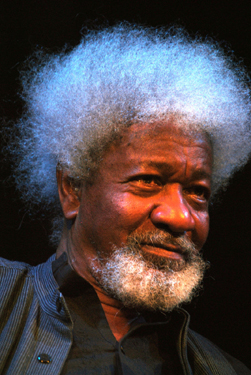 Could you please share one of your earliest childhood memories of theatre?
That's an easy one. At an early age, I think I was about seven-years-old, I took part in an operetta directed by my father who was the headmaster of the school. It was called The Magician. I remember that I thoroughly enjoyed it even the rigorous discipline as it meant I escaped housework. Even though others may have found that discipline hard I loved it. Being in that operetta was my first multimedia experience combining music, acting and dialogue. I suppose I also enjoyed being centre of attention. I played the lead role and enjoyed that very much. At that time I had no idea that one could make a living or occupy oneself doing that sort of job. Even though we had a tradition of theatre such as folk opera and so on I didn't think people made a living from it. I thought people did it part time like I did it part time when I was studying. It just didn't occur to me as I was either going to be a pilot or a lawyer – the usual stock.
Was there a battle with your parents when you didn't decide to go down that traditional career path?
No, no, no. I think my parents would have preferred if I was a doctor or I went for medicine or even law as we have a number of lawyers in my family or education and like themselves but I suppose they realised it would of been a waste of time.
What do you remember most significantly about that era of theatre during your time as artistic director of 1960 Masks?
We used to rehearse between two cities. We were a semi professional group – in other words the main actors had other jobs including a petroleum engineer, broadcasting and a civil servant. There were either already members of some other amateur groups or I encountered them and spotted something in them. So because we were based in two towns we used to rehearse on weekends and en route as we picked up members of the group on the way to Lagos from Ibadan. We became a family and were very dedicated people. Then gradually once that was established I began to introduce young artists and train them and eventually this became the core of Guerrilla theatre.
Do you think that sort of theatre exists now?
No because of the socio-economic situation in Nigeria and the hazards of the roads today – then we could decide at 10pm in Ibadan that we wanted to go to Lagos, get on the road and be there in about one and a half hours. These days you can find yourself held up in traffic for hours so you couldn't do that today with any confidence in the rehearsal schedule which is of course critical.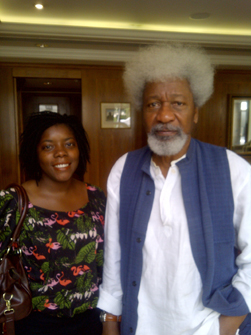 How did audiences react to that kind of theatre at the time?
Oh, enthusiastically. There had been plays before then but contemporary African theatre began with the 1960 Masks.
Through your own eyes, how has Nigerian theatre evolved over the years?
A rollercoaster journey really. Television did encourage and at the same time unmade theatre. There were regular theatre productions on the television but the quality went down because people couldn't produce enough scripts at that pace. The quality in acting went down and then simply by hammering at it, by going at it, the actors gained more experience and theatre went up again in quality and quantity. At the same time traditional theatre groups, which were called Folk Opera groups also pocketed and benefited from the existence of television because they were living a precarious existence so the arrival of television meant people earned decent money. Then came 'Nollywood' – a word in which I loathe by the way. It's one of the ugliest words. It's unimaginative. First Hollywood, then Bollywood and now Nollywood – for me it's contrary to the imaginative spirit.

So 'Nollywood' which at the beginning gave the opportunity for improvement with training schools springing up and better films are being made now. From time to time I check out the development and must say in terms of technique and acting things are gradually picking up. But we mustn't forget the oil boom which came upon in the mid-seventies and many people abandoned the arts, not to go into the oil industry itself but to go into the various ancillary businesses that were attached to the oil boom. Then there was the civil war which affected the arts very badly and it took some time to recover from that so it's been a rollercoaster.
So where do you think Nigeria is now in terms of theatre production?
Rather encouraging. For example there are regular performances in Lagos although they are finding they have to compete with the video/film industry but at least it feeds the actors who don't get much livelihood from just theatre. I think there is vitality in theatre at the moment.
When you appealed for cease-fire in your article which you wrote during the civil war in Nigeria, were you aware that those words would cause so much political unrest?
No. Well, it was more than what I wrote I was also involved in lots of other things. I have a bad habit of not thinking about risks when I'm convinced that something is unjust as I won't have peace of mind and I love peace of mind so it's paramount that if something is weighing on my mind and I think about it, I'm convinced that some kind of intervention is necessary. If somebody else is doing the intervening then it's okay, but if nobody is, at least in the way it should be done then of course I'm restless and I can't function fully as a human being until I'm done.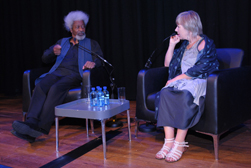 Does that come from your love of humanity? The average person would just turn off the light and go to sleep and wake up in the morning and be fine.
I have no idea but that I'm afraid it has been the story of my life [laughs]. I used to say maybe it was something I ate as a child when no one was looking.
Perhaps you could share some examples of how theatre can be used as a vehicle for social change?
I think theatre is inevitable as an agent for social change because it deploys a human medium; it's more direct, more visceral, and more empathetic than say the novel or even poetry. I think theatre evokes a social response from audiences but that of course depends on the material being used. You can stage a play that places the audience deeper in complacency or a state of inertia, when you set out to sensitise, an audience, I don't like the word educate, it's more profound in its effect than let us say a novel for instance. The danger in fact sometimes is that theatre might try too hard and then it becomes propaganda. Not that there's anything wrong but if you bore the audience then your message, however good it is will just fall flat. So that combination of stirring the mind, pleasing the eye and engaging the persona of the audience in a direct way – these are the advantages that theatre has.
In terms of theatre direction; what do you enjoy most about that aspect of theatre?
Oh I think it's shaping people on stage with meaning – shaping the meaning of the play through specific expressions. The problem I have when I'm directing is that I sometimes forget I'm directing and I become a teacher and that's bad for directing because when you concentrate on smaller aspects then you forget the bigger picture. I enjoy penetrating the mind of the actors and the minds of groups of people – I enjoy that also.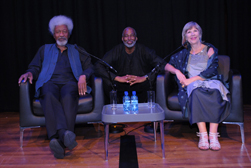 What's one of your favourite plays that you've directed?
When I directed Death and the King's Horseman in Chicago that was something I enjoyed doing. I was working with actors who had never worked on that kind of material in their lives and it really was like creating something completely new. They were professionals who had only worked on traditional American theatre so this was a new world which I had to induct them so I have fond memories of that particular production.
Death and the King's Horseman was revived by the National Theatre a few years ago; were you involved in the restaging of it at all and did you see it?
I wasn't very involved but I did see it. They came to see me and I chatted with the director but generally I like to feel that when I direct a play of my own I lock the playwright outside the theatre so when others direct my plays I don't like to be at all involved until they consult me. When Jude Kelly directed the Rear Bourne, she wanted me to be always around and I was.
Where you happy with the National Theatre's production of Death and the King's Horseman?
I thought it was a marvellous spectacle. I had irritating moments – I always do. When actors are lazy about new words, especially names – when they don't give names their correct value. Give them a Russian name and they pronounce it properly... Yes, I find that very irritating.
The production of Fela about your late cousin Fela Kuti was recently staged in Nigeria; have you seen it and if so; what are your thoughts on this piece of theatre as a way of preserving your cousin's legacy?
I saw it in the States. I thought the vitality was unbelievable, the Fela lead was excellent and it was also a unique show in many ways as reviewers said, New York had never seen anything like it. It was an original piece of theatre – a lot of imagination went into it. I think it was a good legacy and what I liked is that they didn't pretend that they were doing an authentic life of Fela.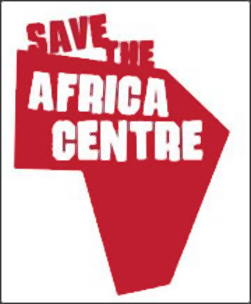 You're an incredibly inspiring person with an outstanding list of awards and accolades – including being the first African recipient to be honoured with the Nobel Prize in Literature in 1986 - which of your many achievements means the most to you?
Hmm, that's the kind of question I find impossible to answer. To win an award is always pleasant to the individual and also good for the art itself, whether it's music, literature, painting etc but I'm always worried about an over evaluation. This is perhaps because as far as literature is concerned I'm not just a literary consumer but also a teacher of literature and so I have come across so much literature that I find it thrilling and rewarding and I have immersed myself ever since I began to read. So living in that world of literature prizes – luck comes into it and singling out one writer over others, especially when the prize is so prestigious –it's that which I feel slightly uncomfortable about. It doesn't mean I regret winning it and I'm not going to give it back [laughs]. I've spent all the money anyway so it's too late. But it doesn't alter my feeling about the ambivalence that I have about prizes of this nature.
KNOWLEDGE IS POWER:
what advice would you give to somebody who wanted to set up their own theatre company – what tips of survival can you share with our readers?
Begin by assuring yourself that you have lots of guts. That you have lots of patience, a resilient mind, and that you love people.
Memories of the Africa Centre and importance
I saw some interesting plays there. That was where I first saw a contemporary black South African play. It would be a shame if it was closed down. It's no different to other cultural centres around the world but I think foreign cultural centres where activities of a particular culture go on – that kind of centre is extremely vital for all communities so they don't become to insular so they can have a comparative environment of the arts in general. If one has the benefits to be able to live in an environment where there are centres of foreign cultures, one should be very grateful as it gives you a more rounded view. I don't mean that you will know everything about that culture, no, but you will get a taste of it and that can actually trigger off creativities in you that you never knew existed. Those are some of the advantages.
Finally, are you working on anything new at the moment?
I never answer that question. [Laughs]
---
Related links
News – Professor Wole Soyinka at the Southbank Centre, Jun 1, 2011
An edited version of this interview appeared in the African All Stars issue of Lime magazine | July 2011 | pages 18-19
01 June – gala evening with Nobel Laureate Wole Soyinka - discussing culture and politics at the Southbank Centre in benefit of London theatre company Collective Artistes.
Afridiziak Theatre News review – Death and the King's Horseman
Afridiziak Theatre News interview with Chuck Mike
Collective Artistes production - The Meeting
Collective Artistes production - Richard the III
Afridiziak Theatre News interview with Denton Cjikura and Tonderai Munyevu, Kupenga Kwa Hamlet