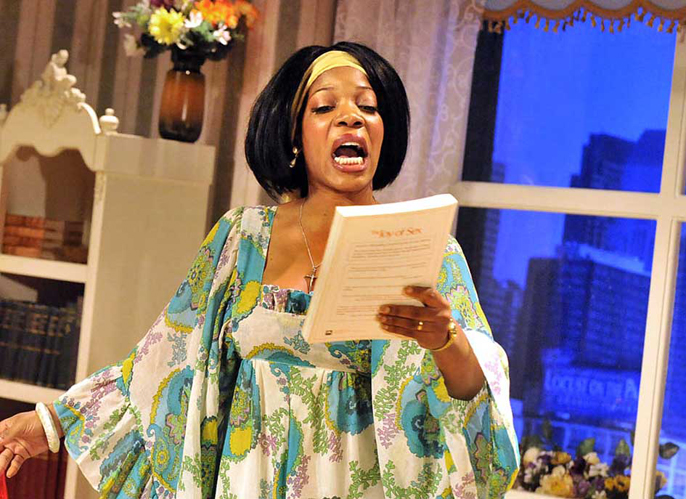 It's been 13 years since Jocelyn Jee Esien won Best Newcomer for her dynamic stand up routine. A lot can happen in that time and it certainly has for this Hackney humourist. After making up one third of the hugely popular show Three Non Blondes, Jocelyn went on to write and star in her own series Little Miss Jocelyn.
" I was in the Metro paper just before the play came out and a lady was reading it next to me on the train, so I told her it was me in the paper and she screamed! You can't miss that kind of opportunity!"
Having introduced a lexicon of catchphrases to the nation, and after winning a couple more awards, Jocelyn has returned to the world of theatre. Unsurprisingly it's been a resounding success and she is currently starring as Myra in One Monkey Don't Stop No Show.

Cosily nestled beside Jocelyn in the Tricycle Theatre bar, the stand up/writer/actress seems endearingly oblivious to how well known she is. As we talk about the production and her career, Jocelyn just radiates charisma and a joyful cheekiness which make it obvious why she is such an adaptable performer. It was an absolute pleasure to interview Jocelyn, it was just a shame that the meeting didn't last 'a looooooooonnnnng time.'
How are you enjoying being in One Monkey Don't Stop No Show?
I'm loving it, I really am. It's one of those plays where we keep finding new things. We're still at that stage where on the night someone might do something completely different to what we rehearsed and because it's a farce we can get away with it! We've had really great reviews as well, which is amazing because I was SO nervous! I'm always nervous before reviews come out anyway. It's just really nice that people are seeing it and they're getting it.
The script was written in 1982; do you feel that the subject matter is still relevant?
Oh it's still all relevant, the issues could be straight from a magazine today. It's talking about class and sexuality and feminism is in there. There's things about race and interracial relationships, love and sex actually. (A huge grin is accompanied by the actress putting her hands to her mouth and announcing like a naughty schoolgirl) Sex! They talk about sex in the play! (Laughs). So it's definitely covering a lot of things and people are discussing it in the bar afterwards. It's a really neat play I'd like to call it, and it's a good length as well.
I didn't know about this play. Dawn (Walton- director) sought it out and it's like discovering something brilliant. When I was at college I remember looking for a modern monologue and finding it hard. We've done a lot of Q&As with drama students and I just say "Now you know there are monologues out there for men and women, for young people and old people." I wish I'd known this play when I was at college. Everyone says if you want modern, go for Chekhov, but, (screws up face, and shakes head humorously) NAH!
The action and dialogue in the play is very fast paced overall. The tempo seems to slow down during the characters' monologues, is that contrast deliberate?
Yeah, those are the moments when the characters really breathe and the audience gets to know their true side, so we're allowed to take our time with them. When I do my piece to the audience, you can just see all these faces focused on you and it's quite exposing actually cos...I'm in a nightie! (Laughs). It's easy in the rehearsal space but in front of an audience, we are naked in those moments.
Especially with Myra's character, there's a very exposing scene where she shows her hair under her wig. During one show I actually threw the wig at the audience. Yeah...I got a bit excited! Then they started passing it around thinking it was a game! There were no lines in that bit, so the show couldn't continue until I'd gotten it back. The poor stage manager was having kittens, but there was just that moment of abandon. (Laughs).
Watching the play, I felt that Myra was always repressing one side of herself but it kept shining through regardless. Does that fit with how you interpret your character?
Yeah, Dawn likes to call them 'leaks' and all the characters have their leaks. It's all very much about keeping up appearances, very Hyacinth Bucket. What Myra is hiding is her lower class self. She's decided that this is the way she speaks now, this is the way that she talks and behaves. Even down to her little tea set: nobody wants any tea, but it's seen as such a middle class thing to do. I think that by the end, Myra goes on that journey where she is kind of happy to show her rough around the edges side, and even admit that (whispers gleefully) she's had SEX! (Laughs).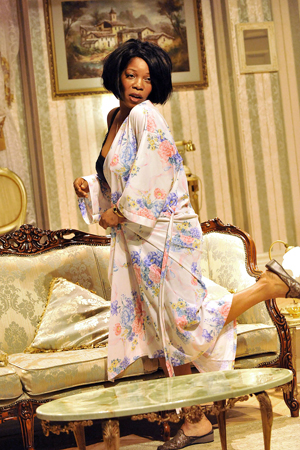 Do you feel you can relate to your character?
Actually most of the characters in the play I can relate to. With Myra, you can tell that she's the backbone of the family. She's a preacher's wife, she helps with his speeches and she's decorated her whole place so I can really relate to Myra having this home that she's made 'cos I'm a real homebody. What's interesting is that she's got a little touch of OCD and I have anyway. (Noticing my intrigue) Yeah, yeah I do. Even when people move things on set during rehearsals. I'll be like "The cushion's moved and they were set really nicely before and now the ashtray isn't symmetrical with the table!" So I'm like that anyway and that's been developed a bit in the play.
She's the engine behind the family, she obviously picks out that they wear, what her son will study, where her husband will preach. I think I can understand a woman being very driven, obviously not to the extent that she is, but I can really relate to that feeling of having to do it all. It's actually only moments now where I can delegate or just stop. Like Christmas day, my sister will say, "Why do you have to do it all Jocelyn? Why are you going to every single supermarket in London? I'll help" and actually this Christmas just gone was the first time when I relaxed and let other people get on with it. I was alright but there were a few moments where I was like, "What's happening in the kitchen? I need to get in the kitchen!" but I coped.
Aside from the current production and last year's Belong at the Royal Court have you been in many plays?
I've actually done a few plays it's just been spread out a lot since 1998. When I did Torn at the Arcola Theatre it had been ten years since I'd (jazz hands and a sigh) trodden the boards!
How did you find coming back to the stage?
Do you know it was actually alright. I kind of just lived in denial; it's SUCH a nice place to live! I told myself, 'It's theatre I know what it's about' and made sure I'd done my research and got myself together as much as I could. It's a nice theatre as well so I was less nervous than if it was in the west end. It's like my area, I'm just up the road in Hackney so it was a nice way to come back to it. Not too much pressure, she says! So I've done a few plays and I'm trying to do more theatre, but it's all been smaller productions, like this all seems quite low key, I don't think it actually is though.
This production REALLY isn't at all! I strongly suggest Googling it!
Oh is it on there? I think you just don't realise when you're a part of something. For me it's just really great to work with these people, like Bola (Agbaje) and Dawn Walton from Eclipse, especially as it's lots of different women. I suppose everyone's making history in their own way. I think we're at a stage where there aren't many women doing this, or black women doing this. One of the reviewers was really raving about Eclipse and sometimes I forget that they are actually the only black led theatre company that do tours, that's a big deal isn't it?
Undoubtedly a big deal. Did you tour with Eclipse?
Yeah, two years ago we did this play in Sheffield and then we did a little mini tour of Leeds and around there. Three of us in the cast have done it already, but it's mainly a new cast, although some things are the same. It's actually quite surprising; because the writing is so expressive if you follow the meaning of the line, any actor will say it the same way. I'm really happy that I came back and did it again. I've never... actually ....been asked to do anything twice! (Reclines on the sofa in a state of mock rejection).
It's their loss, but I'm not sure that's quite right. Didn't you do two series of Three Non Blondes and two of Little Miss Jocelyn.
(Laughs). Yeah, we did, but I've never been asked to do a second run in theatre. Never! I'm always the one going "Let's do this again! Belong; let's do Belong again!"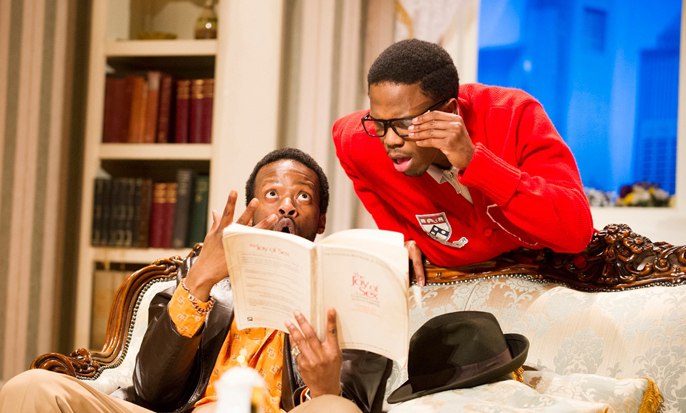 You studied law before you got into acting and stand up. What led you to make such a drastic change?
I did, but not in that I went to law school. I did it at A level and was going to study a degree in English and Law at Queen Mary's college and I had this moment where I thought, 'What am I doing? I can't do this for four years' and in the back of my mind I really wanted to act. But things are so different now; whenever I give workshops for kids I always tell them how lucky they are that their parents are so behind them. Even in terms of sport; look at people like Jessica Ennis or Phillips Idowu, these people obviously have support behind them. But there was a time when parents were like "No, do something academic" hence why I applied for law.
But I thought 'Actually no. I really want to act!' So I applied for drama school and I only told my sister, so I was secretly sneaking off to auditions and recalls, and then I got in! I didn't see that coming! So I told my dad and he was shocked, but then I showed him my reading list, and OH, he loved that! When he saw I was going to be reading Shakespeare and classics and wasn't just going to be dancing around in tights, or sitting about taking drugs he was happy. He loved that I was studying and would come out with a degree, so it was finally all out in the open.
You got into stand up very young, you were still a student when you won Best Newcomer at the Comedy Store. How did you find the courage to get up on that stage so young?
I know, I look back now and think 'How did I do that?!' I wouldn't change it for the world. I actually want to get back into stand up because I miss it and I've been writing ideas down and thinking 'Hmmm, this is funny' then I look at it the next day and think, 'What on earth does this mean?!' I think I was so green and so naive. Now I think 'Does this joke work?' Back then I just jumped on stage and enjoyed it and hoped it would get a laugh.
Final question, because I've always wondered. Throughout your television career you've filmed numerous awkward scenes with the public; have you ever felt embarrassed?
No, and I wish I could say yes! (Laughs). I just don't have that gene! I think 'cos of growing up with Nigerian parents, they embarrassed me all the time so I just became immune after a while. I talk to people all the time, that's what I'm like. I was in the Metro paper just before the play came out and a lady was reading it next to me on the train, so I told her it was me in the paper and she screamed! You can't miss that kind of opportunity! I think there's a lot of people like that actually, and they get called mad, but maybe it's just that they like to talk to people, or they lack of inhibitions.
I like having fun, I like interacting with other people. I just like people really.
As she gets up to leave I can't help but mention the overly familiar toilet attendant from her Little Miss Jocelyn series, attempting my own paltry impression which she kindly laughs at.
Oh I still do that now if I'm in a public toilet! Cos I know none of the women will recognise me and I can't resist it, so it becomes "Hmm, you want parfum? Three pounds." "But it's one pound?" Hah, inflation, Maaaan!"
---
Related links
Review, One Monkey Don't Stop No Show
One Monkey Don't Stop No Show is on tour until, March 16, 2013