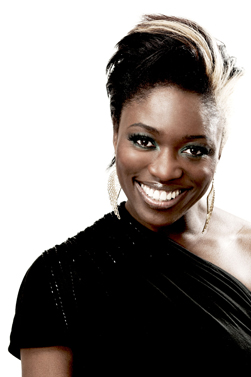 One of the capital's ultimate rib ticklers, Andi Osho has burst onto the comedy circuit in a flurry of glamorous outfits and high heels in the last few years. When she's not being loud and proud in her stand up gigs she's grinning mischievously from our screens on Stand Up For the Week on Channel 4 or quipping over the airwaves on BBC Radio 4 Extra's Comedy Club Interviews. Her tongue in cheek humour that varies from lewd observations to acerbic irony is delivered with incredible presence and energy. Speaking to the woman herself as she makes her way to Manchester on the train I find Andi friendly, deeply astute and incredibly brave, as she describes giving up the nine to five to follow her dream of doing stand up I can't but feel this is one pretty inspirational funny woman.
You're on tour at the moment. How is that going?
Really well, thanks. I'm only doing a few gigs, Edinburgh, Reading, the usual places, but it's all going really well, have had some great crowds.
Where's your favourite place to do stand up?
Probably Birmingham and the Midlands. It's usually a good crowd and I get good interaction with the audience there.
Not London?
I love London, obviously playing in front of the home crowd is special, and the audiences tend to be more tolerant there and get into the show, but outside of London, I'd say the Midlands is a great place to do stand up. Also Scotland, I've really enjoyed doing gigs there, mainly in Edinburgh and Glasgow. It's always great to perform in front of a different set of people and see how it goes.
How long have you been doing stand up for?
Five years in March.
And before that you did a lot of acting
I did yes, that was for about five years as well.
You got into acting a few years ago. Which do you prefer?
They're such different things, but I think actually I'd probably say stand up, because you're much more in control, you know that you wrote it, you created it so if it goes well that's all down to you, and if it doesn't there's no one else to blame.
Is your family supportive?
My mum really is yeah. I'm not in contact with my dad any more, but my mum really just wants me to be happy, so as long as I'm doing something I'm enjoying and I'm happy, she's happy.
You're everywhere at the moment, you've made a big splash it seems very quickly, but was there a lot of work before you made it big that we don't know about?
Yeah, absolutely, usual story, before getting onto Michael Macintyre and getting my own tour there was lots of driving up and down the country for gigs for free or just to cover your petrol money. But I knew it was what I wanted to do so I stuck with it. I just really enjoyed being my own boss, writing my own material and making my own decisions. Sticking it to the man!
People are always saying you should have a regular salary; you should have a house and a regular job to the point where it just becomes a habit. I think people should follow their dream, whether that's stand up or acting, or even if people have dreams of working in accountancy. Just go for it, follow your dream."
When did you realise you had the ability to make people laugh?
Well I think most people make people laugh, everyone's got it in them to be funny. I think if you've never made anyone laugh that would be a bit strange. I think what makes people think stand up is brave is because you're taking that spirit and energy and making it translate onto the stage. It's mainly about that challenge of being able to get up there and do it in front of a live audience, having the confidence to go for it.
Do you think it's harder being a woman, to get into comedy.
I don't know 'cos I've never been a male. You're asking the wrong person really, 'cos I can only speak from my perspective. I think the fact that I'm black, I'm from East London makes me a bit unusual, it's just good to mix it up. There are so many different minorities out there, Black, Asian or people who are talking about having gypsy heritage, there are so many viewpoints aside from the typical white mid thirties white guy telling jokes. Of course there's a place for that too, but it's just about breaking that up a bit, introducing something new makes life a bit more interesting.
You were previously a receptionist and worked in production, did you enjoy that work?
Yeah, when I was acting I was working at a reception desk, mainly because it was good to have a job where you could have time off at short notice if I needed to get to an audition or whatever. Before that I was actually working in post production you know middle manager sort of thing.

It was fine, but I just got to that point where I realised that I didn't want this to be the rest of my life, and it was becoming more and more apparent to me. I got made redundant at one point and I think it really makes you re-evaluate your life. I remember getting an interview for another job in production, good pay and everyone was really nice but then I realised more and more there was just no going back, so it was a case of, 'Sorry I'm off!'
Some of your material is seen as quite controversial, particularly when you expound on your Nigerian roots. How do you respond to that?
To be honest, I've never set out to be deliberately controversial or anything, it's about how it's received, there are serious matters that need addressing, like immigration or racism, but if we can sit down and laugh about it we're getting one step closer to acceptance and understanding. You never know how people are going to take it so I have been in situations where people in the audience have been offended, but that's absolutely not what I'm going out there to do. Luckily most people do take it well and in the humour that it's meant.
Do you mind that some people will categorise you as a performer and just lump you in with other female non-white performers?
Not really, I don't really mind, especially being associated with other talented stand ups, that's fine. I think there are people who like to categorise me as a black comic and believe that my entire routine is based upon being black, but if they actually watch my routine I think I can make them realise 'That's not true, is it'. Yeah, sometimes I'll mention my background, it does inform my writing, but it's only a part of it and it's a different voice. I think a lot of black comics stick to the typical routine of being slapped about as a kid and other clichés, and that tends to get a lot of laughs, but only with a black audience. I really like to go beyond that, write about life and my own experiences and things I see, which involves a lot more than just being a black woman.
Your Soho Theatre shows are in January 2012 but what's the greatest lesson that 2011 has taught you?
I think probably the biggest thing, because I've been doing a show about dating I've learnt a lot from reading about relationships and the psychology of them. So I've learnt a lot about how men think, it's been a bit of an eye opener. The different way that men's brains work when you compare that to women's. It's been really interesting! I've also discovered a bit of a love for twittering, just been learning how you can use it. You can have a lot of fun on twitter, like when a show's going out, tweeting about it as you're watching it and getting other people's feedback and funny comments, so I've really enjoyed doing that. You have to be careful of course, some people take the whole thing way too seriously, it's like 'Calm down, darling!' but so long as you're not broadcasting your whole life and having online feuds it can be really fun.
What advice would you give to someone wanting to follow in your footsteps?
Honestly, just get out there and do it. Everyone's journey is different, and even if I were to tell you everything I've learnt, it's completely different when it's you up there doing it. For me, it was -this is my passion, this is my dream and I did it, not for any other reason. People are always saying you should have a regular salary, you should have a house and a regular job to the point where it just becomes a habit. I think people should follow their dream, whether that's stand up or acting, or even if people have dreams of working in accountancy. Just go for it, follow your dream.
---
Related link
Andi Osho is performing at the Soho Theatre from 18 - 21 Jan, 2012