ATN interview with Arinze Kene, Been So Long

Arinze Kene is the talented young actor who trained at Identity Drama School and has appeared in the musicals The Lion King and Daddy Cool. He was also this year cast in the lead role of Freestyle, the British film from director Kolton Lee which tells the unlikely love story between a streetballer and middle class girl on her way to Oxford. The actor (who bears an uncanny resemblance to Ashley Walters) sat down with Karla Williams to talk about his latest project: the musical Been so Long at the Young Vic Theatre.
So what's Been So Long all about?
It's about love.
Care to elaborate on that a little bit?
(Laughs) It's a story about love, about experience and individuality. Scratch that - individuality! It's mainly about love, romance, how experience can change people. Actually it's based around love.
What role does your character have in the play?
I play a character, Raymond, who has just spent three years in prison and he literally steps into a bar – it's the hottest night of the summer – and he steps into the bar and he is out on the prowl looking for a chick.
How have rehearsals been going so far?
Rehearsals have been going well. I'm enjoying it and we have been making a lot of progression and because it's a musical we've had some backing singers in. It's brilliant working with the other cast members and Che Walker is the best director I've worked with up until today.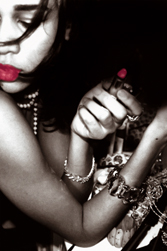 Che also wrote the play, how has it been working with a writer/director?
Well I've never worked with a writer/director before working with Che. The reason why I say he is the best director I have worked with is because with directing a lot of the time it's just about how comfortable you can make somebody feel in order to bring the best out of them and he creates a good and nice atmosphere in the rehearsal room every single day. Everybody is vigorous with things but cool at the same time so we're sharp but also loose and he has created that. On the first day everyone was a bit iffy about just meeting each other for the first time but now it's just cool. We just go in and have fun – literally. It's a play so we play.
You play the lead role in the forthcoming movie Freestyle; what was the experience like working on that movie?
It was cool. It was my first movie and it happened to be a big movie and I happened to be the lead role so it was a good look; this year is going well. I think Kolton Lee is a good director as well and it's a big crew. You'd be in this rehearsal room with about six or seven people and then on day one you've got about 20 people in the crew, let alone the cast members and then the extra's – it's a lot of people.
Were you nervous as it's your first big film?
I think everyone was a little bit nervous on day one, that's why on day one we shot simple scenes; just to break into it lightly. So I may have been a little nervous but afterwards I just got into the swing of things.
Why should people come to see Been So Long?
Been So Long is about people. As human beings, people are our favourite subject: we read books about people, we watch films about people, we are our favourite subject in the world – everything revolves around us. So because this play is about five people coming together, and they are different people from different backgrounds and different experiences, and each one is coming from three years of something else. My character's is three years of prison, and others are three years of different types of prison, be that mental prisons and what not, and [the play] is just a good story about people and love and poetry. Everybody responds to poetry, because we are all poets in our own right and as humans we all respond to language and there is a lot of beautiful language in it – you are taken on an emotional rollercoaster – that is why you need to come and see the play.