ATN Interview with Alexia Khadime, Wicked
Impressive is not the word when looking at Alexia Khadime's CV and at just 25 the actress and singer has had a career spanning over 10 years. She appeared on screen with roles in The Bill, Dream Team, The Queen's Nose and Grange Hill; where she stayed for two years. She later moved on to musical theatre making her professional debut in Cinderella at the Hackney Empire before joining the ensemble for The Lion King at the Lyceum Theatre aged just 17; she then returned to the show to play the role of Nala for four years. She has also starring in Andrew Lloyd Webber's Whistle down the Wind and is currently playing Elphaba in the West End hit Wicked; a role she is returning to after a six month break. Add to that she was ranked eighth in The Times Future Rich with a predicted estimated net worth of £25 million by 2020.
During her hectic schedule she spent some time with Karla Williams to tell her all about.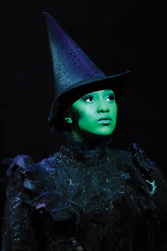 You're playing the role of Elphaba again, how does it feel to be back?
I have to say coming back was pretty scary! (Laughs) It was pretty scary but at the same time felt very fresh. It was interesting because I've never felt quite so fresh at returning to something before; I felt those butterflies's and even though I knew I had been here before it didn't quite feel the same, it felt brand new again.
And what first attracted you to the role?
I actually didn't even think, at all in the slightest, that I would be cast in the role - I didn't even have the urge like 'I would love to audition'. I didn't have that because I didn't think it was in my reach. I originally saw the show back in 2005 in Chicago, thinking wow what an amazing show...and that's about as far as it went for me. It was the casting director who casts for Wicked, Pippa Ailion, who said to me 'Alexia have you looked at the Elphaba stuff? I really want to see you for that.' And that's how my journey for Wicked began.
Wicked has been seen by over 2 Million people since it opened in London in September 2006, why do you think it has been so successful?
I think Wicked has been so successful because, especially with the character Elphaba, people can relate to her in that she has been shunned her whole life. Not many people like her, she only has her sister...so people who have been shunned in their life, people who have been bullied, people who have been attacked in some kind of way can relate to that and know how she feels. When you tap on to something like that...people respond well and I think that's what makes people keep on coming back. Apart from the music and the cast – they are really fantastic - the actual storyline is actually a really good one, it's not just your 'once upon a time they lived happily ever after!' it really has a bit more substance than that.
You have been working in the industry for almost a decade, what would you say the secret to your success is?
I don't know that there is a secret of success. The reason I say that is I've kind of fell into it all by accident. I didn't set out a plan saying I wanna be a singer, I wanna be an actress - I didn't set out like that. It was something I enjoyed and everything kind of spiralled in that way and I have been lucky in getting jobs. But the advice I would give to somebody who does want this, is if they can get the training then get the training...always exercise your talent, get yourself a good agent...and go for it. But do it because you love it. Then you're much more successful because there's a different kind of passion that lies behind what you do.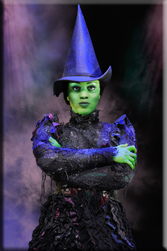 What are the some of the difficulties that you have had to overcome in your 10 years?
In my very, very early stages when I was a lot younger the difficulties were the rejection; going up for an audition and really wanting something and then not getting it. I know now it's okay when you don't get something, because I'm a true believer in what is for you is for you and nobody can take that from you and rejection will only make you stronger. Not everything that you want you can necessary have. It's all a learning curve, if you always got something everything would just be a walk in the park and that's not actually life. So it was hard, but it has helped me.
It is often said that it is twice as hard for black artists in this industry, but looking at you CV, surely that's just a myth?
I don't think it's simply a myth. I don't think its necessary just black people either, it ranges from Asian people, Oriental people, its people of colour generally come across a few more obstacles than someone who isn't. Its great being in the position that I am because it means that barriers are breaking – I'm the first black person to be cast in the role – so it's made headway in that respect. I think it's great that you can be seen beyond your colour and can be seen for your talent. But there aren't as many options, so to speak, for people of colour. There aren't as many roles and opportunities but I wouldn't just say black people because we are not the only ones. It's taking time and evidently something has shifted...I mean who' green? (Laughs) So why should there be a type cast on that?
Finally, you were ranked eighth on The Times Future Rich List and have been estimated to be worth £25 million by 2020
That would be really great wouldn't it? (laughs)
How do you feel about that?
That would be like too super cool; whether that will happen I do not know, I'll leave that in God's hands, but I'm just being. I'm very much a person that goes with the flow. I'm not going to sit down and strategise 'How can I make this many millions!' If it happens, it happens and it's great but, if it doesn't then I hope that I'll lead a comfortable enough life.
Alexia will be playing Elphaba until April 2010. To book tickets please see visit www.wickedthemusical.co.uk
For further information about Alexia please see her website www.alexia-khadime.com