Zawe Ashton, The Frontline
Published:

Monday, June 15, 2009 5:35 PM

| Interview by

Karla Williams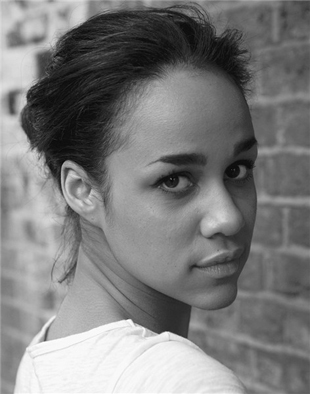 Zawe Aston's will most probably be remembered for playing the African-hating Imani from Bola Agbaje's play Gone Too Far! both in 2007 and 2008. As an actress she has also performed at the Young Vic and National Youth Theatre and has had roles in Casualty, The Bill and Eastenders.

Zawe is also a playwright and her play For all Those Women Who Thought they were Mad was selected to be part of the Royal Court Playwriting Festival this year. She is also one sixth of the writers behind the play Sudden Loss of Dignity which will be touring the UK this summer and was produced as part of the Bush Futures programme.
The bubbly and friendly actress was last seen in the Che Walker play The Frontline at the Globe theatre where she spared a few minutes to chat with Karla Williams.
There is a cast of 23 in The Frontline, what has it been like working with so many actors?
It's just been an amazing experience that you don't get a lot of the time. This show is particularly special because it has such a range of people in those 23. So you've got your 76-year-old seasoned experienced actors down to 19, 20-year-olds, sometimes their first job and then everyone in between. It's great. And everyone just really loves the play.
What would you say the play is about?
We talked a lot in the first couple weeks of rehearsals and both Che and Matthew the director said it's about family. Everyone on their little journeys is trying to find some kind of family. Find connections and find their place.
The Globe is a huge and somewhat intimidating place. We're you ever daunted by the prospect of performing here?
I did Othello here a couple of years ago so I'd sort of broken through the pain barrier in terms of thinking 'oh my god it's the Globe theatre! It's live and its outside and you can see people' which is really scary. When you come out and you can focus and realise it's not just a wall of people and you start zoning in and you can see people's faces – something you never get to do, it's normally it's just black out. So it's quite daunting and it's daunting doing a modern day piece here because with Shakespeare you kind of have the language to root yourself in but there is something daunting about doing something naturalistic here because you can fall into the traps of just playing things quite naturalistically. Like a conversation going on between two people who in another situation would just be me and you sitting here at a table having a conversation, but here you've got to open it out. But once you get the hang of it you're cool.
You will most likely be recognised for playing the character Imani from Gone Too Far. What was it like working on that production?
If there was a word I could use to sum it up I would use it but it is still beyond words. I think I'm still trying to process it and what that whole play meant. When we did it the first time it was a lot of our first jobs; it was my first job out of drama school. So we were just a group of young people doing our first play at the Royal Court and we were like 'Royal Court? Is that good?' And there were lots of people looking important and we were trying to match up (laughs).
I think they must have thought that they let some young ruffians into the building who were causing trouble especially when we were in costume doing a technical rehearsal. On a personal level it was just an amazing experience. It's one of those times when you don't really have the words to process it but you know you have something good...and what it's done for me and my career I owe lot to that play and that role. Parts like that don't come along everyday at all.
I've been doing this for a little while now and I've realised 'Hmmm these parts don't come along often' (laughs). And the role, especially the way people responded to it, was out of this world. To be able to create a character that was so hated and at the same time so understood was insane. I think that a lot of people thought you could only be like that, to act like that...the amount of Imani's I meet after the show who were ready to be my bredrin and be like 'Oh yeah we hate African's too'! I had to be 'No, no, no – It was acting!'
You have also been quite successful as a playwright as well; how did you get into that and which came first – acting or playwriting?
Well acting first, I sort of started when I was six and I've kind of being doing it since before I could remember making my own decisions. It was something that I've always done. But then at the age of 17 I started entering poetry slams and writing my own poetry and did that for a long while actually, doing gigs and then eventually getting paid for it. Then I went to drama school and I was reading plays and having to do these roles and I just thought 'they are not all that?' and I thought 'I can do this!' So I ended up entering the young writer's scheme at Contact Theatre in Manchester. I ended up writing 10 scenes and then turned that into my first play which was a half hour piece, then I ended up making that full length. I entered the Verity Bargate Award at Soho Theatre, got short listed, then the play got picked up and was produced afterwards and that got the wheels in motion really.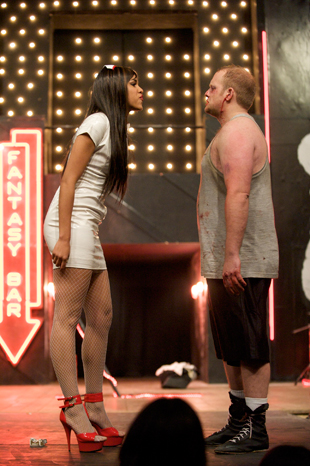 You've have been successful as either a playwright or actress; what has been the key to your success?
(Pause) I love it 'the key to my success!' Have I been that successful?! (Laughs) I think a drive that was instilled in me from an early age by my parents and a lot of the projects I got into by chance. I went to a group called Anna Sher Theatre for 14 years and Anna was all about acting, plays and language and poetry but also she just laid down the basic rule of whenever you go into a room it's all about respect. That is the be all and end all of it – you give respect to get respect. You treat people as your equals and you have empathy with people and you just learn how to take the hard knocks when they come your way...and I've always stuck by that ideology...and that has got me through some very, very, very hard times in this business. And I love it – I don't think I could do anything else.
What have been some of the challenges you have had to overcome?
Lots and lots and lots and lots of challenges! Sometimes the biggest challenge can be yourself; it can come down to potentially the only person that can stand in your way is yourself. There's a lot of insecurity and there is a lot of doubt that goes with this business that you have to deal with yourself to make you the person that carries on compared to the person who goes 'Arrrghhh I can't do this anymore!' But there are some other things that I've come across particularly being a young woman - a young black woman in this business is particularly hard. It is true what they say you have got to work 100 times harder and you can't rest on laurels and you can't take anything for granted and it's hard.
If you could choose between actress and playwright, which would you pick?
Actress – with noooo hesitation! (Laughs)
Info: The Frontline closed at the Globe Theatre on the 23rd May
Sudden Loss of Dignity beings its UK tour on the 1 July and will be playing at The Bush Theatre between 29 July ad 15 August. For more information or to book tickets please see www.suddenlossofdignity.com