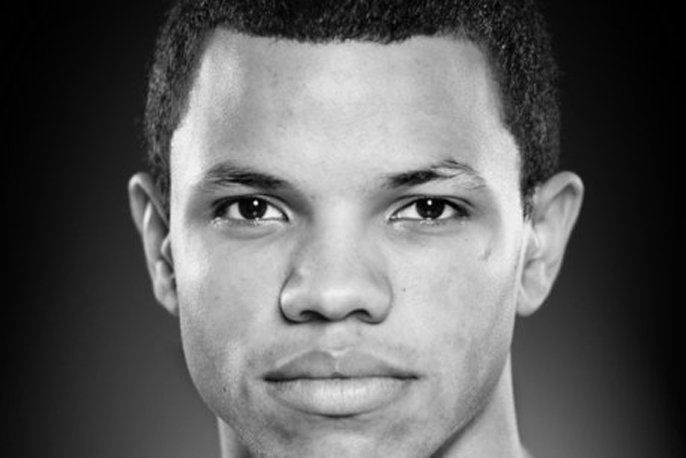 Tunji Kasim was last seen in the internationally successful 2008 production The Brothers Size. After playing the role of Oshoosi the talented actor has been cast in the Royal Shakespeare Company's Long Ensemble, which will see a cast of 44 actors stage all the RSC's productions between now and 2011. The Winter's Tale is the first of 14 and Tunji sat down with Karla Williams to tell her how it's all been going.
How did it feel when you found out you had been cast by the RSC?
Ecstatic; it was what I wanted to do since I saw Henry VI. [Previous RSC production] At that time I was going through a "should I, shouldn't I" with the whole acting career and I was thinking of just giving it all up. Then I saw Henry VI and it was absolutely ridiculously how good it was and I thought this is exactly what I want be doing. So the RSC was on my 'to-do' list. When I got the call saying not only do we want to employ you but we want to employ you for two and a half years it was...yeah of course!
Why did you want to give up acting?
It was the second year in drama school and I was doing a rubbish play that I hated, with a not very good director and it was just a bad time really...it was a bad year in drama school and I wasn't sure if it was for me or not.
So how have rehearsals been going?
Intense, but good, it kind of messes with your head a bit doing two plays at the same time. While we were rehearsing, The Winter's Tale in London we're also rehearing Julius Caesar, so that's a bit of a head scrambler. It's a lot of work and intensive but very good.
How does the casting for the two and a half year ensemble wok?
They've cast 44 actors which is the 2009 – 2011 Ensemble and for each play that gets done they get split into two, so 22 and 22. Winter's Tale is our first play and we did a couple of week's rehearsals on The Winter's Tale and then a couple of weeks into that we started on Julius Caesar. So we are rehearsing both but because Winter's Tale's our first one it always had priority. Now we've opened Winter's Tale the other company come in and do As You Like it and while they are doing that we'll start rehearsing Julius Caesar again.
And the 44 actors will be the cast for all the shows until 2011?
Yeah, pretty much....I think all the RSC plays will be – us!
Are you excited or freaked out by that?
Excited! It's great. It's fun and exciting to be at the RSC. We get to maybe open the new Royal Shakespeare Theatre so that would be amazing. Of course it's scary and it's the RSC and there is a lot of pressure but its one job.
Tunji Kasim, The Winter's TaleWhen was the last time they did this Long Ensemble?
It was with The Histories. They had that ensemble for two and a half years and they did all the Henry's and all the Richard's [plays]...But they just focused on The Histories whereas this time around we're doing King Lear and we're doing new Russian writing and we're doing Tarell Alvin McCraney's play; he's writing a play for this ensemble. He's picked people he wants from this ensemble and is writing a play as we speak and towards the end of the two years we'll start rehearing that as one of the last plays we perform.
Had you always been a fan of Shakespeare?
Yeah, I'd always wanted to do a Shakespeare. This is my first, I've never done Shakespeare before. He's a cool dude Shakespeare. A lot of modern plays you get now a days are all about being naturalist and I don't really see the point in doing that on stage when everyone knows it's not; they have paid to watch you. I like writers that appreciate language and appreciate rhythm, like Tarell who's a great writer because he really understands language is important.
You were one third of the cast for the highly successful, international tour of The Brothers Size. What it like working on that production?
Brilliant! A lot of laughs on Brothers Size. Great play, great writing, great cast, great director, great team behind the production – producer, assistant director. It was absolutely brilliant and we got to go to Barcelona, Istanbul...Scarborough! [Laughs]. It was good going from that to this because The Brothers Size is language heavy and language orientated and Shakespeare is all about language. It was a nice transition from that job to this one.
Finally, why should people come and see this show and is it just for people who like Shakespeare?
No Shakespeare play is just for people who like Shakespeare. You only find out if you like Shakespeare if you go and see Shakespeare. If you've never seen a Shakespeare play come along and if you have then...come along as well because I think this is especially a good production – I'm proud to be involved in it....When Shakespeare is done right, you don't have to understand everything that's said because I don't. I've been doing the play for a while now and I still don't understand what people say. It's [about] just being open to it and if you get good actors doing it, which hopefully in this play we do, then you'll understand the story and follow it.
The Winter's Tale is the first play from the two and a half year ensemble cast and plays in repertoire at The Courtyard Theatre, Stratford-upon-Avon from 31 March - 3 October 2009.
The second play in the series, As You Like It, opens on 18th April 2009 and plays in repertoire at The Courtyard Theatre, Stratford-upon-Avon from 18 April - 3 October 2009.
To book tickets or for more information please see www.rsc.org.uk
---
Related links
Review of The Winter's Tale
Interview with Tarell Alvin McCraney