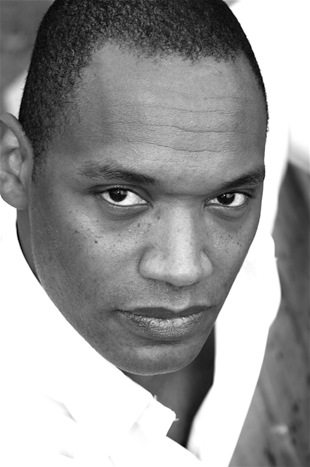 With a successful career in musicals that has seen him star in productions including Dirty Dancing and Five Guys Named Moe and Cats, Tee Jaye, also known as, Tommy Jenkins is the consummate professional.
With 30 years in performance behind him Tommy, born in Canton, Ohio USA, is what you might call a veteran, a young looking veteran I hasten to add. Read on to find out how he beat Michael Jackson to the number one spot and what it's been like starring in the award-winning Jersey Boys.
Afridiziak: I must admit I have not been to many musicals but there is a real energy about musicals.
Tee Jaye: There is a real energy and excitement. I think part of it is about being taken on a journey regardless of what that musical is. You are going to hear people with fabulous singing voices, and you will see great choreography and great staging and if it is going to plan you will go on a rollercoaster journey. So you can leave thinking I related to that character but for people that have not been to musicals, this musical is a great one to come to.
Afridiziak: It was great coming to watch the musical, what I found great about the play was the knowledge it gave regarding the colossal back catalogue of the Four Seasons.
Tee Jaye: Absolutely. One of the tracks - Working My Way Back To You Babe (1966) - I grew up listening to that song. For a while I thought it was it the Temptations or the Spinners but it was one of the black male vocal groups that did it and it was a huge hit. But I remember going to watch the musical in New York even before I was a part of it. I did not know what to expect. I knew there were three songs that I could name off the top of my head if you say Frankie Valli and the Four Seasons; Sherry (1962), Big Girls Don't Cry (1962) and Walk Like a Man (1963). In the show however track after track I found myself going; "I did not know they did that?"
Afridiziak: Their music has a real timeless quality.
Tee Jaye: They do and their songs cross the board - no matter what race you are, you will love the music that they produced. Even to this day they have songs that are being used. At the moment in the charts Beggin' (1967) is being used on an urban track*. They are using the chorus for a dance track but they are still using the same arrangement and the chorus and I think that that is just amazing.
Afridiziak: The show seems to be a lot of fun but how do you maintain your levels of concentration when performing day after day two times a day?
Tee Jaye: You know part of it is that in the industry we get experienced in performing eight shows a week no matter what show. We have known that since we have been involved in the industry. But it does not get boring and it is like any job but where we know we do the same show every night, we do not know what may go wrong or what maybe slightly different.
Afridiziak: How do you prepare for each day you perform?
Tee Jaye: Well I usually have a warm-up individually but for a few of the cast we have a pre-warm up that starts at 6.30pm with the official singing teacher for this show and anyone who doubles Frankie Valli's voice needs to attend.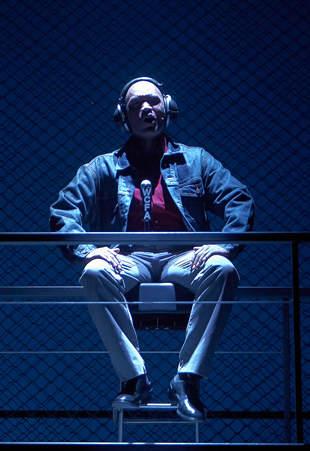 Afridiziak: "Doubling" what does that mean?
Tee Jaye: When Frankie and the Four Seasons created this unique sound what they did was doubled his voice. This was created by making him sing the track in the studio and then have him sing it again and then they would layer it and so it created this unique and powerful sound. The only way they could re-create that sound in the musical was to have people to do this off stage and so it is only certain people that do this. The person that plays Joe Pesci and I will do that but it is strictly to sit underneath the actor who plays Frankie.
Afridiziak: Have you met Frankie Valli and the others?
Tee Jaye: Well Franki Valli and Bob Gaudio are still alive and they are involved with the show and they have been over for this production. At the moment there are about six productions going on as we speak around the world. He (Franki Valli) has the say on who plays him and this is a contractual stipulation and so they are very much hands on and in the know about a lot of the intricacies of the production.
Afridiziak: And what are the plans for you in terms of the musical?
Tee Jaye: I have just signed on for another contract and so this will be my third year and so I think this will be me done. But interestingly I have had a change in my contract because they have given me a cover to Cru the camp, flamboyant record producer in the show. They had a vision that they wanted this particular character to be played by a black actor but the original Bob Crew was like you can't have me played by a black guy because I am not black. They want to still test this out and so that will be good fun to do that.
Afridiziak: Any other musicals that you have planned to do?
Tee Jaye: I have not seen anything in truth that really jumps out that I would like to do although I am sure there will be something that comes up. At the moment after my third show if I have saved some money and I feel things have gone well, then I will take time out and concentrate on stuff that I want to do.
Afridiziak: You have had a really successful career particularly with your number one single Let Me Be Your Love (1996) tell me about that.
Tee Jaye: I kind of forget about it because it happened in 1996 which was not that long ago. It was a dance track. I was living in Hamburg performing in Cats and then I got a recording contract with Polydor Records and eventually did some stuff with BMG. I was working with an Italian production team and they came up with this track. Funnily enough I only found out that the track had got to number one on the way to a performance in Spain. I actually heard the count down on the radio while on the way to the show. It was the weirdest thing to hear that your track is number one over the radio. What was even weirder was I beat the Earth Song (1994) by Michael Jackson at the time.
Afridiziak: There are not many people that can say they beat Michael Jackson to number one. Are their plans to further that aspect?
Tee Jaye: Well definitely. At the moment, I am writing a musical which will be a fictional story and it will take place through the fifties and sixties and the musical will take the essence of the Motown era and sound. So there will be tracks that I could put out in the charts.
Afridiziak: Is it near completion?
Tee Jaye: The script is finished and I am working with a friend of mine who has a great studio. I sent him the script, and he produced a couple of sample tracks for me to hear and for the first time since starting this script I almost welled up because someone at last understood and got it. That was great for me and I am really excited. I think it would be great in a venue like Hackney Empire so I cannot wait.
Afridiziak: And what about film because you have movies like The Bourne Identity (2002) on your CV?
Tee Jaye: Well I do a lot of extra and small roles but I do a lot of voice over work for films. I do a lot of characters where there may be an actor who they think does not match vocally and so they will call me in to do the voice over work. But it is funny because you will do stuff and go and see the film with a friend and then realise you are not even in the film.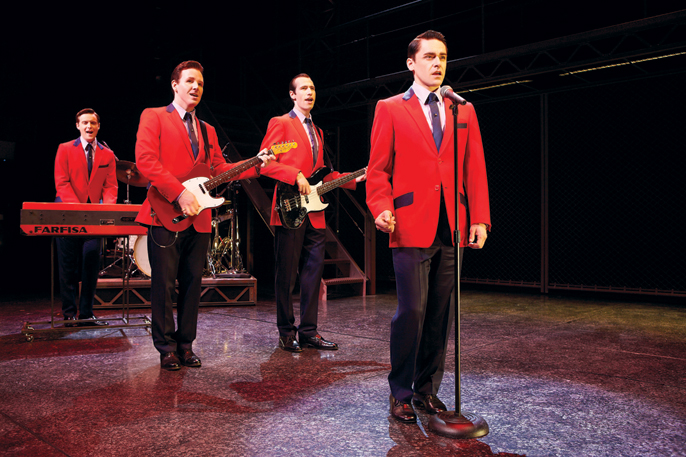 Afridiziak: Lastly after a 30 year career in the business, any advice you would give to aspiring performers?
Tee Jaye: Don't do it! No seriously, if your heart is in it and you are prepared for rejection and you are strong enough to take it then go for it because you have one life to live.
Madcon, a Norwegian group did the remix of Beggin' (1994) which has been re-released.
Jersey Boys is at the Prince Edward Theatre and in March 2010 celebrated two years at its London home.
---
Related links
Afridiziak Theatre News review, Jersey Boys
Official Jersey Boys website