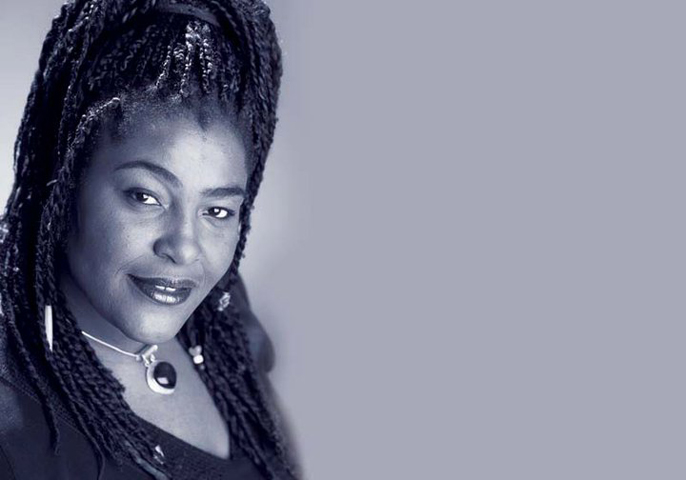 Sharon D Clarke has appeared in many West End musicals including Mama Morton in Chicago, We Will Rock You and Rafiki in The Lion King. She played Asaka (Mother Earth) in the 1994 European premiere / Birmingham Repertory Theatre production of Once On This Island, for which she received an Olivier nomination, and will be reprising the role for this new production of Rosa Guy's book, My Love, My Love.

Last year Sharon was a judge on the BBC1 prime time show Last Choir Standing and for the last three and a half years played Dr Lola Griffin in the BBC's Holby City. Let's not forget that she was also in the successful band, Nomad, most famed for the dance track, (I Wanna Give You) Devotion.
Tell me how the tour is going for Once On This Island?
Fabulously. We started in Birmingham, then Nottingham then we took time off to rehearse with the new children. We've been getting fantastic feedback and the audience seem to be enjoying the show because it's uplifting. It works because you can bring kids, but it's not a kid's show. It's family show – a love story, morality tale, dealing with race and cultural difference in Haiti. It's about a girl who is dark-skinned who falls in love with a light skinned man. There are a lot of racial politics on the island and the Gods see her and have a bet on whether love is stronger than death. There are lots of different levels to the play. It's been a joy to do and by the end you'll be up on your feet and dancing.
What attracted you to being in this production a second time around?
I loved it the first time because it's a wonderful black musical, and there have not been many in the last few years. It's a family show and something you can see as a family experience. It's a way of explaining love to children; I love the piece and the music and being in it again. Now, I'm 15 years older I can see it from an older and wiser perspective. When I first played Asaka, she smoked, and was flighty, and sexy. This time, the director (Susie McKenna) wanted us to look at how the island works and to bring our own vibe by exploring different ways of working. It is wonderful for an actor to have that kind of opportunity.
Tell us about your character - Asaka, Mother Earth?
She's like the Greek goddess, Demeter, or mother of the earth who looks after the seasons. Asaka is a guide for Ti Moune's journey and offers her shelter and food. Before when I played Asaka, she was more alluring and sexy, but this time she's a bit more cheeky and mischievous. She loves to move and is always having a bop. Playing a god, is a great role that doesn't come along all the time.
Are you quite a motherly person yourself?
I'm the mother of my mates, but not in a maternal way as I don't have any kids.
Where do your parents originate from and can you relate to any of the themes in the play from a personal perspective?
My parents are from Morgan Forest, Clarendon in Jamaica. My dad was a carpenter and my mum a seamstress. My mother's father was a farmer in terms of livelihood and toiling the soil, these people work off the land and I remember watching dad so I can relate in that way.
I thought you were brilliant in Mother Goose, where can we see you after Once On This Island?
I'll be doing the Vagina Monologues again, touring Bromley and Hull which is a great joy. I'm not doing panto this year though, as I'll be joining the cast of Hairspray from October.
How did you get into acting?
When I was six, a lady called Ivy Travers from Clapton Pond and a friend were doing dance classes and I asked my mum if I could go along. I got the bug and loved it and did my first show in Bow Civic Centre. I feel blessed that I can pay my mortgage doing what I love to do. I haven't been to drama school. I went to Anna Scher's. Then it was more of a drama club than a drama school. Anna dealt with improvisation, she got kids to explore their emotions and how they react to people, which I love. You don't do a lot of that in the business. We did improvisation on Shakespeare and (Harold) Pinter. It was fun. A lot of Anna's students were raw, like Kathy Burke, Natalie Cassidy, Linda Robson. With acting I feel you learn on the job, you get a different challenge every time. Being in Holby was a wonderful eye opener. I worked with Robert Powell, one of Britain's greatest actors and Hugh Quarshie. There's a continual turn over of people, so it's a wonderful way of learning your craft.
Do you still get nervous at auditions?
I think everyone does, my mum always said what is for you is for you, six month down the line another job comes in. I never worry about jobs that I don't get. They were going to bring Dreamgirls over here but the Americans didn't want to. I was told they wanted me to play Essie. I thought 'yes, the job is mine'. Then when I didn't get it I was really disappointed, but I understood why as the girl that got it was phenomenal. But then the show didn't happen they went into rehearsals, but the production didn't happen.
What are your most treasured career highlights so far?
I feel lucky because there are quite a few I can pull out the bag. It's been a really good journey and it's not over yet. I think being in Nomad (I Wanna Give You Devotion), because we travelled the world. We were supporting Kylie at Wembley, and when we got on the stage, they didn't want us, then by the end of the performance they were shouting Nomad. Also, Holby, purely for the fact of how Lola's been received. Her strength as a black woman with authority is dear to my heart as a black child growing up in this country when you didn't see a lot of black people on the television. I am still blown away by the positive reaction I get from people.
What should people come and see Once on This Island?
It's a joyful, rousing, wonderful, Caribbean fairytale celebration for the summer. You'll leave the theatre feeling good.
What does the D stand for?
I'm not saying – it's that little bit of mystery about me. I use the 'D' because when I was at school there were a couple of Sharon Clarke's. When I started acting, I put in the initial so that my name would stand out.