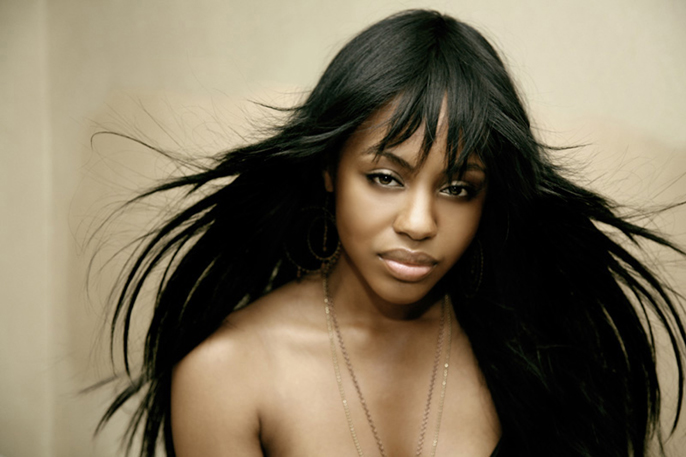 American singer and actress Sasha Allen is currently starring in the award winning musical Hair as the character Dionne. The show had a hit run on Broadway before being transferred to London's West End last month. Sasha has worked with the likes of Christina Aguilera and John Legend as a backing vocalist and has also starred in the film Camp. I caught up with the young talent at the Gielgud theatre while she was taking time out due to her knee injury.
When you're on stage performing, do you get the same vibes on Broadway as you do in London's West End?
The vibes in each city are completely different. The British audience are more reserved throughout the show, and so you're not totally sure if they like it or not, until the very end when they clap and cheer. But the Americans seem to be appreciating everything. You wonder too if they really like it, and are not just pretending.
Did you ever think that one day you'd be playing a hippie in the 1960s?
It never crossed my mind actually. I was in LA and I got a call from my agent to audition for the show, and so I auditioned. Then I enjoyed the music they gave me to learn, and the dancing allows you to be free as it's not so specific.
How do you feel about stripping naked for the show?
At first I had an issue with it. But then I came to understand that it's not sexual. We're not getting naked to be sexy. We're just doing what we're doing for a purpose and a protest. And now that I understand what it's for I'm okay with it. Sometimes, people take pictures and that worries me more, because I wonder if they're taking pictures for the beauty of what we're symbolising, or for a sexual reason. I can never be too sure. But stripping is optional for everyone in the cast. I didn't do it in the beginning as it took me a little while to get comfortable with the idea.
What did your mother have to say about it?
When I discussed it with my mother she was like "well, you're not going to have the same body forever" (laughs) which also convinced me to do it.
You've worked with several big names in the music industry, as well as landing a part in the cult film Camp. But how does theatre compare to singing and film?
With singing and film you can always go back and clean it up, whereas theatre is a once in a lifetime experience. I get a rush from theatre now, but it also has its pros and cons. I hurt myself during rehearsals in New York doing the show, and then I got better. But the other day I was jumping too hard during a live performance in London and I felt a little pinch in my knee, which means I have to take time out until it gets better. But you learn a lot about your body in theatre and how to take care of it, including my voice. You learn your boundaries, and what you can change and can't do. You also worry a lot about your voice and body too.
What are rehearsals like preparing for each musical number?
They're hard and long but I enjoy it.
The acting in the show all seems incredibly natural, and convincing. How do you think this has been achieved?
I think it's because of the cast. We have a great chemistry. I joined them over a year ago, but most of them have been doing this for three years, so everybody knows each other well. It helps that we all genuinely like each other as well, because if we didn't the chemistry might be a little different. It makes for a fun working environment, making a great experience for the audience.
The first time the musical Hair hit the stage in London, was in 1968 (at the Shaftesbury Theatre). Do you feel any pressure for the production to be a success this time round?
I don't feel any pressure personally. But I don't know what the director is feeling or the writers. But I think the music is great and it's a great story, and we all try our best to do it the best we can, and it seems to be received well. We've had rave reviews in New York, so we hope for the same here. But if we don't get it, obviously there will be a little bit of disappointment.
When I came to see the show it didn't escape my attention that some of the audience were Americans. Do you think they travelled from the States to see it?
Oh, yeah. We have some die hard fans that are really into the cast. They're so sweet and really care about the show and the people.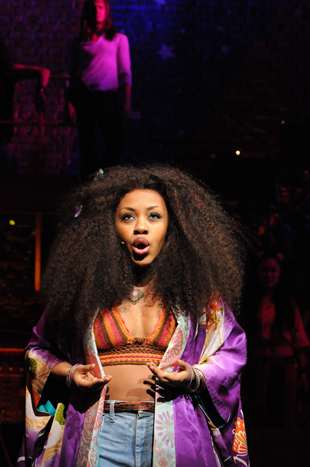 Have you had a rocky road to fame?
I wouldn't say I'm famous. Not yet anyway. I hope to be. I've had some ups and downs, and I've matured a lot in life because of the things that I've gone through. I wouldn't take any of the struggles away.
Having been born in Harlem, and trained as a performer in the States, what do you think you've brought to London's West end?
I would say a bit of New York flavour, and also talent because I work really, really hard at what I do. I think I've been blessed. But every city has incredible talent and something to offer. I went to see the musical We Will Rock You recently and the woman who plays Killer Queen has a phenomenal voice. I think that vocally, I am up there with the best.
You play the character Dionne. Do you see anything in her in yourself?
I think she is me. At first I questioned whether I was imitating art or life, even though we have to learn certain words and sing certain lines, and do certain movements.
Your new album is due to be released shortly, what can we expect?
I have had to place it on hold for now, but it will be released eventually. What I can say about it though is that it will be a mixture of soul and rock.
Not many people in London know who Sasha Allen is. Do you think this will all change with your new album and West End debut?
I hope so. I think I have a lot of strengths. And after this show I want to keep on singing. But I don't close any doors or won't say no to anything, especially theatre. There's so much passion and great stories that I'm sure I'd want to do. But my passion for Sasha is a singing passion and if it involves music then I have to do it. That's why it's such a joy to do what I do.
How do spend your time in London when you're not busy working?
I have a four-year-old daughter, so I spend a lot of time with her. I get up early and take her to Pre- School and I like to go out in London. But I try not to go shopping because there are a lot of shops which all seem really exciting because I'm not from here. I'm also a member of the Soho House which is fantastic.
The production Hair hasn't come without controversy. What do you think this adds to the appeal?
I would hope people are attracted to it because of the love in it. But whatever they love in it, they are coming for a love and not for any negative reasons. People should come and see the show because of the message, and the message has nothing to do with colour, or the way that you dress or act in life. It is to do with love and passion for being free, and having a more structured way of thinking, and to know what war and hatred can do. I think it's a message that everyone can understand. It has a lot to do with US history, but everyone can understand war and hatred. It affects the world.


Info: See Sasha Allen in Hair the Musical showing at the Gielgud Theatre, 39-45 Shaftesbury Avenue.
Related links
Afridiziak Theatre News review of Hair
Follow Sasha Allen on Twitter
Like Sasha Allen on Facebook