Richie Campbell, The Ones that Flutter
Published:

Monday, October 5, 2009 7:09 PM

| Interview by

Karla Williams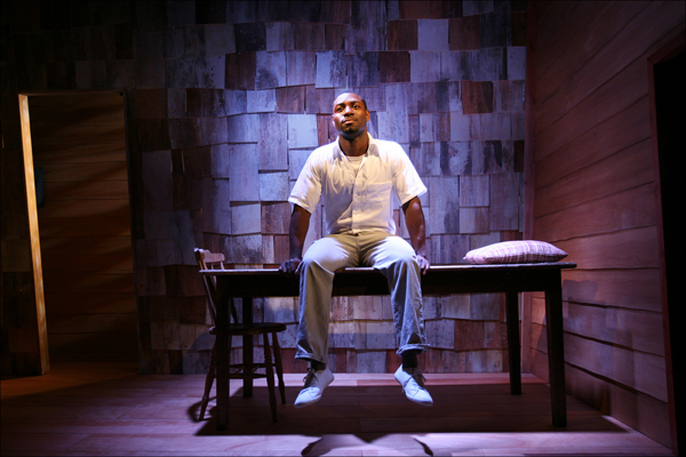 Richie Campbell is the incredible British talent who's been quietly climbing the industry ladder. Having starred in The Bill in 2007 he went on to have parts in Holby City, Minder and Babyfather and is now in the Nick Love film The Firm which opened in cinemas this September. He is also playing the role of Hunter in the award-winning play, The Ones that Flutter at Theatre503. The play looks at the life of Roddy, who having been a prison warden on death row has been perpetually affected by the prisoners he's encountered and none more so than Hunter.
The title makes the play difficult to gage, how would you describe The Ones That Flutter?
That's a tough one. The play itself, I would describe it as the warden's journey basically, after he's left the prison. Then obviously later on in the piece you understand what "the ones that flutter" means.
You're most well known for playing Dominic Hardy in The Bill. Now the character of Hunter is different to Dominic – what attracted you to the role?
Exactly that – the fact that it's different. People know me from The Bill because it's right there; TV is just an easy medium but people who have seen what I've done have seen that I've done a lot of different characters all over. Like other stuff I have done in the theatre, 93.2 [by Levi David Addai] was a play I did at the Royal Court where I played some messed up Yardie guy, then The Firm is quite different, so for me it's all about playing characters I enjoy. And then this, to do Hunter was a character that I wanted to play – it's just a different character.
You have been a successful actor in your career thus far; what's the key to your success?
Bettering myself and doing different things – that's how I see success. So, I wanted to do this play because it's American and I've done American parts on radio but I needed to do it on stage for myself, to show that I could do it and also make sure it's different from my last job.
You've worked in TV, film, theatre and radio; which is your favourite medium?
All of them. That's the truth because when I do film I get bored and I'm like, "Oh God this is boring, I want to do theatre', I don't feel like an actor sometimes because film is systematic. But then I feel I need to do a nice big stint on TV because TV's relevant and straight in front of you. Then radio is fun because you get to go in, mess about and vibe off other people and then voice over stuff is good as well so I enjoy all of them. But obviously everyone wants to do film because film is iconic. You can do a film, put it away come back ten years later and it still has relevance. But the God's honest truth is all of them, because all of them make me the actor that I am.
And how hard has it been for you as a black actor?
If I'm honest, it hasn't and that's because of where I've put myself. I haven't put myself in a category that says, "I'm a black actor so therefore I have to do this". I don't see myself as an industry actor I see myself as an actor in the industry and I know what my path is and what I want it to be, so as long as I stay on that path I'm going to be cool. Yes it's been a struggle because obviously you're only going up for certain roles and you can only go up for certain black roles too, supposedly but in saying that it's about how you see your roles. Like I didn't want to do The Bill when I got it because in my mind I was playing a criminal, but what we did was we went to the heart of it and showed a heart to the character. But it is hard, you can't deny it. It's not the same as being a white actor at all but I believe you can find your way out of it.
So what are you plans once you've finished this play?
There are too many plans. (Laughs) I'm doing a satirical cartoon voice over where I play 50 Cent. I'm also doing some writing and I've set up a little production company called Rich Kid Productions and we've got a 15 minute short drama that we're hoping to get out beginning of next year and then hit festivals. And acting wise, whatever is around the corner. There are a few things I'm fingers crossing about but that's about it. I'm open to things, I don't want to say I'm doing this, doing that because it kind of gets boring. I like the fact that you don't know what happening around the corner.
Why should people come and see The Ones That Flutter?
Because it's a very, very good show – hands down. Like you said, you going to be confused by the title and the fact that you're going to come and see a show that you're not entirely sure about it, I think it good theatre already; and then it doesn't disappoint. It's relevant to today's questions of is capital punishment right or wrong. But the play doesn't enforce any of that on you - it just lets you decide. And also it's just a generally good show, like actors are on point, the costume, the design, the set. And it's a show that you don't get to see very often so I would urge people to come to this show. There is talk about it getting transferred to the West End but it's so nice seeing it in an intimate space.
---
Related links
The Ones that Flutter at Theatre503 until 10 October, 2009
ATN review of The Ones that Flutter by Karla Williams