Interview with Patrice Naiambana who plays the lead in the RSC's Othello and director Kathryn Hunter
Published:

Wednesday 28 January 2009 6:09 PM

| Interview by

Karla Williams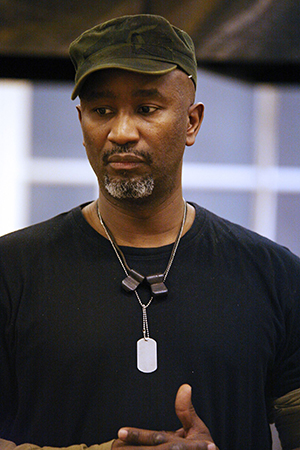 The Royal Shakespeare Company (RSC) is one of the most recognised organisations in theatre. With shows playing in both Stratford-upon-Avon and London as well and touring the UK, they are arguable the most prolific theatre company's working in Britain at the moment.


The second of their plays to be travelling the country is Othello, which sees the West African actor Patrice Naiambana in the title role. We sit down to talk to Patrice and director Kathryn Hunter about why they got involved with the world famous moor and why this Othello is set in the 1950s.
How did you come to be involved with the RSC production of Othello?
Kathryn: I came to know the others Shakespeare's and didn't really know or was that familiar with Othello until Patrice said can we do some work on it. So it was Patrice who introduced me to Othello (laughs). We looked at the play in a workshop context and then more specifically we looked at adeconstruction of the play written by Patrice, which was a deconstruction in the sense of it was Patrice's response to the play.

Patrice has done many, many other explorations that I kept abreast of but wasn't a part of as I was off doing many other things. In the mean time Michael Boyd [artistic director, RSC] proposed a straight version, as it were, so we talked about it with Patrice and agreed it would be interesting to go on that journey.
Patrice: As an artist I have worked with Kathryn for a number of years and I have seen her work...so it has been a journey of performers, experience and collaboration over a number of years which has culminated with the support of the RSC in this particular play.
So what was it Patrice, about Othello that you loved?
Patrice: It's more to do with dialogue, intercultural dialogue and learning, that's how it started. I have lived in different parts of the world and different parts of the Diaspora. I've lived in Barbados, Sierra Leone and here and I'm very interested in how we get to know each other better basically, and how we can improve or learn to listen in different ways and Shakespeare seems to be the one constant in all these places. The thing about Othello was I'd been listening to many people talk about Othello; Samuel L Jackson, Hugh Quashie, James Earl Jones and Othello just seemed to contain lots ofblock of issues that seemed particularly resonant now in terms of things that I'd been looking at and this thing of how can we understand each other, how do we love each other and what stops us from loving each other. I wanted to use a play that could make very real connections or reveal very real connections about inter-culturality in Britain today.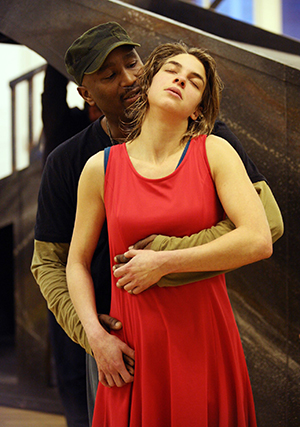 And how did you get into acting?
Patrice: First of all, I am an African performing artist living in Birmingham (smiles). I started in Sierra Leone, West Africa and I got into performance because I felt stories were a good way, a vital way, of dealing with dialogue and social transformation and all those noble idealist things. I was also fascinated by history, how Africa and the Diaspora got to be where it was and the relationship between that and the west and being somebody who has grown up here and being very familiar with Africa and even the Caribbean, as I've spent some time there as well, I was interested in what kind of bridges could be made between all these different kind of experiences and cultural universes.
They have been a number of productions of Othello recently staged, what does your version bring to our understanding?
Kathryn: We've set it in the 50's as I think it coheres with the gender and race relations, loosely speaking. I didn't want to do an Elizabethan because I have a little kind of blip about Elizabethan costume. So I said 'can we do it modern?' but it just jars, particularly the sense of chastity and a women's place and their unspoken obedience. For the story to work there is a sense amongst the women that they have to be obedient to their husbands and the husbands accept that they possess their women. I know that in my parent's times, that is more the ethos than now. I also think Patrice will be an Othello like nobody has ever seen.
Patrice: I think one of the things we've been talking about is what exactly are the reasons that go into Othello's downfall and how can we really release them and make them manifest. How much of his downfall is down to him, how much of it is down to his circumstances etc. Also the love, it's a very deep love. If they were just platonic what would be the big issue, but they are having sex. If they weren't having sex I really wouldn't see what the big issue is.
And finally, would you say this is a production for those who just like Shakespeare?
Kathryn: Hopefully that is absolutely not the case! I hope it absolutely blasts through the strictly Shakespeare audience and with its clarity, emotion and visual and physical storytelling.
Patrice: It's telling a story for anybody who is into stories.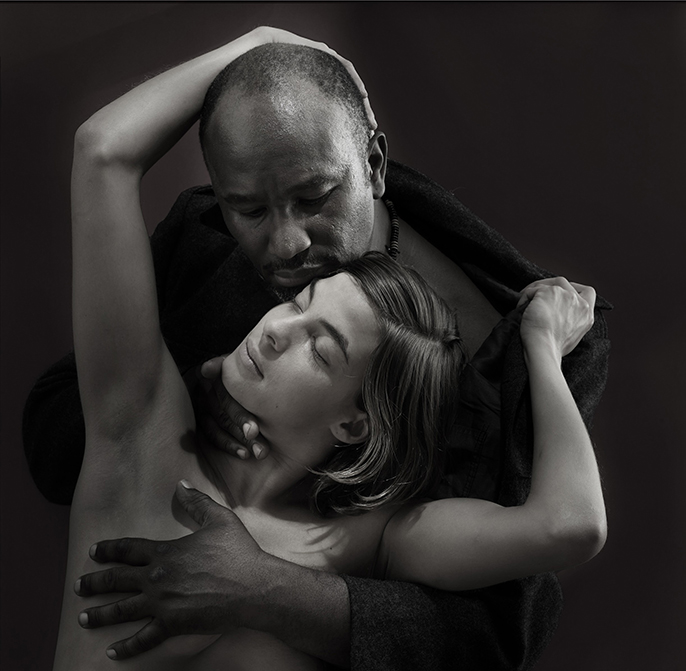 Info: The RSC's Othello will be playing at the Hackney Empire from 10 to 14 February 2009
Related links
Review of A Midsummer Night's Dream
Interview with David Ajala