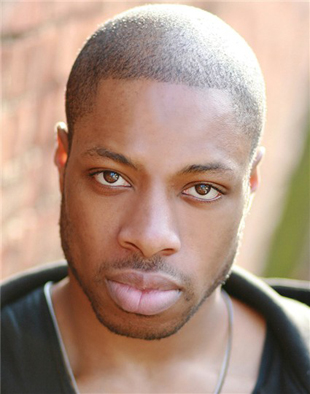 Eurydice is on tour I understand. How has the production been received?
It's been great. It's an interesting, delicate piece that needs a good hand as it can be maudlin, so you need a lot of clarity. We're in the underworld, where the rules are different. You need someone skilled, the actors have to be on point but more so the director as it's about the vision of the piece. The production is sparse and so the director (Bijan Sheibani) has to flesh out certain things.
Tell me about the character you play, Orpheus?
He's a musician and the play is based on the Greek myth and he was the son of Zeus, the greatest musician in the world. So great, he can make trees happy and cry with his music. He's in a relationship with Eurydice and makes her his wife and it's about that journey. He has music in his head so is always thinking about music. I know musicians and one minute they are talking to you and then the next they are thinking about compositions, tunes, you have to click your fingers to get their attention.
What's your own musical background?
I can technically sing opera and have performed opera myself, and liked singing in school. I do like to sing. I have written a couple of songs and they're not bad. My little brother is a producer and he did a song for the cage fighter, Jack Mason, who fought Katie Price's boyfriend (Alex Reid) recently. My brother sorted out an MC and as I write a bit of poetry, I stepped up to the table and wrote a piece about cage fighting. It was funny.
Who do you think is the greatest musician of all time?
Charlie Parker, a jazz guy who is massively talented. Then you've got the classical composers Mozart, Beethoven – music that is almost spiritual to hear. It's like you get it but you couldn't describe it. There are so many jazz and classical guys. These days I like Alicia Keys, Erykah Badu and Vee Vee Brown – I've seen her perform, when I talk about a musician - she's inspiring.
It sounds like a fun piece of theatre 'Alice in Wonderland meets Greek Mythology' what are your views on mythology as a whole?
To me it's a lot of lessons – they could be tall tales but they stem from some sort of truth.
Are there any myths or sayings that you relate to?
I think that to do good to others and they will do good to you - and also the thing about getting out as much as you put in is underrated but I think it's true especially in this game. Behind most successful people somebody is doing a whole lot of work. I'd say so for my own career. I did lots of studying of acting, agent searches, writing to people and having a forward motion, it's difficult. I went to university and did a degree.
You couldn't go to a careers advisor to say you want to be an actor; you have to have a belief and a drive to see it through. It's a difficult industry to work in and difficult to crack and it's quite perspicuous. People's mind's can change in a second, they like you, they don't like you, there's a lot of that but I think if you know what you want – you have to work a lot as it's something where you have to stand out for people to continue to cast you. There's nothing wrong with average, but everyone watches things to be inspired – everyone wants to hear Obama, but a speaker's corner guy isn't going to have the same impact. You have to work a lot and believe in yourself a lot.
I watched Blood and Oil when it was on the BBC recently. It sparked a lot of debate on Facebook. Mainly about the authenticity of it – the actors, where it was filmed etc. Can you shed some light?
It was filmed in South Africa – honestly I can't speak for the production, but I'm sure they have professional reasons for doing it. I know South Africa has an established film industry. From my point of view Nollywood has a great industry but is not geared towards cinema.
It's a shame it wasn't but I'm not sure what the security is like in Niger-Delta, where they would have wanted to film. I think it was that, maybe an insurance thing and it's a shame. I know some of the Nigerians watching would have questioned the accents. It talked about a subject that never gets air play and two great actors (Patterson Joseph and Naomi Harris) in the leads and for all those things it redeems itself.
Only Nigerians would have seen the lack of authenticity – a lot of British Nigerians didn't realise. I had a lot of aunties saying 'what's up with your accent?' and 'that wasn't Nigeria'. It's difficult. It should be a signal for Nigerian filmmakers to step up. It was done for 2 million pounds, maybe more but there is a whole calibre of black African directors, writers and actors who wouldn't demand that rate especially knowing what it's for.
I was at a workshop at the Royal Court with the crème of the crop - we could just do our own thing, and it would be top level at every angle. It's all very well complaining but it's endemic of how we're not taking what's ours – if you're skilled why not go ahead and do something about it?
What was it like working on Blood and Oil?
I very much enjoyed the experience. It felt special. I won't lie – Naomi Harris, oh my goodness, very pretty and intelligent – she went to Cambridge. Then David Oyelowo stepped out of the car and it's like, what? Everyone's so nice and down to earth. David could be a comedian, you have to get up so you can't hear any more. There were really good actors and very nice people; it was a really good experience.
Your career thus far has seen you play some noble characters, Orpheus, Othello, Olaudah Equiano –are those the kind of roles that are most attractive to you?
I'll embrace anything – anything with a good story. Noble characters are good. I'll be honest. The depiction of many black characters is negative generally and more depictions of noble and positive black people is needed to be truthful. I don't know any drug dealers but you'll find that whatever the show is you'll have some drug dealer, or sports guy that's all we seem to be. It's not true to life, more complex and real people is what's needed and people are fed up of the whole drug dealer image for black men.
Finally, tell me about your background. Where did you grow up and why did you decide to go into the fickle world of showbiz?
I grew up in London in Finsbury Park and then Edmonton. I'm a bit of a geek and love science, physics, IT and maths. I went to university – London Oratory School, very interesting and then UCL and did electronics engineering. Then half way through I realised I couldn't work in an office. I graduated, did a two week acting course and really enjoyed it.
Thank you for your time and I look forward to seeing you in Eurydice.
---
Related links
Afridiziak Theatre News review of Eurydice
Eurydice is at the Young Vic from 29 April to 5 June, 2010
Afridiziak Theatre News review of The Brothers Size
Afridiziak Theatre News review of In the Red and Brown Water
Afridiziak Theatre News interview with Ony Uhiara