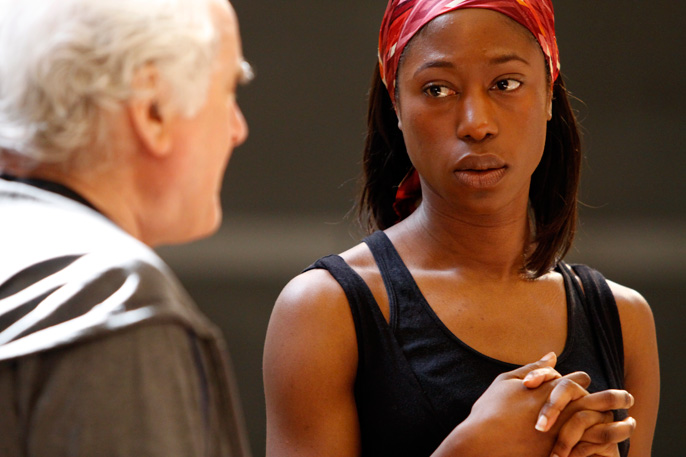 LAMDA trained Nikki Amuka-Bird has had a varied career with an array of theatre productions at the Royal Shakespeare Company including A Midsummer Night's Dream, The Tempest and Doubt at the Tricycle. Or you may remember her from the BBC One series, Survivors, screen adaptation of Andrea Levy's Small Island and the popular, The No. 1 Ladies Detective Agency, directed by the late, great Anthony Minghella. Her film accolades include The Disappeared, The Omen, Cargo and Almost Heaven.


Set in the present day, but inspired by ancient myth, Moira Buffini's Welcome to Thebes, directed by Richard Eyre, offers a passionate exploration of an encounter between the world's richest and poorest countries, set in the aftermath of a brutal war.

In the midst of rehearsals and during a quick lunch break, we caught up with the Welcome to Thebes lead who plays Eurydice. Poised and eloquent, she shares her excitement at playing such a powerful role, the wonders of Greek mythology and the importance of challenging yourself.
Tell me about your upbringing – where did you grow up? Have you always wanted to be an actor and did you have a backup plan?
I was born in Nigeria and left there when I was five. I grew up mostly in England, raised by a single mother and we moved to Antigua, in the West Indies when I was nine. I continued my schooling here in Surrey at boarding school. I really enjoyed it. I went to what's known as a 'progressive' school. The children didn't wear a uniform and called their teachers by their first names. They were good at encouraging you to get involved in the arts. It was a great experience and my mom, who I said raised me single-handedly, has always been interested in the arts. She used to work for an organisation promoting equal opportunities in the arts when she was younger. I've been fortunate in that she's always encouraged me to do whatever made me happy and she didn't put any pressure on me to take any particular path in life. I wanted to be a dancer when I was younger and that evolved into becoming an actor later. It was just a natural progression. I don't remember wanting to do anything else. I met great drama teachers, enjoyed it and wanted to do more. I feel like I just fell into it.
Tell me about Eurydice, the lead character you play in Welcome to Thebes?
The play is a mixture of Greek mythology and modern naturalism and it's set in Thebes which in our imagining is something like a third world country, perhaps in West Africa. It's the end of the Civil war that's lasted for a decade, the country is impoverished and the army is volatile. Eurydice, my character, is becoming the first female democratic president of that country. On the day that we meet her, the ruler of Athens, Theseus, is arriving and Athens is the most powerful country in the world. It's important to Eurydice for her to gain Theseus as an ally for her to persuade Athens to invest in the country and to believe in their future. So it's about the relationship between the two countries - the third one and the first one. Also it's about the kind of relationship between Thesius and Eurydice. I wouldn't say the sexual politics but it's about how they can respond to each other, work together and how much they need each other. It's kind of epic and personal and detailed at the same time.
It's a powerful role. You must have been excited when you got the script?
Yeah. I hadn't read anything like it and it's not just Eurydice that's a strong part. She leads a movement of women who lead a peace movement to end the civil war in the country. Which Moira Buffini, the writer, based on real women in Liberia because basically they were undergoing a lot of violence, losing their children, families and husbands. The women decided they'd had enough and it started off as a prayer group meeting and ended up with peaceful protests with thousands and thousands of mothers and wives saying no more war and they ended up having an effect on their government and basically putting an end to the violence. I had no idea. You have to see this documentary called Pray the Devil back to Hell about the women. It's the most extraordinary story and Moira Buffini, our writer, was inspired by that story. So reading it I was struck and moved by it and wanted to be a part of it.
How are rehearsals going for Welcome to Thebes?
Rehearsals are going well. We're in week two and we've got four more weeks to go. We're up on our feet and we're staging the play. it's going to be in The Olivier, the National's biggest stage. It's epic and the play's a mix of Greek mythology but set in the modern day. We're trying to find out what that might be like when we're playing it to a huge auditorium but also to have detailed intimate moments too. It's exciting but I'm beginning to feel the nerves. It's my first time at the National and The Olivier is a space I've always wanted to play. It seats something like 1500 people so that's a huge crowd to entertain every night but we've got great company and there's a great atmosphere. Everybody is pulling their weight and is excited to be doing something new so it's going well.
So this is your National Theatre debut. How does that feel?
I know I've used the word 'exciting' about a million times but I'm genuinely thrilled and having a bit of a 'pinch myself' moment. I trained at drama college and this is the sort of space that I trained to play in and to work with someone like Richard Eyre, who used to be the artistic director here, you have a feeling you're learning from the best. I feel privileged. It's an amazing play with amazing parts for women and amazing parts for black women at that so it feels like a real pleasure.
What's it like working with David Harewood?
It's fun. I had never met David before. Obviously I'd heard about him and I'd seen his work. He's absolutely charming, so generous and confident and fun to play with (laughs) and I feel in good hands with David.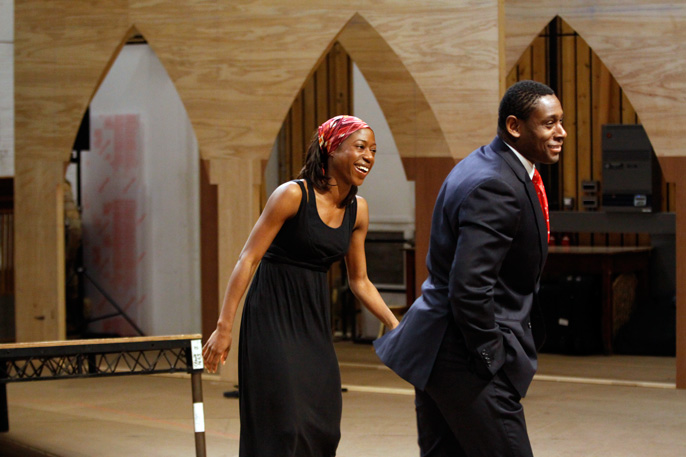 This version of Welcome to Thebes is set in the present day. Would you say there are many similarities to what is happening in the world now with regards to relations between rich and poor countries?
I think Moira Buffini's been sharp in making the connection with Greek mythology and third world countries. What she's done is looked at what's taken place. The violence and the civil wars, the political unrest and things that in the West we might see on the news or on TV, child soldiers or hideous, hideous brutality and it somehow doesn't seem real. We're not able to connect so it seems mythical and like fantasy. I think that's an interesting way of investigating what it might be like to live in a country like that. Also making parallels between the Greeks who very much believed in Gods and the direct affect the Gods are having in their world and certain African cultures that still believe in the spirit world and their ancestors having an effect on them and maybe Juju. I think it works well. I hear about violence on the news and I'm so lucky to live in this country, to feel safe and that my human rights are protected. We have no idea how it feels to feel threatened at all times and to live in an impoverished society. What Moira's done is remind us that there is real courage there and grace and integrity in the people that live in countries like that.
There is a play on at the Young Vic, called Eurydice, have you seen it and why do you think there is an interest in Greek mythology at the moment?
It's a strange coincidence. I haven't see Eurydice but I know it's a different Eurydice to the character I'm playing and I know Ony (Uhiara) who's playing Eurydice, quite well so I'm really excited to see it. It sounds like it's an expressionistic and a modern retelling of the story. I think it's great. I think that what the Greek's have are big emotions and characters in extreme situations and investigating all the realms – hell, earth, heaven and it gives a huge opportunity as an actor to explore every facet of being human. I didn't know the Greek myths well before but what I did know always moved me. I feel when they work well you see yourself in the characters and you learn more about yourself and feel like your experience is reflected back at you.
You trained at LAMDA – what are the main things that have stayed with you since your training days?
I think what was great about being at drama college is that you worked with a group of people for three years and you got to know and trust each other really well. You felt you could try anything in front of them and you got to try out a huge range of roles. I think when you come out into the real world sometimes it's easy to be stereotyped or put in a box The training you have encourages you to think of the range you might have as an actor and to look for parts that are diverse and stretch you and to keep challenging yourself and coming out of your comfort zone.

Yes. I'm still friends with David Oyelowo. He's a real charmer, lovely and so brave as an actor. He loves what he does and you can see that in all his performances. So I've been lucky to work with him still and I have a few really close friends from drama school.
You starred in The No.1 Ladies Detective, Small Island and of course Survivors. What did you enjoy most about those experiences?
They were all really great and very different parts.
With Small Island, what was great was that I got to travel to Jamaica and then Botswana for The No.1 Ladies Detective and working with Anthony Minghella which was a total dream come true. Survivors I thought was a really exciting premise for a drama. The end of the world happened and it's life after the end of the world and that was a challenge to maintain a character over a long period of time in an ongoing series.
Outside of theatre – what more would you like to achieve both professional and personally?
I'm a huge film buff and I'm keen to learn more about film. I've also been inspired by Noel Clarke. I haven't met him but everything I read about him is so encouraging that an actor should be able to produce, write and direct. He's had such success. Also I've experienced that thing where I'm looking for parts as a black actress and you read about someone like that and you think it is possible to create your own work. So I hope to take a leaf out of his book at some stage so maybe one day I'll learn a bit more about production.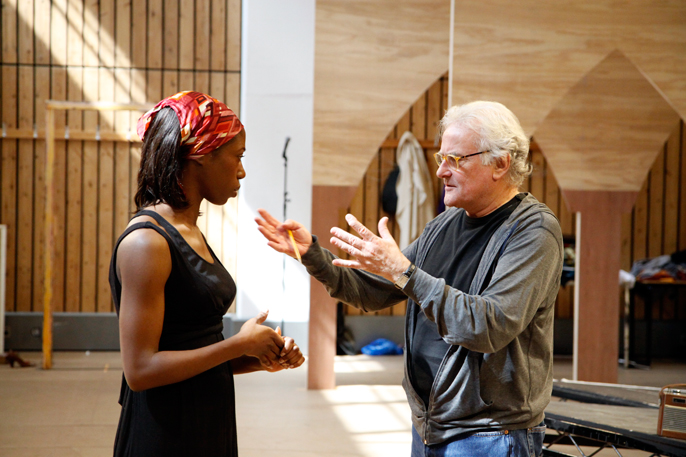 ---
Related Links
Welcome to Thebes is at the National Theatre from 15 June to 18 August, 2010
Afridiziak Theatre News interview with David Harewood, The Mountaintop
Afridiziak Theatre News interview with Chuk Iwuji, The Observer at the National Theatre
Afridiziak Theatre News interview with Alexia Khadime, Wicked
Official website for Pray the Devil Back to Hell