The London Burlesque Week interview with Natsumi Scarlett
Published:

Friday, April 16, 2010 9:14 AM

| Interview by

Sophia A Jackson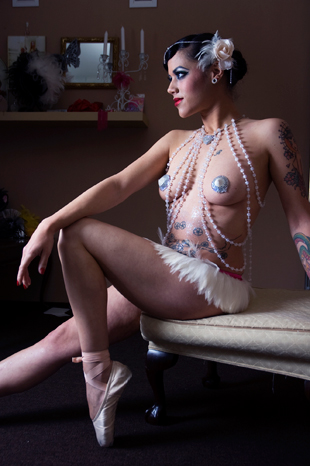 London Burlesque Week takes place this month; we caught up with Natsumi Scarlett, one of the women behind making the event a success.
How did you get into the Burlesque scene?
I've been in theatre for roughly 13 years now but after such a long time you want to develop yourself as an artist. I started to look around to see what kind of directions I could go in and found out about burlesque. I decided to travel to the UK to meet people, talk with them and learn more about the scene. That's how I rolled into burlesque.
Did you have any reservations about the Burlesque scene before you joined it?
Not at all. I know it happens but personally I can't understand how someone from a theatre background can have reservations about another discipline. I like to think I'm pretty open-minded. So for me it's important to have no (or little) reservations towards any scene. It's such a shame if you can't open up towards other disciplines, there's so much we can learn from each other.
How do you deal with any body conscious issues?
I rarely have any issues with my body. In general I'm satisfied but obviously I too have days where I stand in front of my mirror thinking 'I wish I could change...'. If that's the case I'll exercise a little more, watch what and how much I eat and that usually does the trick.
What do you enjoy most about being a Burlesque dancer?
That I can create my own fantasy world and make it come alive on stage.
What would you say to someone who is a little bit prudish to encourage them to come and see some of the delights of London Burlesque Week?
I'd try to explain that burlesque isn't all about stripping and nudity. Some people think we're just glammed up strippers, well we are not. I sometimes do shows where I don't even take any of my costume off. A good burlesque show is a combination of variety, comedy, stripteases, dancing, acting, drama and any other talent you can think of that fits in a Vaudville show.
Burlesque really seems to have taken off over the past few years – why do you think that is?
These days you can find any form of entertainment on TV and internet. But it's just not the same as going to a theatre and experience things live on stage. I suppose people want to go back to the days where you already got excited from knowing you're going to have a great night out. It's the whole ambiance around it as well that makes it so much fun. Performers create a little fantasy and share that with you.
How can Burlesque dancing spice up a couple's love life?
Well...I suppose a good striptease can spice things up! After all it's about the tease. But I still like to say that burlesque is more than just a striptease and I find it a shame if people only see burlesque as stripping. I've seen so many performers that put on a great burlesque show that had very little to do with a tease.
What's your favourite Burlesque routine?
I'm very keen on my dramatic shows, my Marie-Antoinette show still seems to go down well. And I also love performing my fire and aerial shows. Anything a bit devilish and dark suits me best.
It's not the kind of job you can retire into – where do you see your career going over the next few years?
Well...in general you won't be doing this until your 80. But as long as you like it and the audience likes it, and then why not continue? I still have my fire-, freak and aerial show so hopefully I'll be able to do those for at least another 10 years. Besides that I'm also focussed on producing theatre shows and designing costumes. I've been designing for quite a while now and would like to do that more in the future.
What are the downsides of the Burlesque industry?
The long hours you put into creating a new show, the hours of travelling and the lack of sleep. A few weeks ago I've been awake for 42 hours because of travelling and working. But in the end of the day it's all worth it to me. This is not a job, this is my life and I love it.
---
Related links
Natsumi Scarlett at Burlesque Freakout
Natsumi Scarlett at Burlesque Freakout - courtesy of Youtube.com