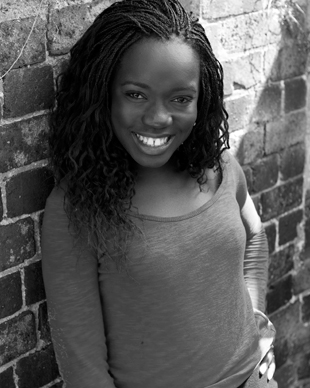 Madeline Appiah is the talented actress who has appeared in a host of popular TV shows, including The Bill, Gavin and Stacey, Holby City and EastEnders. She has also done her fair share of theatre and was last seen at the Royal Court Theatre starring in Bola Agbaje's Off the Endz.

She is now in rehearsals for her lastest role in the National Theatre epic Welcome to Thebes which boasts a cast of predominately black actors including Nikki Amuka-Bird, David Harewood, Chuk Iwuji and Alexia Khadime.
We sat down with the 27-year-old to talk child soldiers, paranoid creeping thoughts and solidarity within the black community.
What is Welcome to Thebes about?
It's set in a place called Thebes, which is from Greek mythology, and this country has just overcome a brutal civil war; similar to Iraq, Sudan, Afghanistan with people dying in mass numbers. A women's movement has stepped in and now the first female president has taken over. We join the play after this has happened and they are having their first democratic election and are welcoming the first citizen of Athens to come and be part of the inauguration and set up the actual aid to help get the country back on stable ground.
And what's your character in the play?
I play a child solider. There are three of us; an elder guy whose mission is to try and save us in a way, though he still makes us fight. There is also another younger member of the group who is supposed to be about 10 or 11 and I'm in my 20's but I have been doing it since I was 14, 15 years old. My character is named after a fury, who is one of those spirits that in Greek Mythology, would seek out revenge for any injustice.
Even though it is set in Greece, the majority of the cast are black. Does it draw parallels with an African country?
I think people might identify some of the themes, because if you know anything about the Liberian history or Congo you can see parallels. It is a majority black cast however we are mixed, but I think yes, people will see those resemblances because Liberia has Ellen Johnson-Sirleaf as their president and our play has a black female president, so there are lots of parallels there. But it's done in a way where it could be any race that plays the roles.
This play marks your debut at the National Theatre. How did you feel about not just performing here but performing on one of their larger stages - The Olivier Theatre?
I am still in shock! I remember the first day walking into work and having that feeling of (an awe filled gesture). I was told I had the part and then there was this big fat gap of about six weeks before we started rehearsals and I thought 'I'm gonna get a call to say we've made a mistake!' (Laughs)
Did you really feel that?
I did! Every now and again I could hear that thought creeping up on me. It was such a long gap that I had time to think those stupid thoughts.
You've also done a lot of TV work – do you prefer acting on TV or on stage?
I think at this stage I'm enjoying stage work. I do like TV and I would like more opportunities to get my teeth into some nice parts, because it is a completely different craft, but I do love theatre and the time that we get to spend researching the project and developing the part. But I'd love to do more TV because I know TV can reach a lot more people but I do love the theatre! I love the energy, I love the rawness, I love the people; every night they are there and you see these people right in front of you. It's great.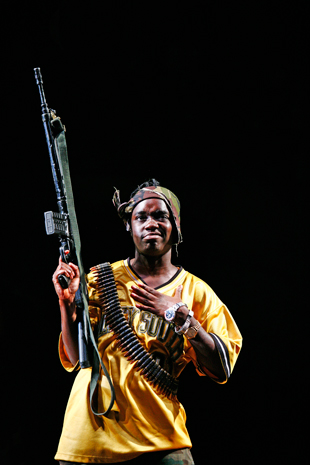 You also recently performed in the Bola Agbaje play Off the Endz – what was your take on the whole theatre of the Ghetto saga?
I think it was upsetting when that article came out [the Lindsay Johns piece, Black theatre is blighted by its ghetto mentality published on the Evening Standard website]. We are narrowing in and focusing on the wrong things – the fact is that things are being put on. People are getting their work put on. A writer has what they want to say, it isn't always the case that a theatre says 'you write a play about this topic'. Now she [Bola] has a play on in the main house of the Royal Court and that to me is an accomplishment.

She was just telling whatever story it was and I think instead of us kind of knocking it down we should stand together and support it and yes in time, we will start branching out and be given more freedom to speak about different things – or not even that we will be given freedom but the places that put on these plays on will allow different stories to be told.

I think knocking each other down while we are trying to come up; I found it really upsetting actually. The theatre was sold out and I heard 14, 15-year-olds engaging with the story. You hear the conversations happen and kids saying 'I want to be an actor' and I think there is so much positivity [come from the play] as well.
I like to ask this question whenever I interview black actors because we are often told it is twice as hard being black in the industry - is it really that impossible?
It's not impossible. I think it getting better and people are making interesting choices. It's getting better but it's still a bit depressing when you are watching a programme and there is not one other colour expect white people in it and you think 'this is supposed to be set now in flipping wherever it is and there are no black people or Indian people – no one else!' That's when it gets a bit hard. I think theatre has been a bit more adventurous than TV and TV needs to catch up.
And what are your plans after this production?
Oh my goodness! At the moment no idea! Everything that has happened now has inspired me and I just want to get involved in (pause) I don't know some greater cause. There is so much happening around us in the world that I think we get ourselves into this little tunnel vision, so I don't know what is going to happen; I'm hopeful, but we'll see.
Lastly, why should people come and see Welcome to Thebes?
Ooooo, because I think it will challenge our thinking, I think people will be able to relate to it because it is modern and it's not just heightened language. I think it will be able to reach a wider ranging audience. I think teenagers, kids who are involved in street crime, will be able to relate to this play; I know it's political but I believe that they will be able to relate to it. People who know Greek Mythology will also have few shocks as well. I just think it's great and it will get people talking and get the dialogue going; everyone wants to say that certain countries are corrupt but you will be surprised what goes on in our own land.
---
Related links
Welcome to Thebes is at the National Theatre until 18 August 2010
Afridiziak Theatre News interview with Nikki Amuka-Bird
Afridiziak Theatre News review of Welcome to Thebes