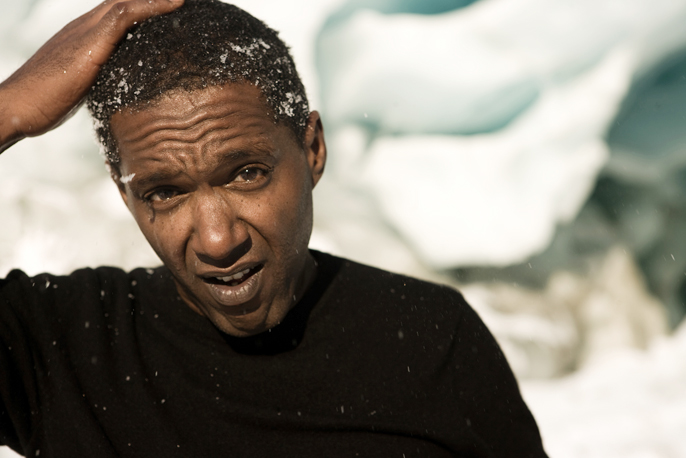 Playwright, performer and broadcaster Lemn Sissay – the child of an unlikely liaison between Wigan Social Services, Ethiopia and Eritrea – spent most of his adult life searching for his family. This extraordinary journey was the inspiration for his award-winning play Something Dark. Following a familiar theme, Lemn continues searching – not for family but for something more evasive: race. Why I Don't Hate White People is a whirlwind tour of race as seen from one man's unique and intensely personal perspective.
So how are rehearsals going for Why I Don't Hate White People?
They're going very well. When it's a one person show; you stop being a writer and have to start being an actor. The actor interprets the writer's lines in different way. It's long days with three weeks of rehearsals.
It's a controversial title. Where does it come from? Have people assumed that you hate white people?
I wanted to investigate why I don't hate white people. Hate is a valid emotion, it's a valid feeling, and it's valid to hate someone for hurting you. I think black people are very forgiving when you consider the amount of obstacles that are flung their way. I'm not saying I do or don't hate white people but the play is an investigation into all of the little incidents that have happened in my life that would make me have an emotional reaction to race and white people. In the play, I interview white people and ask them what the word white means to them. I spent a lot of time justifying what the word black means to me, and being asked what it is like being black in a white community etc. I am in a unique position having seen how white people react when they are asked the same question. I interviewed about 30 to 40 people.
How do you think not knowing another black person until you were 18-years-old affected you?
It means all the things I had learned were the same things they (white people) had learned about black people. That's the central theme of the play. I'm a detective in the white community and their attitude towards race has shown itself to me. When I was 18, I was very scared of black people and now I realise that they were scared. When people said they were colour blind they were not telling the truth, they only said that when they saw colour. The first black person I met was Roukyia; she ran an organisation in Manchester for black people in care. She didn't scare me but all these associations had built up inside me from being around white people.
So how does the show tackle your own perspective of race?
I always wanted to tackle the subject head on from my own experience in that I was brought up with white foster parents, white history, white town, and the victory of white people. People told me that colour didn't matter. I have got some understanding of race – ultimately it comes down to who you are if you hate people. I wonder if how you feel about other people is a reflection on how you feel about yourself.
What kind of audience do you think the play will attract?
I have no idea. I hope people will be able to enjoy the play, my career as a writer has never been about trying to please people. I write about what's on my mind and I do it to the best of my ability. If I think about the show's success or if the audience will like me I won't be putting it into the work, that might sound w**ky and precious but it's true.
Why did you decide to look for your real family?
I had no other family and it seemed like the natural thing to do when I left the children's home. I first tracked down my mom. It's a challenging thing to happen, we get along, but she's based in New York. My dad was a pilot for Ethiopian airlines, but he died. I made a film about it.
You reveal a lot about yourself through your work, do you ever regret sharing such intimate and personal thoughts?
I've never had a personal life because I grew up in care. I didn't have a family so had no place to establish secrets. I don't feel like I'm doing anything different to how it's always been. As I get older though, I do feel there are other avenues to express yourself.
You have been described as a master of spoken word, how does that make you feel?
I've been all over the world, Singapore, Botswana, Ethiopia, travelling is always good. It's nice. I work hard and do the best that I can and there are no short cuts, some gigs are great some not so great, some books better than others but I keep on keeping on.
How is you residency at the Southbank Centre going?
It's great. I'll be there later on today talking about a trip I made. My poems are all over the Southbank, you couldn't ask for a better place to be stimulated, minute by minute pace – it's an incredible place.
Tell us about the trip?
The charity, Cape Farewell, take artists to the Antarctic so they can experience climate change. It's for two weeks and I went with Jarvis Coker, Katie Tunstall, and Schlmo, the human beat-boxer. There were about 50 artists on the same boat, who were connected to the Southbank Centre. It's an incredibly amazing thing. You wake up and the ship has travelled and you'd be inside a valley of icebergs, amazing to be experiencing this incredible landscape and it was quite awe inspiring for all of us.
Tell us about your book, Listener?
It came out in November and is a collection of new poems. The one that stands out for me is Let There Be Peace, especially at this moment in time.
What else do you have in store for 2009?
I'm going to Vancouver for the literary festival, which is the best in the world that I've experienced. They're trying to find artists from around the world and I'll be on stage. I'm also doing a documentary for BBC in New York for radio.
---
Related links
Why I Don't Hate White People is at the Lyric Theatre, Hammersmith from 22 January to 14 February '09
Reviewed By Amica Anselm
www.lemnsissay.com
www.writersfest.bc.ca