Judd received most of her acting training in New York. She was trained by her mentor, the late Gene Frankel. Her most recent work is her written play A Mother Speaks, which is the second play she has done, and it's about a mother dealing with her teenage son's murder.

Five years ago she decided to try her hand at writing, to give herself and other actors the opportunity to be in work. Acting is still her passion but she gets impatient waiting for a casting director to ring so she decided to make things happen for her.


When you wrote the play A Mother Speaks, what did you set out for it to do?
What I set out to do initially was to show a true relationship between two separate genders, and two separate age groups. The play was going to look at the kinds of things as a woman you deal with raising a boy. It was never meant to be what it's become.
So how did it develop?
As I was writing it more and more, I thought this is a unique and different relationship as opposed to mum and daughter. I started to then think what if this child was taken away from his mother. I wondered what would happen if he was taken away from her. I was trying to work out how he was going to be taken away, and this is how I came to the way he was killed. I wrote this play in 2005 and gun crime was beginning to get a lot of press then, not like how it is now, but it was there. And I decided to think, right, what if he was shot, what would happen to her.
So you didn't initially plan to have the son get murdered?
Well no. In the beginning he was never going to die. It was meant to be a light hearted comedy on him and her, two actors, a woman and a boy and her dealing with the growing pains, and the embarrassment you get as a mother. This is why some of this is still represented in the journey of A Mother Speaks. You are still seeing how they grew together. As I went along, I thought let me put a twist on this. I just thought of the worst way possible.
Not only did you write the play, but you also performed it. Was there a reason behind this?
Yes. I wrote something for me to perform because my first job is as an actress, and it just came out of me wanting to work more. This is the second play I've written. The first play I wrote, Emergency Exit, had four characters, and I played one of the parts. My aim is still to write stuff that I occasionally want to dip in and out of, and I don't see anything wrong in that. There are still lots of well known people who do that.
You play a grieving mother who has lost her only child to gun and knife crime. How did you prepare for the role?
Well, I researched it. Once I wrote it, it started getting darker and deeper and I started to get afraid. I thought this is just absurd! This is what I would do. But, I'm not a mum, so I don't know if that would really happen. So, I stopped there. I did the first draft and then I went and spoke to mothers who had lost their children immediately, because really it's about immediate loss out of nowhere. It's not necessarily gun or knife crime. I researched it with mothers who had lost their children in car crashes. The play is about getting that call that says your child's dead, or your brother's dead, but you don't know in what way. So, that's what it deals with mothers who had lost their children in car crashes, as well as mothers who had lost their children by gun or knife.
What were some of the challenges you faced?
The challenge that I faced was trying not to get too personal with it myself, because when I'm out on that stage it's just me; its very raw emotions. The challenge for me was to separate the two. You don't want to walk around as an angry black woman, angry at younger people, because young people are the making of tomorrow. That's the thing we've got to learn, it's not them and us. We must not see young teenagers because they've got baggy jeans and hoods trying to be intimidating in their own world. They are the next generation to look after the next, and so the challenge for me was to not take that so personally that I become angry. I am not. There are solutions. There are things that can be done.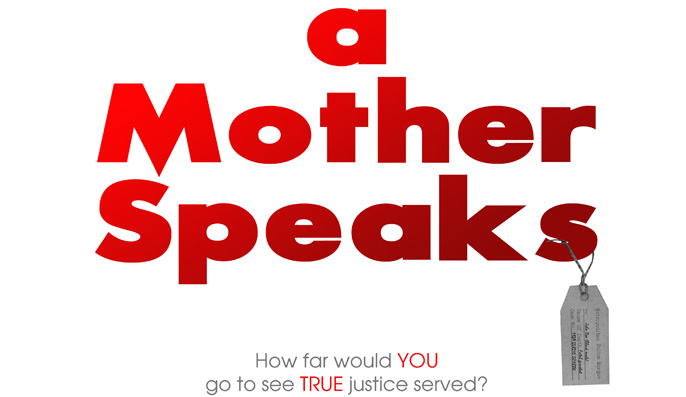 I think that one of the reasons why your monologue is so powerful and hard-hitting is because of the topic. Do you agree?
Yes and no. I think it's because I'm writing about a human experience. I think that's the power behind it. It is not necessarily the topic. As I've said earlier, what if it wasn't a gun? I don't know whether you'd think this would be a powerful monologue or not. So, the challenge is down to you to think is it because I've said a gun? Is it because I've killed? I'm representing a human voice which is the mother, and for me that is the power.
Do you think that the play would have had the same effect if it hadn't been written as a monologue?
Yes. I think so. Because we toured this play; we went to Birmingham and Ipswich. We had questions and answers with the audience and a lot of people said that they would have loved to have seen these characters. They would have loved to have seen Gavin, and the father. So, they loved what they saw and they understood what they saw. I had to explain to them that now that the play is in its book form the characters are very much there; as the mother is.
So you've also written a book based on the play?
Yes. The play has been published into a book. It's already out, but the official launch is in October. Within the book there are testimonials from actual parents who have lost their children, and they talk about their child. Just as I've talked about my fictional child.
How long did it take you to write the script?
I'm a bit embarrassed, because I don't take that long to write my work. It took me a long time to sit down and start writing. But once I do, it doesn't take me that long to put it together, so maybe just under a year.
Could you relate to the mother you play?
Yes I could. My mother and father are both deceased so I am left. So, I was Mrs Morris; she was left. I was able to draw on being left. My mother flew to Dominica and died on the same day she landed. So, I never got to say goodbye. So, when I know I'm doing the character Mrs Morris there are all these things I take into account. And that's maybe why you see something very raw. Because I know the feeling of being left; I know how it feels to have something immediately taken away from you. I got a call that said mum's dead and I was just stunned. So, I had a lot to go on, even the greatest thing in my life.
Having chosen to write the play you wrote, it appears that you believe in the injustices of gun crime. Is this true?
Yes. There are many people out there trying to solve this. They know that there are youth centres there for them; they know there are big initiatives that people are paying to keep their minds active. They know all of this because there are still all of these things, but maybe their just not ready to be solved yet. It's until the actual thing that wants to be solved, then that's when it will happen.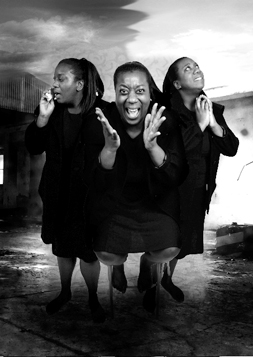 And finally from Judd
It's time for our community to unite! If I had to pass on some wisdom to another aspiring actor, learn to write or produce or direct that way you're not waiting for the phone to ring.
A Mother Speaks is showing at the Hackney Empire until 5 October, 7:45pm |
Tel: +44 (0) 20 8985 2424 |
Ticket prices: £12.00 Full, £9.00 Concession, £5.00 Groups of 10+ | www.hackneyempire.co.uk | info@hackneyempire.co.uk | Hackney Empire, Mare Street, London E8 1EJ
---
Related Links
Read the review by Sophia Jackson, editor/founder Afridiziak's Theatre News
About our writer
Donna McBain is doing an MA in Journalism (NCJT accredited) Her lifelong ambition is to work as a broadcast journalist in New York City with lots of creative and inspiring people!