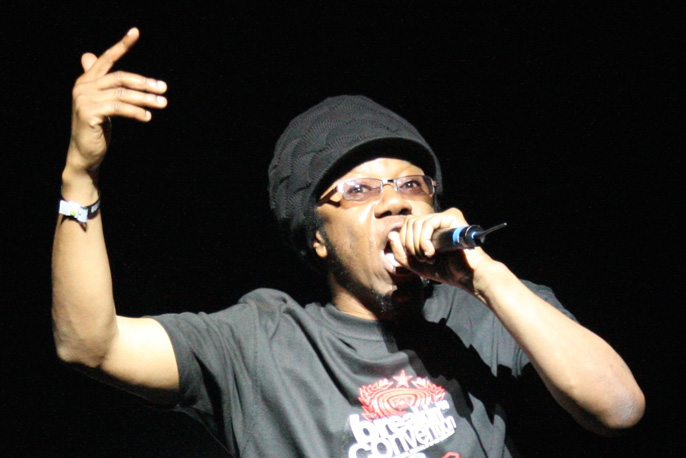 Jonzi is the curator and host of the acclaimed Breakin' Convention, International Hip Hop Dance Theatre festival, nominated for a South Bank Show Award and now in its sixth year. Jonzi has been actively involved in British hip hop culture, rapping and b-boying in clubs and on the street since its genesis in the early 80s. He was an associate artist at the Place Theatre and has performed and created dance theatre pieces all over Europe, North America, Israel, New Zealand, Cuba and Southern Africa.
Jonzi D Productions is an Associate Company of Sadler's Wells and based at the theatre.
Wow! Six years of The Breakin' Convention. Congratulations. What do you think keeps it growing each year?
It's because it's a unique festival. It's a big event on the global hip hop calendar, interest from international artists who want to perform and check it out. The profile of hip hop dance has increased and Breakin' Convention has been a major part in the development of hip hop dance theatre.
What have audiences got to look forward to this year?
It's always different, same format and structure but always something new, Ken Swift with Rock Division has a pioneering energy in hop hip dance, and is arguably everyone's favourite b-boy. He gets mad respect and it will be great to see him in the UK. We're touring with him which is great. Neo-classic hip hop outfit Compagnie Revolution (France) will be showcasing urban ballet, an interesting fusion of classical technique and breakin' technique They have been training for the past three years in preparation for this piece. I've seen the piece before and it's challenging and appeals to contemporary dance audiences interested in seeing how hip hop works.
So how does a curator spend his days?
I spend my days phoning people, artists, asking them artistic questions. It's a nice tight team at Breakin' Convention. We're clear about our roles, nice to talk to artists about their work, talk creatively. I advocate a lot and am often at universities talking about hip hop theatre also Jonzi D Productions has a lot of education events.
You seem to be a busy bee. What else do you do during the year when you're not working on the Breakin' Convention? Tell me about The Surgery?
Well I'm always thinking of Breakin' Convention, and can't afford the luxury of time off because I have commissions in Australia and also Uganda, constantly working and have to juggle. It can be a lot of pressure but I can't recall ever not being like this. The Surgery, rehearsed at Talawa, they have a beautiful space and it's about professional development in which artists can explore rap in a situation where they can work with dancers and b-boys. Deejay's can come into a group and create new works, improvise and try things out. It's unique as we perform the work and discuss with the audience to get their opinion. It's exciting and intimate. We don't have any more planned for now due to lack of funding as it's been going for the past three years, now we have a clearly defined concept and are hoping to get support, if anyone wants to support some pioneering work give me a call.
What do you think of productions such as Pied Piper and Into the Hoods?
They are two great examples of the hip hop theatre genre and its development. They are amazing pieces of work that have transferred to the West End and the Barbican. The work is destined for greatness. It's exciting and brought my own personal dream alive - to see hip hop theatre in large scale spaces, touring and becoming a genre which is always part of theatre.
Apart from Breakin' Convention what other hip hip theatre events do you look forward to and participate in?
I devise and direct a piece of hip hop theatre in Australia working with an MC called West Sydney to East London. Why Australia? In my experience of touring around the world hip hop is really spreading and in every urban environment you will find hip hop, it is a product of mass media, everyone who has a TV, radio or access to the internet has hip hop culture. In Australia they've had 30 years of hip hop. It's about touring. I'm fortunate in being able to get out of the UK and see other stuff, the beauty of hip hop culture and it's practised to a higher level in other countries like France. For example with French hip hop and the skill of Korean BBoys who are better than the b-boys here it's about their attitude to hard work and their craft, in England they don't see it as a craft, they want to get paid quick. It's controversial but you don't see an English crew winning a world b-boy award internationally.
How do you see the dance and choreography industry moving forward?
England has an abundance of skill in our interpretation of hip hop theatre. There's a whole generation of people who want to do hip hop theatre. I'm hoping individual companies get to do individual tours. We need a touring network of theatres who understand hip hop theatre but the local community gets it. Kids are not into classic art and drama they want to see things more relevant to their culture today, and hip hop theatre can do that.
You're also a poet and MC. How are things going in that area of your life?
I'll always be an MC. I haven't been writing as much but I'm writing Markus the Sadist, a play starring Bashy. I'm working on an idea I've had for ten yrs, story of an MC and their rise to fame and the concessions he makes, what happens when the top MC changes the agenda. It's a work in progress and opens in October. We can take advantage of Black History Month although I find it a limiting way of expressing the amount that we as black people have, we create so much music, art, fashion culture and then to squeeze our experience into one month is ridiculous.
You're career is amazing with all the different people you've worked this and countries you've travelled to. What are your personal highlights?
It has to be when I toured when with MC Mellow, he was popular in the late 80s and then touring with Gang Starr and Jeru the Damaja in '94 where we did 30 dates around Europe in five weeks. It was an incredible tour and I'll never forget it and also touring Lyrikal Fearta, my own solo show in America and South Africa, I was touring my own inspirational work at the greatest capitals of the world and home of hip hop, New York. It was a really positive experience.
Where do you get your inspiration from?
Politics. I do like politics - opinions and racism and every 'ism' and injustice is a real motivator.
Any tips for anyone wanting to be the next Jonzi D?
You can never be me. There's so much brilliance in yourself.
The Breakin' Convention: an Interntional Festival of Hip Hop Dance Theatre takes place at Sadler's Wells over bank holiday weekend from 2 to 4 May and then goes on tour.

Click here for more information on the Breakin Convention tour.

Tickets usually sell out in advance so don't be disappointed, book early.
---
Related links
Breakin' Convention
Jonzi D Productions
Markus the Sadist
ATN Review of b Supreme
Campaigne Revolution (France)