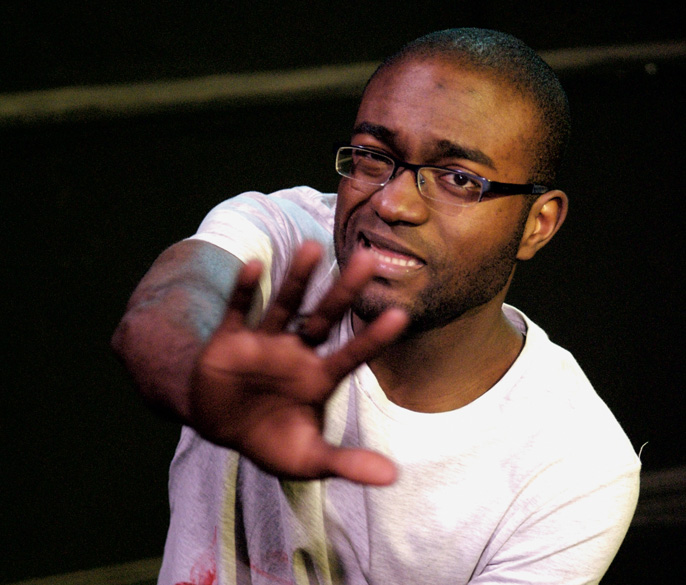 Inua Ellams was born in Nigeria in 1984 and moved to the UK as a teenager. His work merges visual art, spoken word and theatre. He has performed in a wide variety of venues including the Queen Elizabeth Hall, Tate Modern, The Albany, The Drum, Theatre Royal Stratford, Glastonbury and Latitude. He is working on a second collection of poems, following the publication of his first, Thirteen Fairy Negro Tales, which was supported by Arts Council England. Lime's editor spent almost an hour in hysterics as he let her into his creative world.


Your name is unusual – tell me what it means?
My dad's the only person that I know who has the same name. It means 'shade'. I Googled it – and it's also a character in Eskimo mythology, it means a force of life; spirit of the people.
What is The 14th Tale?
A coming of age story about the troubles and trials of things I went through growing up, the men on my father's side were troublesome, also. My great, great grandfather brought Islam to our part of Nigeria. It is a peaceful faith. My great grandfather was troublesome, my grandfather had seven wives. My father was quite a hot head – and remains so – I descended from that legacy. I have been based in Jos, Plateau State, Nigeria, west Africa, London, Dublin and then London again. I was born a Muslim and now a Christian because my father did the pilgrimage to Mecca and he saw the fanaticism there where people were being trampled on and it questioned his faith. I appreciate and know how peaceful the religion is, humans are fanatics and we take things too far and that's why we have terrorism. My father disliked this.
How are you a troublemaker?
Always wanting to stick out – and be myself regardless of who liked that. On my first day at school in Dublin at 15 I was the only black boy. With that comes all sorts of ideas and presumptions, I felt like an ambassador for an entire race of people. It was sink or swim. The Irish are considered the Nigerians of Europe and there's a belief of being 'up for it'. After the first six months when it became obvious that I wasn't going to fit into a box, people got me. I started off at the bottom of the social ladder but organised the first arts festival. It was a character-defining three years of my life.
Tell me about the first time you performed on stage?
It was at primary school and I remember dressing up as George Michael and miming to 'You gotta Have Faith'. I cello taped the shades to my head and my denim jacket was too small. I also did small plays in church in Nigeria. I have a twin sister and we were the cutest thing when we were little. We were hired out as little bride and little groom when we were little. I remember when one of my closest friends told me about when her parents split up and I had to internalise and externalise the story. I told it to the class room and tried to make it my story.

Afterwards, she ran across the classroom to me and was crying. I was 14. I haven't trained as an actor before. I'm described as a performance poet but when I read a poem, I read with emotion so for me it's just staying true to the poem. That's my intention and drive where as the 14th Tale – is specifically for theatre. The first time I did my own literature and performed was in 2003 at The Aroma Café. I did some Googling, and after two months of going, I plucked up the courage to perform. The playwright, Nii Parkes, my mentor, and good friend – saw something in me. He gave me my first professional poetry slot, and I started getting paid, only two months after my first performance.
What do your friends and family think about you airing your dirty laundry in public like this?
I began doing it and it was believed that it was a trend that would pass, my book came out, it did well, my parents came to see me read, and 80 per cent of the audience were middle class white men, with beards. I got a phenomenal response, and think my parents thought 'he's doing something' and eased off and began to trust me.
Who do you think are the greatest poet of all time?
There are people I read when I'm going though different things. Shakespeare was a dude, Sol Williams, because he did poetry and hip hop with such style and class. Roger Robinson is startling and gorgeous. One of my favourite poems is Nii Parkes' Destination DC from Ghana.
---
Related links
The 14th Tale is at the Cottesloe Theatre from 9 February until 13 March – 10 performances.
ATN review of The 14th Tale at the Arcola Theatre by Lindsay Johns