Hilty and Bosch
Published:

Wednesday, April 28, 2010 5:08 PM

| Interview by

Semper Azeez-Harris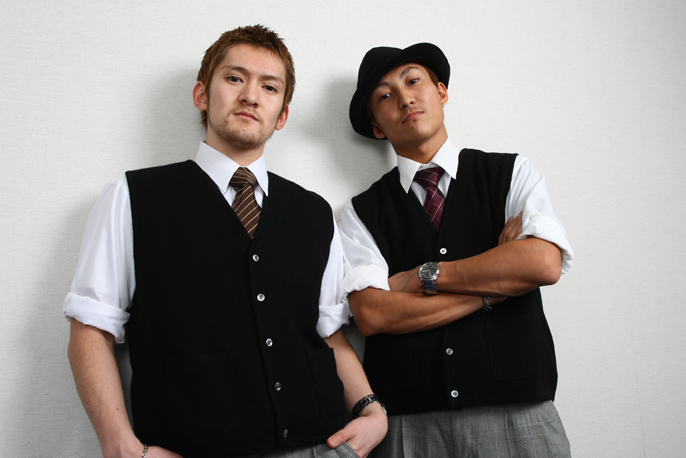 If I was to say that I was aware of the dance style "locking", I would be lying. It was a quick check of the ubiquitous and reliable YouTube that introduced me to Hilty and Bosch and "locking". Due to perform at this year's Breakin Convention, they are the childhood duo from Japan who are recognized as the modern day "pioneers" of locking by the founder of Breakin Convention, Jonzi.
Taking sometime out Afridiziak Theatre News got an exclusive on the beginnings of a career that has seen them travel the world.
This year is a tribute to Greg Campbellock how important was it for you to be at this ceremony?
It is really important for us to perform at the ceremony together with other legends like Suga Pop. Greg was one of our biggest influences in our wish to become lockers and so it is really an honour to take a part. We feel particularly honoured to perform as a Japanese Locker.
You have been dancing together since a young age but what really inspired two young guys to get into dancing?
My father [Yu] is an Og Locker from OSAKA and he is still dancing. I got into dancing naturally and Jin was my childhood friend. One day I took Jin to check out a dance contest and we started dancing together. After performing at this dance contest we started dancing together more because we had such a great time and people seemed to like what we did.
Were you always going to be dancers or did you have plans to work in nine to five professions?
We just do what we love to do and one day, we found that we were making a living from what we loved to do. But you know what, even if we did not make money from dancing, we will be still dancing while at our nine to five work.
How big is the hip hop scene in Japan and how are you actively making it grow?
Well, talking about hip hop, we have 27 year history in it. When the Wild Style tour hit Japan in 83, the hip hop scene in Japan really started. The scene is now really big and really active. Hip hop clubs are going on everywhere in the country but what we are doing Locking/ Funkdance has its own history. Locking in Japan is really big and so many battle competitions and showcase events are happening right now so it is really good.
You have won so many different competitions what are the main components of good locking particularly when performing with another person?
Well we have we practiced together for such a long time, so we can feel each other. To feel each other is important when you are locking with another person.
What can audiences expect from your performance this year?
Well we will do a ten minute show and we will throw in some popping too. Of course you will see crazy Hilty and Bosch locking so get ready we are going to lift the roof off at Sadler's Wells.
What has been the biggest moment for you since starting out as the Locking Duo?
We have performed at so many shows and competitions everywhere so it is really difficult to pick out a specific moment. Probably the best shows we did were BC ONE 2005 (Germany) and BOTY International (Germany). These shows were one of our best times in our career but there are just so many. The fact that we get to do this is really what makes us happy.
Who are the biggest threats to your Locking crowns?
There are so many good lockers out there but if we name one then it probably has to be the Go Go Brothers, they are just dope and talented so we have got out eyes on them.
Why do you think Breakin Convention is such an important time in the hip hop/street dance calendar?
Firstly we have to say that we feel honored to take part at one of the greatest hip hop events on earth. There are thousands of hip hop, dance and battle events around the world. Some of them are good, and some of them are bad. Breakin Convention is one of the best events to give people a chance to see all those original pioneers of the game. This is so important in this culture because what we are doing has its own history and we should never ever forget about them. Also we can see some new cats at Breakin Convention which is really good.
What are the plans for 2010 in terms of performances?
We are booked already for shows in Japan and Germany, so we really appreciate that people still want to see our dance. We might look different in each show we make, but the basics of our dance style stays the same. Thanks so much Afridiziak for your support.
---
Related links
Breakin' Convention runs from 1-3 May, 2010 at Sadler's Wells
Afridiziak Theatre News interview with Jonzi D
Markus the Sadist is at the Bloomsbury Theatre from 17-20 May, 2010
Afridiziak Theatre News interview with Bashy