Geoff Schumann, Life FM DJ and host of the 2008 BECA 2008
Published:

Wednesday, November 18, 2009 3:20 PM

| Interview by

Sophia Jackson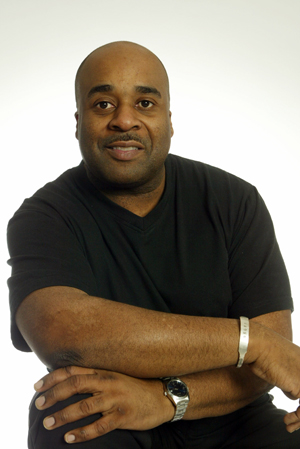 Sophia Jackson had a good old chinwag with Geoff Schumann, Life FM deejay and host of the 2008 Black Entertainment Comedy Awards
So you have a new breakfast show on Life FM, how did that come about and when?
It's three months now. Life FM is a community station in North West London and I joined them because I wanted to continue being part of a legal broadcaster. It's been like a new lease of life working here and the feedback has been nice with people saying they have missed me in the mornings. The BBC didn't want me to talk politics and it was very restrictive. At Life FM I'm allowed to do the things I want to do on radio, where as at the BBC, only Dotun Adebayo was allowed to talk politics.

My show on Life FM is the usual Geoff Schumann style, but when it's time to be fun, it's fun and when it's time to be serious, it's serious. I've talked about how proud we are that Barack Obama, an articulate black man, is head of the free world, he's still got a black woman by his side but would you call your son Barack?
How do you feel about hosting the Black Entertainment Comedy Awards (BECA's)?
Delighted, I've done it three times before and looking forward to doing it again. Wayne Rollins was supposed to be co-host but he's away filming in Barbados – lucky so and so.
Why should people attend the BECA's?
It's something that comes from within when you support Tharmm Equest (founders and organisers) and it shows we can recognise entertainers from our own world, mainstream don't recognise us so it's good that we have our own.
Which comedians do you think should we be keeping a look out for over the coming months?
Nibil Abdul Rasheed, he's a young Nigerian Muslim comic and is very good.
A lot of black comedians and actors think the grass is greener on the other side and have headed to the US, what are your thoughts on this?
There are far more opportunities in the US and they are fifty years ahead in terms of progressive entertainment and politics. Marianne Jean Baptiste was hardly recognised over here and Idris Elba and Eamonn Walker but if you go to America, you audition and get the part for one season and you can survive. Here, there's only one part for an angry black doctor in Casualty. If I didn't have commitments I'd go abroad, too.
Tell us about a time when an audience hasn't got your jokes, how did you deal with that?
You should come armoured with material to dig deep which will appeal to your audience; generally you'll know when to come off.
Who has inspired you over the years and encouraged you as a comedian?
Richard Pryor, sadly departed, and Bill Cosby and the things he's said about what black people need to do. In the UK, anyone who picks up a microphone, anyone trying to make a living as a comedian and trying to make black people laugh. It's the hardest thing in the world trying to make black people laugh. But Wayne Rollins is the best black comedic actor I've ever seen or worked with.
People either love you or hate you, why do you think you cause such extreme emotions in people?
I'm very opinionated but when you have the politics I have. I was on Choice FM and had the biggest audience in the history of the station, and a white person came and got rid of me. They didn't like the chat show, black people don't want to just dance, we want to talk, we can't dance our way through life. I was at the BBC for four years, and you hope things will change, but Life FM has been a blessing in disguise.
What are your plan for 2009?
I have written a play, Josie and Multicoloured Weave On. It's a musical and a mixture of Aladdin and Joseph and his Techni-Coloured Dreamcoat. I'm still in negotiations but it will hopefully be out in May 2009 with Wayne Rollins as Josie.
---
About our writer
Sophia Jackson is the editor and founder of Afridiziak's Theatre News.