ATN Interview with Ansu Kabia, As You Like It
Ansu Kabia is the talented young actor who has worked on both stage and screen. Having trained at Drama Centre London he went on to appear in Casualty and The Bill. His theatre credits include, Romeo and Juliet at Harlow Playhouse and Rosencrantz and Guildenstern are dead with the Library Theatre, Manchester and he is one of the 44 actors cast for the RSC's two and half year long ensemble.
The incredibly warm and likeable actor (despite his rather severe looking headshot!) sat down with Karla Williams to talk Shakespeare, love and toasters.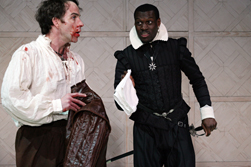 This is your RSC debut, how are you finding it working with the company?
I'm enjoying it. It's really good because it's such a long contract and you've got good people here. When we first came we had two weeks of hardly any rehearsals it was just kinda classes that we were doing in London. We then had morning sessions for vocals and physicals and you have a lot of contact with the voice people and movement people. You also have directors who just know what they are talking about. It's almost like going back to drama school but you're getting paid for it and you're non-stop doing plays. Here you've also got a great opportunity to just learn from the more experienced actors. Like watching people [from The Winter's Tale] like Greg Hicks and Darrel D'Silva – I get to watch those people do their work.
Most of the actors I talk to seem to like working for the RSC…
It's hard not to because they just treat you well. Aside from all the things that you learn and all the good work you can do, they treat you well. I remember one day when we were in rehearsals I said "It would be nice if we had a toaster in here wouldn't it?" Two days later there was a toaster in the green room.
You've done Shakespeare before; did that make the rehearsals easier for you?
I didn't have the anxiety that some people had who hadn't done Shakespeare so for that reason it is easier for me. But also I find Shakespeare, in a way, easier than anything else.  It gives you so much in the text that you don't have to think too much about other stuff. Some people say there is no such thing as subtext in Shakespeare which I think I agree with – it's all there in the text for you. If you just go along with it and just give yourself to it as much as you can you'll get it at some point.
So why do you think Shakespeare remains so popular?
That's a good question! I thought you were going to say why I think it's still relevant.
We can change it to relevant if you would like?
No, no popular makes it more interesting. It's easy for an actor or director to say it's relevant because he talks about so, so, so. But popular is different because most of the people that watch Shakespeare are not actors or directors, so why is he popular? That's a good question – I need to think about that for a second. (Brief pause)...a lot of people seem to have a bad experience with Shakespeare when they are young, but a lot of people also have good experiences so...I wish I could answer that question!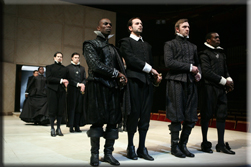 Can I quote you on that?
(Laughs) I'm happy that people love it because my favourite thing to do as an actor is Shakespeare. I'd rather do Shakespeare than anything else; whatever they give me I'll do it - but Shakespeare is my favourite. Maybe it's something to do with the fact that the guy was a genius when it comes to people and humanity because the characters in the plays are real people that are going though stuff that everyone in all generations goes through...he seems to get that right a lot of the time.
As You Like It explores love at first sight, is that something you believe in?
Ooohh, I think I have faith that it exists... (Laughs) I've heard of people who have seen each other, got married and been happy for a long time.
Let me break down the question. I do think that you can see someone and then eventually end up marrying them, but when you first see them do you think, at that point, its love?
No I don't believe that. Me personally, I don't think you can actually be in love with someone when you first meet them but I do believe, at this point in my life, that you can meet someone and then go yeah, I'm gonna get married to that person and we'll be together for the rest of our lives. I've been through a few relationships and been with different kinds of people and so I've got a good idea now of what works for me. So when you meet that person you can just think, yeah you'll probably work. You take the risk and a lot of the time it works out.
So why did you become an actor?
I've got a belief that people get into acting because they want to be loved; that's just what I believe. I was always shy when I was younger and I never wanted to be an actor, I always wanted to be an architect. But when it came to my GCSE's, because to be an architect you had to be good at maths, I began thinking what if I didn't get good marks what else would I do? I then thought, actually I like films; I think I would be a good director and writer. And that was literally it – if I don't get good GCSE's I'll go and do media and English and get into it that way. Eventually when it come to getting the results I'd already decided that [films] was what I wanted to do....I ended up doing theatre studies A Level and I auditioned for the college play, which was Little Shop of Horrors, thinking nothing of it. It was a massive workshop audition and it kind of just happened and so from that day I thought maybe I could be an actor. So now I'm thinking actor, director and writer and then bit by bit I realised acting was what I was meant to do.
And how hard have you found it in this industry as a black actor?
I've not had it easy, definitely not! But it's hard to say how much of that is because I'm black. Some of it is coming out of drama school and getting with a certain kind of agent, at the moment I have a lovely agent and they look after me, but that's one kind of agent compared with another kind of agent and that has a large part to play in the development of your career.
I think being black effects you when it comes to screen. On stage I don't think it's affected me that much, but there are some plays that I would never get seen for. For example if they were doing an Oscar Wilde play I would never get seen for it and colour blind casting doesn't exist everywhere. If the script says, TV, lawyer or doctor I think a lot of the time in the casting directors mind they are gonna think white person. But if it says someone from the street then the first thing that will come to mind is black person as often when it's written it's not specific in saying black or white it just says lawyer or drug addict...so it is difficult for me in that sense. But as far as theatre is concerned and especially because I love Shakespeare, it's not ever a problem just because, I think, there are not a lot of [black] actors who can't do Shakespeare so well.
Finally, your part of the two and a half year long ensemble. What role can we expect to see you in next? 
I don't know - I haven't been told.
Ansu can be seen in As You Like it which is playing in repertoire at the Courtyard Theatre in Stratford Upon Avon until October 3rd 2009. For more information please see www.rsc.org.uk