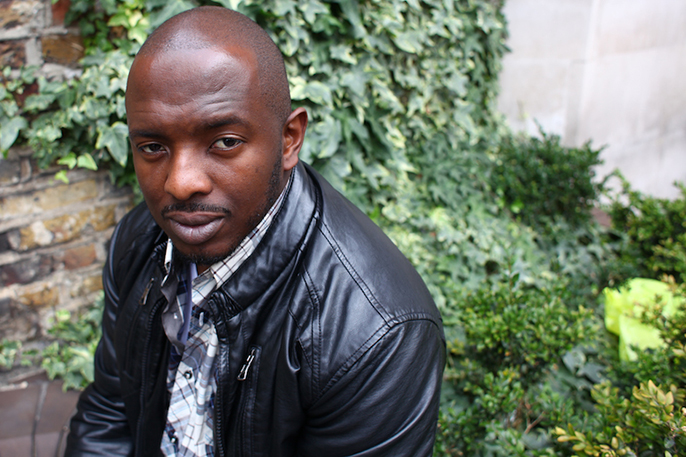 People should come and see the show so they can think about their own relationships and stop having these negative stereotypes around fathers.
Award winning poet and performance artist Nick Makoha has always had a way with words. His love of the lyrical motivated this British Ugandan to found the Youth Poetry Network and to work as a mentor for NESTA. Having toured internationally with his poetry and having two collections published including The Lost Collection of an Invisible Man, Makoha has made versification his life's work - until he decided to write his debut stage play, My Father and Other Superheroes. Makoha admits changing form to write a stage play was a huge challenge.

The one man show follows events from Makoha's own life, which is itself worthy of a graphic novel. Having been smuggled out of Idi Amin's Uganda as a child, Makoha spent his childhood in Kenya, Saudi Arabia and Peckham. Makoha is incredibly engaging as he reveals that this show was inspired by the birth of his daughter. His own father having been absent led him to seek role models in comic book characters. His questioning what makes a good parent and his passion for red capes is all explored in this piece. Currently on a national tour, the playwright explains that he wants not only to entertain, but to start a discussion about the importance of fatherhood.
This is your first stage show. What made you decide to do a live theatre piece?
I actually didn't want to do it. I thought I was a poet and was sticking to my lane. The first thing that inspired me was a show called Something Dark by Lemn Sissay, who's a poet but also did this very moving live piece about discovering who he was. The second was a friend of mine at Theatre Royal Stratford East set up Spokelab which was about bringing theatre and poetry together. So I decided that I wanted to do an actual show and initially it was going to be called Milestones and be about important moments in my life. But when I was attending a workshop by a very good live artist called Stacy Makishi she asked us on the spot to write down what our show should be called. Out of nowhere I wrote, My Father and Other Superheroes. After that things started to fall into place, because I really did find this a challenge to write an actual piece of theatre. But what I've found is that it's another way to tell a story and get a conversation going and so it's all finally crystallised.
What form does your show take?
It's a one man show and it's me telling the story of becoming a father and how my own childhood has led to me being the father that I am. I take on several different characters and the superheroes who I idolised growing up also come into it. It's a very physical performance which I was nervous about doing, because it's just me on stage. We decided to keep the set and costumes simple because a lot of it is me as a child so it's trying to capture a child's power of imagination. When I was kid, as far as I'm concerned, when I put on my red dressing gown I was Superman flying through the air, or when I flicked my wrist out I was Spiderman swinging on my web across new York City. . If I don't believe it the crowd won't believe it, so it wasn't about gimmicks. We decided to keep it stripped down and a vocal piece.
What inspired you to write My Father and Other Superheroes?
Well, my daughter is now ten-years-old and when she was born these thoughts about fatherhood were being triggered. I remember holding her for the first time and thinking 'What does it mean to be a father?' because my own father wasn't around. This show even though it's about my life, it's a bigger discussion about fathers and one of the things I've realised is that in our society "father" has become like a four letter word. I came to the story quite angry and realised it's actually a story of forgiveness and love. So I've found that people want to talk about this, but there's no place to do this unless you go to counselling. Something really incredible that happened was that I did a show in Norway and Amiri Baracka came to it and afterwards said to me 'Hey man. That was amazing.' I just thought 'What?! You wrote The Dutchman and you're telling me this is amazing?' I realised that I belong to a continuum of stories that have to be told, not just by black people but artists in general that make a difference in the world. Until you realise that it can feel a bit indulgent, but my own experiences and my own relationship with my father is universal and it's important for people to talk about it.
You moved from Uganda to the UK at an early age. Has that experience come into this production?
It does, but because the story is my own memories it doesn't come into it a lot because I was four and can't remember much. I've talked to my mother and my father about it and Idi Amin's regime was from 71 to 79 and I left in 78. My mum was telling me some of the stories like women being arrested for wearing trousers or people saying they disagreed with the politics and being found dead the next day. I remember she smuggled me through the Kenyan border into Nairobi and from there we came here. All I can remember from that experience is darkness. I remember little stupid things about my time there, like running in a garden and chasing my friends. I remember sitting on my dad's lap and him letting me have a sip of his beer. They're fragments of memory, so I don't remember the regime and I think my parents made sure I had a happy childhood.
My Father and Other Superheroes is a one-man show and it's me telling the story of becoming a father and how my own childhood has led to me being the father that I am.
Do you have any memories of the transition when you came to the UK?
I remember cold of course. What I remember is people saying to me 'You speak English really well.' People were astonished that I spoke English. At that time I spoke three languages, English, Swahili and my own language which is Saamia. When I came here there was a falling away of my culture in a sense. Now there are pockets of people from Uganda or Kenya in London so people can make sure they retain some of their own heritage, which is important for building a sense of identity. But when I was a child, I was the Ugandan. So the only person who spoke to me in my language was my mum and there wasn't much time for her to speak it with me. I was a latch door kid so I'd be coming home and she was studying at university at the same time as doing cleaning and a secretary job. That's something that has come into the show a lot actually, is the sacrifices my mum had to make to have me.
Obviously the show involves elements of science fiction and your love of graphic novels. Can you remember the first graphic novel read?
I was always into Superman. I had a great imagination, as an only child your imagination becomes your friend. I remember when we lived in Peckham me and my friends would go to the corner shop and get all our sweets and then watch the film. Superman was an exile from another world and didn't really know who his father was. So, much as I loved his superpowers and being able to fly, I always liked him because I could relate to his feeling alone and not belonging. The other one I liked was Batman, because he was a person who chose to do good despite being orphaned and feeling alone. I think loneliness is quite a powerful emotion, and he chose to fight for hope. Comics are our modern day myths and myths are there to inspire hope and give us belief in the human spirit. I think that's why comics do so well. Not just as graphic novels but as film franchises as well. In fact we've turned this show into a graphic novel as well. So it's the story that I've written and it's been illustrated and made into a comic book by Mike Collins from Freakhouse Graphics. He's done incredible work on it and I really wanted people to be able to take away a gift.
How do your childhood fantasies about superheroes link to your images of your father?
I remember once when my dad took me back to Uganda. I was still a young boy and he'd remarried and had children. I thought 'Who's this guy who I don't know but he's got these other children.' There was a lot of jealousy and anger there. I remember going to our village and all you'd see from morning to dusk was people coming to our house asking my dad for money or for help or medicine. And all he'd be doing there would be there helping people. So although in my mind he was this dad who wasn't there, in reality for these people he was a hero who was looking after a whole community. So that formed an idea in my head of who my father was and his own special powers to do good and I realised that he was actually a far better person than I thought he was.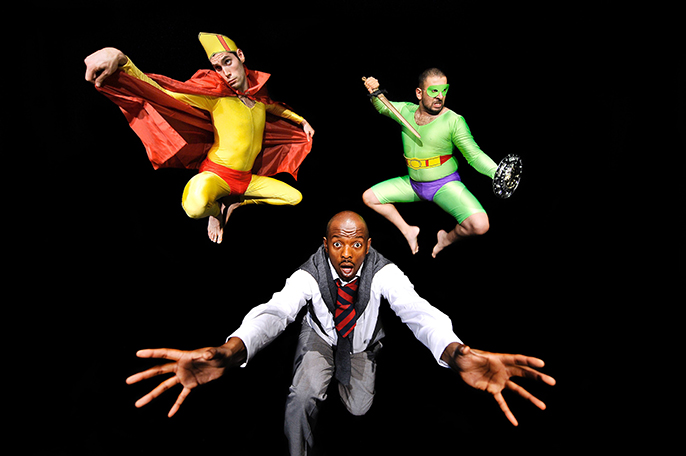 As well as being a performance poet you've also had several collections published. What first got you interested in poetry?
I wrote poetry from a very early age. My first poem was when I was six and we were told to write a poem in school. I wrote
'Butterfly Butterfly, how beautiful you are.
Your wings red, green, gold and blue.
One day you will die,
But I will always love you.'
I decided that I was never gonna do something that I didn't love again. So that's how being a poet actually as a profession started.
And I was like 'Done it, Miss!' My mum framed that and still has it. I just was always writing poems. When I went to boarding school in Kenya, it was difficult because your grades drop because they study differently. I had a maths teacher called Mr Patel and he took me under his wing and he gave me confidence in my academic abilities again. So I got a really good grade in maths and my other grades improved as my confidence grew. I remember he died of a heart attack. The teacher came in and told us and I remember I was sitting under a tree in tears and I thought 'What can I do for Mr Patel so he knows that he meant something to me?' So I wrote him a poem and they put it in the year book. That started me reciting poems, at other schools or at church in Sunday. So poetry has always been important to me and I didn't realise how important it was until one day I was working at the Royal Bank of Scotland and thinking about Deepak Chopra's book The Seven Spiritual Laws of Success which said the best way to make money is to do something that you love. I decided that I was never gonna do something that I didn't love again. So that's how being a poet actually as a profession started.
You founded the Youth Poetry Network. What does your organisation involve?
I want to encourage people to develop their writing and have it heard by a larger community of peers. Not just young people actually, but I called it the Youth Poetry Network because I was working with a lot of young people at the time. So we form links between artists and set up events for poetry slams and meetings. I also go into schools and read my poetry and run workshops with the students. I recently did a tour of schools in America about what I call the Metic Experience. A metic is a person who lives in a country but is almost like a second class citizen. It's this conversation of the other that I'm really trying to understand. From doing this show I've set up this programme called Re:Play which is a bursary for artists where they get masterclasses from facilitators on how to put on a one person show. They get mentored and they get to do a scratch at the Southbank this summer with Poetry International. I want them to be able to share their stories around a social issue that makes change out there. Because I feel so lucky to have been able to do my show, I want to create an environment in which they can do their show. So they can help the communities that they're living in in confront their own issues, not just as artists but as human beings.
Why should people come and see My Father and Other Superheroes?
I want them to have a conversation and I want them to help me extend that conversation around the world. Young boys or girls who haven't had their fathers in their life should come and see this. Men who are fathers should come and see this, grandfathers and grandmothers should come and see this, because I can't spread this conversation by myself. People should come and see the show so they can think about their own relationships and stop having these negative stereotypes around fathers.