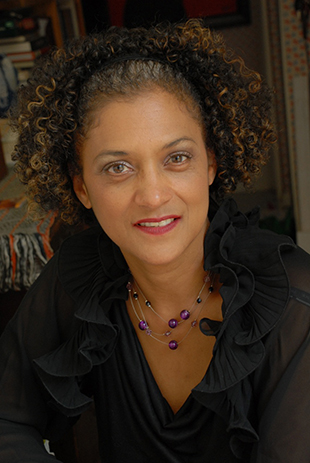 Cathy Tyson's auspicious career has spanned film, TV and the stage. Since gaining notoriety in British film Mona Lisa, Tyson has been a regular face on our screens in dramas such as Emmerdale and Grange Hill. With almost three decades of experience under her belt, Tyson says she now wants to take more risks in her career and is ready for a challenge. Playing one of the twentieth century's most acclaimed scientists, Marie Curie seems to fit the bill. Written by Emmy Award winner Alan Alda, this production focuses upon the relationships and struggles within the physicist's life. The former member of the RSC explains how it was Curie's own vulnerabilities and emotional journey which attracted her to the role. In gorgeous, softly scouse tones we discuss the play, her new foray into playwriting and Tyson's addiction to Liverpool.
Obviously this play is about Marie Curie. Does the production focus upon any particular area of her life?
It focuses upon Marie as a woman and as a human being rather than solely her scientific work. It's largely about her marriage to Pierre Curie and it's about the affair she had with Paul Langevin after the death of her husband. So there's a mixture. Obviously you get the factual events of the double Nobel Prize winning as it's set around events in her life. So there's a mix of the science and the domestic affairs and also the circle of friends they had in Paris at the turn of the last century. The play did run in America in 2011, so this is the latest version and this is the UK premier of this play.
So researching this woman was amazing. She was a strong woman and she was a woman of many different sides; she has vulnerability and self-doubt.
Does this production vary from the original US version?
Not overly greatly, aside from the fact that the Paul Langevin story has been developed more to make Marie seem less of a black and white character. And there's bits about her scientific work that have been reduced. The director Mark Giesser was saying that people who would like to know more information can easily find that out themselves, because especially Marie is such a famous public character. She had a fascinating early life. Growing up in Poland under Russian rule, being denied the right to speak her own language, having to secretly study at the Floating University of Warsaw were all formative parts of her life. That political and intellectual oppression was a huge part of what drove her in her later work. We don't concentrate on that because it's all in the public domain, and we wanted to focus upon the emotional life journey of the scientists. It's quite nice to focus upon the personal side of these individuals that we tend to think of as very logical people and there's no other sides to them. But although science is their domain, they're also human beings like you and me. Physics is all about the natural sciences and natural elements so they did have a great deal of interest in life beyond the lab.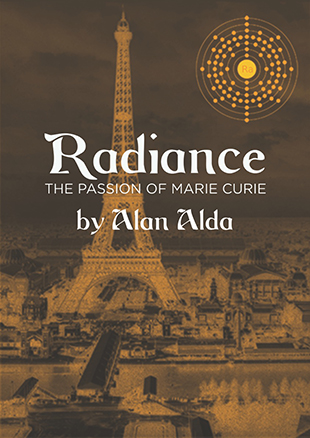 What was it that attracted you to this play?
First I got the script and it was just wonderful and it's a lead role. I was in Liverpool acting in Bright Phoenix and it was a new play where I spent a lot of time sitting on my own in the auditorium. I really enjoyed the experience but I did think 'You really do need a challenge now.' And it came along! I didn't know anything about Marie Curie at all aside from Marie Curie Cancer Care. So researching this woman was amazing. She was a strong woman and she was a woman of many different sides; she has vulnerability and self-doubt. Also I felt that there was something in the dialogue, the rhythm moved very fast and I felt it was very powerful to read. Also the cast are fantastic, is it OK if I mention their names? We have John Albasiny, Stephen Cavanagh, James Palmer, Clive Moore, Zoë Simon and Zoe Teverson. It's been a brilliant cast to work with.
You're probably best known for your roles in contemporary dramas such as Grange Hill and Band of Gold. Was playing a historical figure an obvious departure for you?
No, not really because I have done a great deal of theatre as well as TV work and I've played Cleopatra and I've played Portia. But both those roles were a long time ago and really I think I was too young. I'm too old to play Portia now; I know I can act like a twenty year old but I think it would be pushing the boat out a bit (Laughs.) But it's nice to play a complex and mature character now I'm older and have that much more experience and confidence. This character is a great and influential person but also very vulnerable. Devoting yourself to a partner and falling in love is always risky so I've really enjoyed exploring that.
When an audience watches things on stage, they forget colour, it becomes immaterial to the character.


How do you think you've changed throughout your acting career?
I'm still developing, I think we are all the time. I think the main thing is confidence. I don't want to sound complacent here but I think I'm more sure footed and have less self-doubt. As I get older I'm also aware that there's less time, so why not take a risk? That's my attitude now, whereas previously I would put things off until tomorrow. Another thing that drives me now, is there can be a lack of substantial work for actors. For years I said 'I should make my own work' and never did anything about it. (Laughs.) So last year my son and I put on a little show together and it didn't have to be perfect, but we took that risk. It was a stepping stone to do some of our own stuff, even if it gets panned the main thing is to just do it.
What was the name of the production you and your son put on?
It was called Grit and it was in honour of my mother who's dead now. Her name was Margaret but my father once called her 'Grit' I thought 'Yeah, that suits her because she's gritty.' She was a very gentle soul, but underneath there was this grittiness. So it was about how my mum and dad met and my childhood. It was all about me so it was quite self-indulgent (Laughs.) So we put it on in Southwark Library and I'm a very happy bunny if it get to perform to an audience. I don't mind where it is. I think everybody would like to be able dedicate something to their parents wouldn't they?
Do you plan on creating any more of your own work?
Yes. There's two things I'd like to do next. The first would be to develop Grit and to embellish more on my father and his life. The second is that I'm addicted to Liverpool, so I'd like to do something about Old Liverpool 8. I've just discovered a fantastic photographic archive of pictures of over 1500 pictures of Liverpool 8 and it's called the Old Photos of Liverpool 8 Facebook Group. I tell you it's easy to get lost looking at them, but that's one of the things I'd like to make a piece of work around. The stories about what it was like being black in Liverpool, with tangible evidence are really important.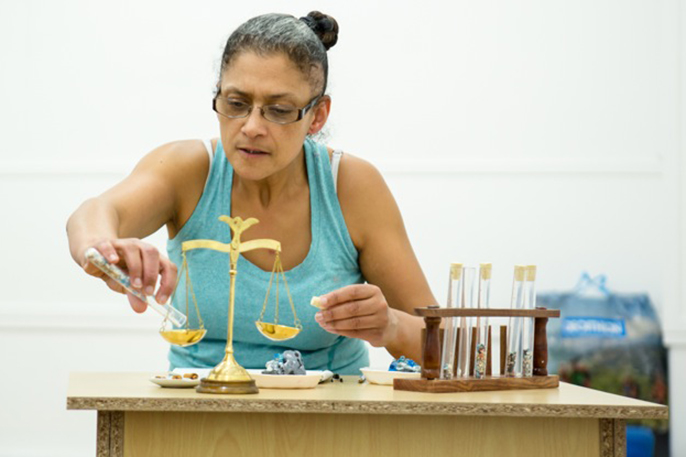 You're a patron of the children's charity organisation Scene and Heard. I was wondering what that involves?
I haven't been able to see them for a long time but I love the work that they do there. Scene and Heard is based in Camden and it's set around children writing their own plays. It's for children of a junior age onwards and they're encouraged to write and they get a lot of help from professional playwrights and people in the industry.
Why should people come and see Radiance: The Passion of Marie Curie?
Hopefully because it's a story that's interesting, will engage them and possibly inspire people to fulfil whatever their potential is. It might even inspire an interest in science because it has done for me. The ensemble cast is brilliant. I also think it's quite interesting for people to see a black actress in period costume, playing a white character. When an audience watches things on stage, they forget colour, it becomes immaterial to the character. So if that can be done on stage it can be done on film and TV. Also, they should see it for Alan Alda's writing which is beautiful.