Gbolahan Obisesan has a power of articulation rarely experienced outside of weighty academic tomes. Speaking about new play We are Proud to Present… I am struck by how lucidly this young playwright and director from Bermondsey expresses his passion and intentions for this production. But then as Obisesan's skills have won him both the Fringe First for Best Play and the Jerwood Award for directing, such erudition is hardly surprising. Having lived in London since the age of nine when he moved from his native Nigeria, Obisesan has a keen sense of differing cultural outlooks and how this can feed social injustice. This appears to be a key feature of his work and he explains why We are Proud to Present… is emphatically brining past injustices to light.
How would you describe We are Proud to Present…?
The play itself is about a group of actors; three black, three white trying to navigate their own personal and ideological understanding of self, whilst doing their best to accurately depict the realities of the first 20th century genocide perpetrated by the Germans on the Herero of Namibia. In a way they find it difficult to agree upon what happened. Based upon the fact that they believe there is limited information available about the German colonial occupation of South West Africa, now modern day Namibia.
This is quite an obscure historical event, one, which I'm ashamed to say, I know little about. Why do you think Jackie Sibblies Drury (writer) chose to write a play about this period?
We a very powerful piece of work and I think there's a great deal to learn from it with regards of what it's trying to do.
From my understanding, she was on a theatre-making course and she fascinated by a particular filmmaker, Rainer Werner Fassbinder. In his films there was a particular black German actor who mainly depicted Americans. He always depicted outsiders, which Jackie was fascinated by. After googling "black people in Germany" she discovered that during the end of the colonial period Germany was scrambling for countries to occupy and one of the nations they occupied was Namibia. During the occupation the German settlers became unsatisfied at how limited their dictatorship over the native population was. Eventually a restriction order came through whereby Germans could lay claim to Namibian cattle and Namibian land. But the Nama and the Herero people started rebelling with the result that an extermination order was sent. Local people were literally being killed off or forced into the desert. Some people tried to make their way into Botswana and those who failed and returned were taken to concentration camps. So from discovering all this information Jackie wanted to write a play about this particular genocide. She felt unsatisfied and offended by what she came up with, so she used that to sculpt something which felt more honest and truthful.
As the director, how have you aided the construction of this play?
What was significantly evident about the play when I received it was the title. It was immediately a play, which played upon the parallels of German occupation of Namibia and the American legacy of slavery. Almost like a weird re-enactment of a slave trying to escape a plantation in southern America. But if you remove the accents it could be the struggle against Apartheid in South Africa or the Palestinian struggle against Israel, so there's loads of modern parallels that you can draw from it. What we've significantly done is give it to British actors to take ownership of. They're using their own colloquial accents to present the characters and situations. We've found some moments where we can open up the broader social political relationships in British consciousness.
You're a playwright as well as a director. Would you say you're first and foremost a playwright or is directing your first passion?
They go hand in hand. Through directing I've become more aware of the skill of playwriting and also through writing I also understand how to bring out the drama for the actors and directors. Get to the heart of what you're trying to communicate.
Have you ever both written and directed a play of your own?
Yeah, I started off doing that. I had a couple of commissions for the National Youth Theatre. I think it's something that I wouldn't mind returning to in the future.
As a playwright what are the key subjects that you like to express through your writing?
I think one of the most significant traits in my work is injustice. Also identity and to a certain extent the story of the underdog. So it's about giving voice and strength to characters that might not have had the opportunity to do that. Also bringing to light certain struggles that resonate with the human spirit.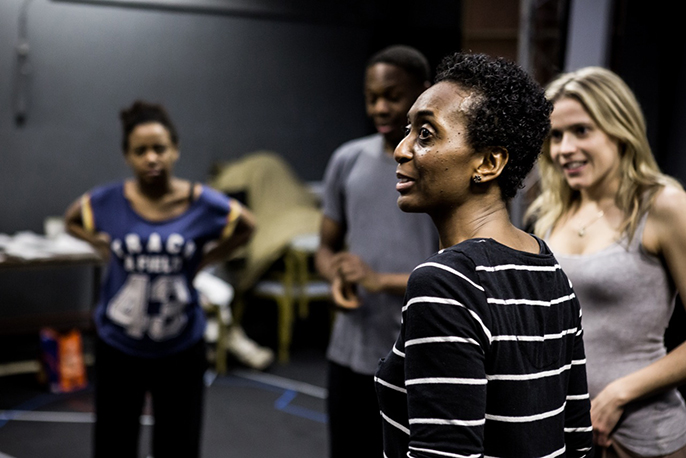 Can you remember much of your early childhood in Nigeria?
Yeah, yeah I can. I came over when I was nine so I remember it with fondness and to a certain extent things always seemed a lot easier. I reminisce about it and it's indulgent in its naivety. Also it highlighted the complete contrast of moving to London and finding something like English people smiling at you in the street extremely bizarre. But also not having a strong context to understand or draw upon what prejudice was because I never grew up with that, so I was affronted by that separatist ideology that I experienced from Londoners growing up in Bermondsey in the 90s.
Would you say you were made to feel like an outsider as a child?
Yeah, yeah definitely; from black and white kids alike, so that was a challenge. It could have shaped me negatively but I tried to draw on the positives but also retain my own integrity and understanding of the fact that some people just don't want to embrace the fact that we're all effectively the same species. I think I had a very strong household who instilled in me a strong moral barometer from which to judge the situation and people around me by, rather than completely becoming a misanthrope. (Laughs.)
Do you think that if you'd stayed in Nigeria you would have still become a playwright and director?
Um, probably not. I don't know the answer to that question. If this is indeed my destiny I think I would have eventually found that calling and gravitated towards it. That said, to a certain extent I do believe it's my destiny, so maybe I would have eventually found theatre as a calling to communicate what my contribution is to humanity.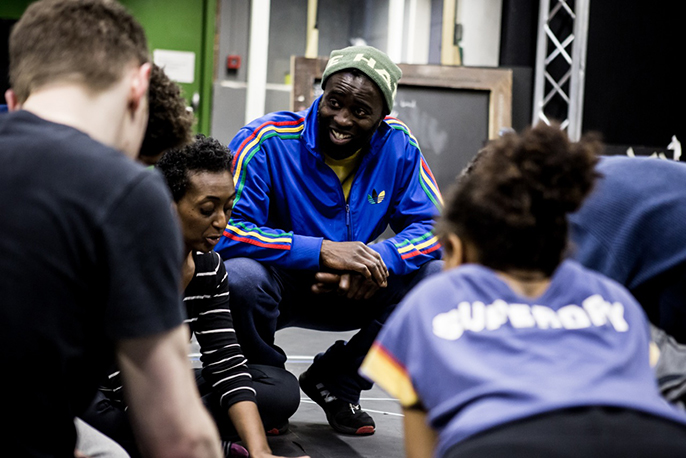 You're still early on in your career. What would you like to achieve in the next ten years career wise?
(Laughs.) Oh gosh, that's a hard one. I guess I would like all the goodness that can be achieved from this particular industry to be achieved so I would like to experience that as much as possible - as much as it keeps me grounded and is deserved.
I would like all the goodness that can be achieved from this particular industry to be achieved so I would like to experience that as much as possible.
Why should people come and see We are Proud to Present…?
I think they should come and see it because it's a very powerful piece of work and I think there's a great deal to learn from it with regards of what it's trying to do. To a certain extent, human beings are more inclined towards pursuing a latent self-interest and individualist understanding of their own social ideology as opposed to a more collective way of thinking. To process it and continue the discussion about how the reality of the play comments on our own reality is an extension of our human consciousness.
Info: We Are Proud to Present a Presentation About the Herero of Namibia, Formerly Known as Southwest Africa, From the German Sudwestafrika, Between the Years 1884 – 1915 is at the Bush Theatre from February 28 to April 12 2014 | Book tickets