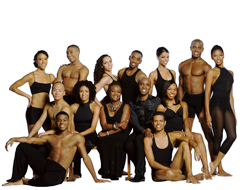 Troy Powell, a native New Yorker, began his dance training at the age of nine at The Ailey School. Following his graduation from The High School of Performing Arts, he became a member of Ailey II. He joined Alvin Ailey American Dance Theater in 1991 and toured throughout the United States, South America, Europe and South Africa for 10 years before becoming a master teacher at The Ailey School and resident choreographer of Ailey II. Powell has choreographed ballets for Alvin Ailey American Dance Theater, Ailey 2, Dallas Black Dance Theater, National Dance Company of the Bahamas and Alaska Dance Theater, as well as three episodes of Sesame Street.

Guest artist credits include performing with companies such as Batsheva, Dallas Black Dance Theater and Complexions. Featured in an American Express commercial with Alvin Ailey American Dance Theater, Powell has also appeared on television in George C. Wolfe's The Colored Museum, the PBS Great Performances: Dance in America special A Hymn for Alvin Ailey, choreographed by Judith Jamison, and most recently, America's Next Top Model.


Are you excited about Ailey II coming to the UK for the first time?


Very excited, I travelled to the UK with the first company. I haven't been back to the UK since 2006. I'll be happy to see the dancer's reactions and picking up the culture and audiences in the UK. The UK has the best audiences because I think in Europe and in the UK you don't get to see Ailey so you're overwhelmed.


How did your family feel about you pursuing a career in dance?


My family supported me 100 per cent. I joined Arts Connection – an organization that had funds but no programme so they went to schools and auditioned students for their new programme and I was chosen. We would go to school in the morning and at lunch we would take class then they would bus back to school. It was like going on a field trip every day but getting the best training. It was something to do. I think that's why my parents supported me as it kept me doing something positive especially for someone from inner city. It taught me how to go the positive route and in the right direction. I thought about teaching as I love school, always wanted to be a school teacher – and give back. I was passionate about dance from a young age because I enjoyed it so much.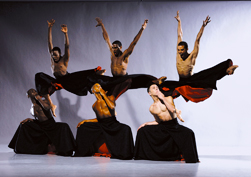 What kind of sacrifices do the young people at Ailey II have to make when becoming professional dancers from such an early age?


The good thing about Ailey is that it's a wealth of knowledge and education – he started the company to celebrate African-American heritage and he is a leader. When you dance at Ailey that humanity sticks in your head, he wanted dancers to live their lives through dance and dance through pain, expression, bad memories, for your healing and we encourage our dancers to do that as there are so many distractions. It's hard being a dancer, hard trying to find a job, hard living in New York, hard being part of society with everything that is going on. Still there's discrimination and racism and we have to look to Alvin for inspiration as a leader and deal with those things through dance.


What is it about Alvin Ailey Dance that stands out from other dance companies?


The fact that both companies express humanity through dance - we dance about real life stories and issues relative to what we do as human beings. It is dancing based on real life things. There is a sense of communication with the audience and the audience understands what we're going through as they can related in some way. We're not dancing about trees we are telling life stories on stage and even in the more diverse works which don't have a story, the dancers create that story through movement.


What is your personal favourite Alvin Ailey piece?


He did a piece called For Bird with Love and I performed that – it's one of my favourites because it tells the story of Charlie Parker who played the saxophone. It's a 45 minute piece of work – and very theatrical and I love acting on stage. Alvin Ailey loved music and gave everyone a special place. I played the part of Max Roach who was a drummer. We had to read up and watch videos about the people in the piece in order to interpret it into dance and when I did my research on Max Roach, he is sort of like me, a lot of heart and soul.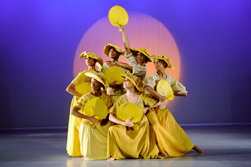 I find the dance to be spiritual, moving yet uplifting – how do you manage to speak volumes just through movement?


It's not easy, and doesn't come overnight especially if you haven't been through something or are not emotional. You have to use part of your own experiences. It's part of our training and we have to train our bodies to move a certain way. Some get it more than others – if they use experiences from a deeper place. It's very challenging. There are roles like being a drug dealer, a man from the army, where you have to dig deep somewhere, we see it on TV, or in movies but once on stage it's a different story. For me, the hardest role to translate to stage was a part I've played in Stack Up – a jazz piece. It was choreographed in the 80s when the US was full of drugs. I was the lead who wanted to be friends with someone and do drugs, he got sick of me asking for more and more. It was one of the most challenging parts I've performed as I'd never used drugs. It took me a couple of performances but you learn from others too, when they recycle work you can go back to the previous footage to see how other people have done it.


What are the struggles of being a dancer?


With Ailey it's the travelling and being away from friends and family. Also trying to keep everything you do fresh and not boring. You want to be consistent and keep your body together and be healthy. Some are healthier than others but we do eat. I've started being healthier, and eating more vegetables - you feel lighter than when you eat beef and pork all the time but you need those things for energy.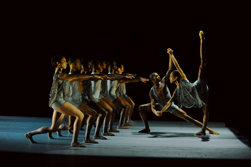 How do you maintain a certain level of fitness?


I go to the gym and I'm active when I teach. I'm in shape and I love eating raw vegetables, salad and green veg. When we're on tour we carry things our own vegetables and prepare meals in in the hotel room – we keep it healthy.


Who are the people that you admire in the dance industry?


Alvin Ailey of course – there is nobody else who tops that for me.


Where do you go for inspiration?


I got to museums, plays, movies, and things outside of dance to keep it alive and fresh as you can bring those things to your work especially as a choreographer.



---
Info: Alvin Ailey II is on tour see website below for full listings information.


Related links
Alvin Ailey official website
Afridiziak Theatre News review of Alvin Ailey American Dance Theatre at Sadler's Wells 2010