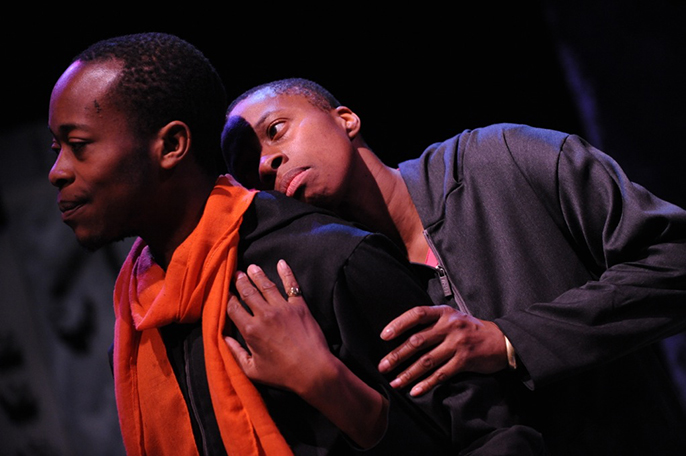 What was the tipping point in your life that made you want to pursue acting?
Antonia: I had some challenging stuff in my life I had been in care. I had suffered from abuse. I just didn't do well academically, but the only thing I was good at was drama. I spent a lot of time in the youth theatre going, after school. The theatre gave me a focus so I wouldn't go out robbing, because I had a play to do. I would say, it helped me express myself and all the things I couldn't as a child. And that saved my life because it gave me a focus; rather then for me to harm myself or other people because of the things that were happening to me that I had no control over…I had something else to do.
I am a firm believer that if you keep things inside you will get sick. The more you can say the better it is for you and everyone else because we all have challenges (Antonia)
Tonderai: I am one of those characters that it (acting) slowly came to me because I had other ideas. I wanted to be a priest. Part of that was the pageantry, glamour and the drama of the mass and the religion (Catholic). When I found out all that could also be employed as an actor off course I gravitated towards that. And when I came to terms with my sexuality my religion became less central to my life and I guess that meant the theatre had more space. But still all of the qualities of Catholicism really are central to my acting. I always try to get something spiritual out of my work. I try to make it all a comprehensive spiritual experience.
And when you discovered this thing called acting, and that you were good at it, how did it make you feel?
Antonia: I'm a black girl from east London with Nigerian parentage. I refer to myself as a Nigerian born in England. I didn't think we could be actors, so I had no illusions of becoming an actor. But when I left school someone advised me to apply to a performing arts school. I didn't take it seriously. I spent most of my time in the bar having a laugh. But I was always being validated for my performances. So I thought there must be something about me…I just thought I don't know what else to do I had no qualifications.
Tonderai: What happened was that someone came around to my college and it happened my teacher from the infant school and she was part of the children's theatre. And I thought, well I like kids and I am good at theatre, so I asked her for an audition. I told all my teachers and they laughed they said, " You don't go about it that way. You've got to have an agent. You've got to have a CV." In the end I got a job at 18. It was just by chance that I got a job. I just kept on going. I didn't stop.
How did your journey with this play start?
Antonia: It started with Chuck Mike, (artistic director, Collective Artists) wanting to do a story about my life. I've worked with Chuck on and off for 15 years. I know him. I love him and I trust him completely. The catalyst was when I met Tonderai, who is a fantastic artist. I am always being mistaken for a boy and I mistook him for a woman and I was horrified, because this is what I have been fighting against all my life. I am always saying I'm a woman. I'm a woman. I'm a woman. And I did the very thing to him that I cannot bear people doing to me. I thought…maybe well it's time. It's time. So I went Chuck and said we are going to do a play about mistaken gender. Chuck interviewed me and he did the same thing with Tonderai so when we got together we didn't know each other's story. We gradually got used to each other. We'd go and have some wine or some chicken. We spent a lot of time getting to know one another, getting used to each other.
Tonderai: My journey is all there in the play. It really is my journey. I went to the audition where this incident happened. She (Antonia) apologized. I very much resisted her. She was very persistent in trying to understand why what she had done was so offensive. Because we make these mistakes all the time, we think she is mixed race, but she is just light skinned. He must be gay but he is just camp. There are many misconceptions in life. I am grateful that she pursued why it painful for me.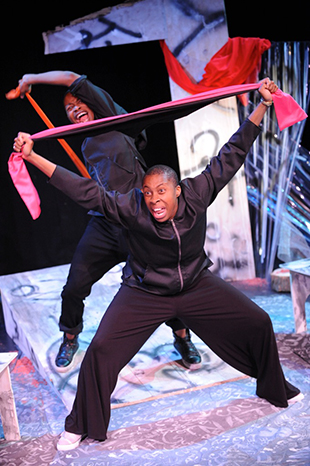 How did you feel talking about your life and mistaken gender and sexuality? I think it's courageous to go on and discuss these topics.
Antonia: Some parts were easy except when it came to the abuse… I am a firm believer that if you keep things inside you will get sick. The more you can say the better it is for you and everyone else because we all have challenges. For me doing Zhe has taught me everyone has challenges so why not talk about them.
How long did the process take?
Antonia: The play took three years. First rehearsals were here in London, then we went to stay in Tonderai's mum's house in Zimbabwe whenever we could get together and work. We were all busy.
What did you find most challenging?
Tonderai: Having a truthful and open dialogue with the audience. At first I thought it would be a somewhat theatrical piece and that in the end it wouldn't be Tonderai Munyevu and Antonia Kemi Coker's life story...Because when it's your story you don't feel you have to act it, or maybe you don't have to do the investigation, or have to use the (acting) skills. But you do, especially if you are performing month after month. It's your skill that you have to rely on. It's your skill that keeps you from falling apart.
As an actor and actress, if this had not been your story, how would you have felt about the storyline and would you have done the play?
Antonia: Yes! Yes! Especially, if it had been the truth… One of the greatest things I felt in my life was when I went to Nigeria to be in Chinua Achebe's play, Things fall Apart. Doing an African play in Africa, Nigeria, was the most amazing thing. And for me as an actress since this is the truth, I would have loved to play this part.
I think this play will help people understand the signs, or the empathy or the humanity that all of us need to start practicing (Tonderai)
Tonderai: Yes. I would have found it exciting. As actors we play other people's life stories, that's what we do. It starts with a character from the writer and then it's a character the people in production have made. But this, if I was not Tonderai, I would have been excited to play someone real who has chosen to tell their story. That would be so amazing.
For me as the audience this play was about love, courage and self-acceptance. What does the play mean for you?
Antonia: All of those things and the truth. The older we get the more we suppress ourselves and turn ourselves into something we are not. There is a lack of freedom with conforming. The thing is no one is perfect. For me this was about healing.
Tonderai: I love what you said about love, courage and acceptance. That's cool. For me it is about growing up and facing your challenges and then getting through them.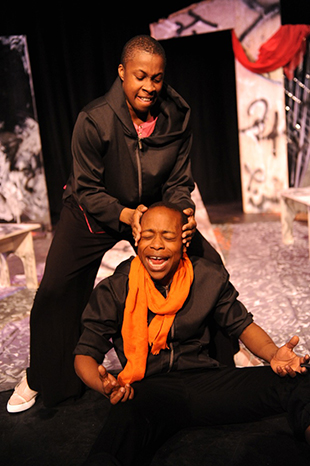 What advise would you give any actors out there or anyone would want to tell their life story?
Antonia: I would say take your time, tell truth and make sure you work with people that you completely trust. I'd also add find out who you trust and then trust them.
Tonderai: Absolutely. Everything that you said (to Antonia) make sure you work with the right people, else they will exploit you and you never want that, because it will destroy what the truth is. I'd also say work very very hard, just because it is your story it doesn't mean everyone will understand it . Once you've decided what and how much of it you want to tell, decide what your intentions are with it. Once you've decided, fight your corner and see it through.
What message do you want the audience to receive from your play?
Tonderai: I guess I would just like people to open their eyes to the person that is next to them, or in front of them and see how they could be useful to that person. And I think this play will help people understand the signs, or the empathy or the humanity that all of us need to start practicing.
Antonia: I think everybody is unique. And everybody has come with what they can offer. There is a reason why we are here. There is a reason why we are who we are and we need to treat people the way we all would like to be treated.
Info: Zhe is at the Soho Theatre Until December 8, 2013
Related links