Colman Domingo is a Philadelphia born actor, director and playwright with a diverse CV. Having starred in Broadway musicals such as Chicago and Passing Strange, Domingo has also appeared in top TV series Law and Order and taken part in Rosie O'Donnell's The Big Gay Sketch Show. His solo show A Boy and His Soul received critical acclaim in America and now Domingo has crossed the Atlantic to bring his show to the Tricycle Theatre. Domingo describes his triple award winning play as 'A love story about a neighbourhood' and love seems to be a big motivation for this artist. Softly spoken but emphatic, Domingo explains the particular significance of growing up in West Philadelphia and the unique soul sound which came out of the inner city community. It is this sound that Domingo will replicate in his show; using the classic velvet rhythms to tell one boy's story of how Philadelphia Soul touched his own.
How are you enjoying your first trip to London?
This is gonna sound so cheesy but I feel like its love at first sight. It just fits like a glove. Without sounding stereotypical I think there's a bit of refinement in the way people present themselves naturally. Maybe it's because I'm staying in the area where the embassy is, but people seem to have a bit more polish to them in terms of the public persona. As Americans we're just more expressive which is a good thing, but when you've been around that a lot, it's nice to see something else.
How would you describe A Boy and His Soul?
I'm trying to tell all of our stories about coming to grips with change, about letting go of childhood things and stepping into the future with humour, passion and great music.
A Boy and His Soul is a bit of a love story about a neighbourhood. It's about archiving a time in my life which is in particular the late 70s-early 80s, growing up in the inner city of West Philadelphia. It's a love story that I wanted to write because I felt there was a lack of storytelling about the inner city that was positive. (I am incapable of not mentioning the Fresh Prince of Bel Air) Yeah, that's about all people know! The funny thing is we went to high school together; me and Will Smith. But people know about our music as well even if they don't realise it. Philadelphia International has a lot of artists like the Spinners, or OJ or Patti LaBelle, and things like that are all specific to Philly. The Motown sound tends to have a lot of four part harmonies and hand claps but the Philadelphia sound that developed has more orchestration. More sax, more violin, more piano; it was more lush. The music propels the narrative in many ways. It is a play with music, but I use the music in a different form than in a musical.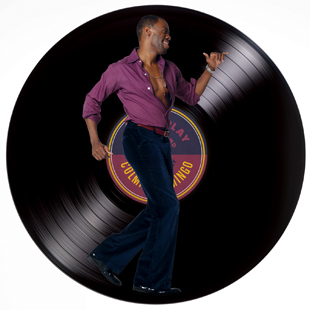 Do you sing in the show?
I am singing too. It's not in the traditional sense that I'll belt out songs; it's all part of the storytelling. For example if there's a number by Gladys Knight and the Pips it could become my mother's voice singing and then I will sing as my father doing a duet with the song. It's more complex; a colleague of mine says I'm working on five or six different channels when I'm doing that. There are times when I play maybe four characters at once, all having conversations with each other. I don't know if that proves me as a bit of a schizophrenic, but it's fun and dynamic and another way to tell the story.
Is this play fundamentally your own life story?
Fundamentally, I would say it's a good 80 per cent honest to goodness my story. Twenty per cent is maybe theatrical licence; I may change a name or truncate time but otherwise the story comes from a place of truth and all the characters do as well. I like to draw my characters very broadly so you get a sense of who they are immediately but then the mask slips at some points to reveal their true selves.
I have a lot of characters who you don't usually see on the stage. One of the characters that almost usurps the whole plays is my sister Avery. The way I interpret her in this plays is as a younger, brash, colourful, odd, loud and garish character. She's now a mother of three and a bit more mellow. When she even saw the play she said "Oh, that's me from years ago. You do have me though; that was me." So I serve up a character like that who is a bona fide inner city ghetto girl, but I peel away so you can see what her heart is like. With plays about this experience we may see broad colours of such people but in my play I'm trying to show what really makes these people tick.
What was specific to the experience of growing up in Philadelphia?
Specifically not just Philadelphia, but west Philadelphia, is made up of very inner city, working class, predominantly African American families. When I was growing up it was coming off of all the political fervour and human rights movement of the 60s. Then when you go into the 70s these families were concerned about their kids going to college and building their communities and empowerment. I grew up with black pride statements of believing in yourself. Being a child of the 70s is so specific to that community and how that community is now. It's transitioned; through the 1980s it became dilapidated, the poverty sort of turned in on itself. All of a sudden there were drug dealers and things like that and that's not the neighbourhood that I grew up in. When I tell people with pride that I'm from west Philadelphia they're like, "Ooh, that's a rough neighbourhood," and I'm like "Now it is, it wasn't before." But I'm a product of this neighbourhood. My best friends who are attorneys and teachers are all products of this neighbourhood. So the play is examining your soul; going back into that idea of home. I deeply dig into the music and it's also a deep examination of the things that we are made of.
How big a part did music play in your teen years?
Huge. It's still a big part of my life but I think it's been a big part of my culture growing up. Music was a part of every instance; for every circumstance there was a song that was related to it which is why in the play there's a song related to every story. I honestly feel like music is in the way people walk, talk, speak, and move. If there was a study done, if it hasn't been done already, I think you would see that I probably walk like a person who has listened to a lot of soul music. In my play I say that from the way that my sister walks across the street moving her hips, you can tell the kind of song she's moving to. One of the songs that I think exemplifies my sister is that song by Donna Summer; Bad Girls. Even the bass notes in that; I feel that as a character I move like Donna Summer's Bad Girls when I'm playing my sister.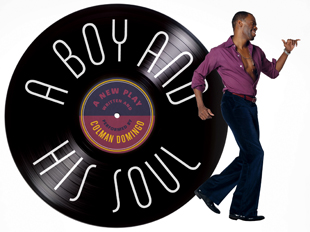 Does your sexuality come into the play?
It does come into the play. It's sort of a subplot because I wanted to make sure that the play was about these over arching themes about family and about music. Then there is a coming of age story underneath it; me finding my own notes of sexuality, of expression. It's greeted in a way that I think I've never seen portrayed on stage when it comes to an African-American man being gay. I remember one critic from San Francisco saying that she doubted the authenticity of my coming out story. What she knew as a writer looking at documentaries was that being gay in the African-American community is difficult. Well, how can she doubt my personal experience? And this is why I think we have to tell these other stories because there are other stories. In my family and in my home and in my community it was supportive and nurturing and accepting. My older brother is the ladies man and I came out to him first. He thought about it and his first response was "I don't care. I love you" and he hugged me. You have to see the show but my parents came to it not without difficulty but you could tell that they had to choose to change. But I think the 'Pollyanna' or spiritual part of me believes that we were put into our families to be a catalyst for deeper though and deeper examination on the human condition.
You studied journalism at college. How did you get into musical theatre?
(Laughs). I've always been a creative writer but I took one acting class in college and my professor said "Colman, I think you have a gift here; you're a good storyteller" and that was what I'd been trying to do as a journalist and I realised that this was a different way of doing that. So from there I foolishly started taking classes quietly and I moved to San Francisco to see what this life in the theatre was about. I started auditioning and I started working constantly and all of my experiences as an artist have been trial and error without any formal conservatory training. Somehow I've made a career which I'm proud of where I go between plays and musicals, from film to television, from sketch comedy to dramas. What a gift!
Why should people come and see A Boy and His Soul?
Because I use what I know to tell the story; I use parts of my life to tell your story. I believe I'm trying to tell all of our stories about coming to grips with change, about letting go of childhood things and stepping into the future with humour, passion and great music.