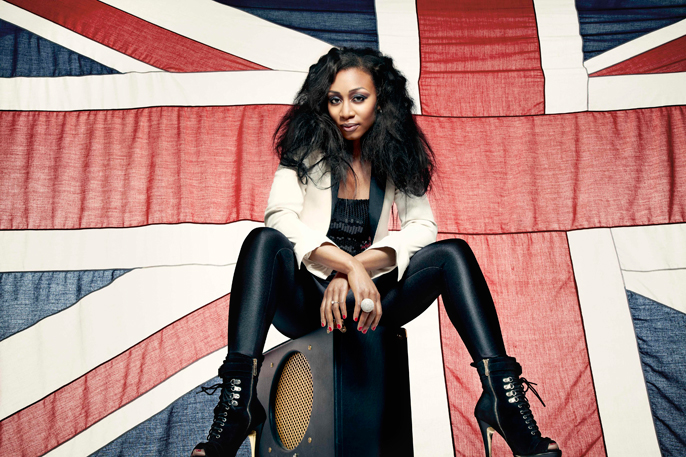 With her spectacular voice and unique soul sound Beverley Knight has cemented herself as one of our biggest and most influential musical artists. Having been awarded an MBE for her contribution to British music and with countless MOBO and E.M.M.A awards under her belt there is no doubt that this wonder from Wolverhampton can sing. But September 2013 marks an exciting new chapter in Knight's career when she will take to the Adelphi stage as Rachel Marron in The Bodyguard.

Knight is remarkably down to earth; laughing and chatting openly in her warm Midlands tones. She readily admits to feeling nervous about her first acting role and sings the praises of former lead Heather Headley whom she describes as a "Titan of theatre." Glowingly happy in her marriage to James O'Keefe, Knight reveals how for many years she avoided relationships preferring to focus upon her career. It is this personal experience that Knight plans to bring to the role made famous by the late Whitney Houston and she is up for the challenge. Overcoming her nerves to take this incredible new venture by the horns, Knight certainly won't be left thinking Shoulda, Woulda, Coulda.
Congratulations on your new role. How did you become involved with the production?
Thank you! I was well chuffed! I just heard that they were doing the whole recasting and I just thought 'Why not? I'll give it a go.' I asked management if they'd have a look into auditions for me and the next thing you know it happened rapidly. I did one audition and then a second and a third and then it was like 'Yeah, we want you to take the role' and then I panicked and thought 'Oh, thanks. I'm scared!' (Laughs.) The interesting thing was apparently they had thought about me in the first instance but I wasn't available because I was getting married and all those kind of nice things. But I didn't know at all and it certainly hadn't reached the ears of my management, I read about that in an interview. I was flattered.
Have you done any acting work before?
I want them to look at me and see the Rachel Marron character, not Beverley Knight singing Whitney Houston songs.
Only as a child. At Wolverhampton Youth Theatre I did West Side Story and Mikado aged 13 and 14.
At school I did musical theatre every single year. I did Grease; controversy of black Sandy - oh it was funny. I did Fiddler on the Roof, Joseph and his Technicolour Dreamcoat and all kinds at school. I went to Highfields Secondary School and I was so lucky and blessed to go somewhere where they encouraged extracurricular activity and if they found that you had any kind of gift they were right behind you. A lot of schools would say they have not got the facilities or have the wherewithal to do it. The school is now called Highfields Specialist Science School and they're reopening a new building and I've been invited to unveil the plaque. It was a superb school.
How does it feel to be taking over from Heather Headley?
I think that has been one of the most nerve wracking parts of it, because Heather is a Titan of theatre; I've been calling her that in every interview. Back in the day you had your Jennifer Hollidays and over here Elaine Paige and Heather is that woman of this generation. She's that accomplished and then there's me coming entirely from the world of music. So it's some big shoes to fill and then beyond that knowing that the role is made famous by Whitney; only one of the biggest singers of all time! (Laughs.) It's pressure but it's good pressure. 'Raise your game, Bev' kind of pressure.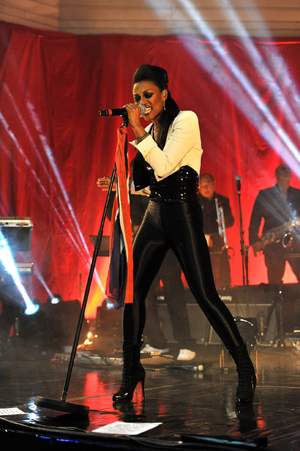 Was Whitney a big inspiration for you?
Oh God yes, yes, massive. You can't overestimate the influence she had, not only with regards to me personally but to everybody who came along since she exploded onto the scene. She influenced everybody in the way Aretha did. When Aretha came along everybody discovered their inner soul diva and embraced that side of their voice. When Whitney came along it was like a marriage between pure gospel and pure pop. The way people sing has never been the same again. So to a lesser or greater extent Whitney has touched all female singers. I remember seeing her on Top of the Pops when she was at number one with 'Saving all my Love for You.' I just thought 'My God, who is THAT?' I was screaming for my sister to come and look at this woman. That was it, I was done.
How do you plan to make the role of Rachel Marron your own?
I'd like to pull out a lot of the vulnerability of Rachel because we all know that when she first encounters Frank Farmer she's vexed because she doesn't want him running her household. You get this 'strong woman in control' situation. But what I think I can bring is the more vulnerable side; the 'I'm a bit scared' side. Because I know what it is to be someone who is in control of her own career in the way that Rachel Marron is. It can be a lonely place and often you're surrounded by all these people but you still feel like you're on your own and that makes you quite exposed at times. Also I know what it's like to have people who are not quite the full ticket following you around and writing you letters, though not to the extent that it happens in the show.
You've experienced stalking in your own career?
Yes, it has happened. It's not nice. In this day and age where people will cyber stalk you it's a lot more common and horrible and insidious. But back when I first started you'd have people send letters to your hotel room and you'd think 'How the hell do you know what hotel room I'm in?' And it would scare you, so I understand that fear and that vulnerability and that's something I can bring to the role for sure.
Congratulations on getting married last year. How are you finding married life?
Oh, thank you! It's tremendous. I was not interested in the slightest in marriage and all of that stuff- not a bean, I wasn't having it. So going form that to being married myself and loving every minute is a real leap.
Your character keeps people at a distance to remain in control. Is that something you can relate to?
Yes, massively –especially when I was younger. You'd have relationships because you have that side of you. Not just the physical need because that can be fulfilled any day of the week; but a human need for companionship. So you'd have relationships but that wasn't necessarily someone who you'd want to share your whole being and world with. I just didn't feel like that; I was so focused upon building my career. I was in my mid thirties when I met James and now I'm forty. I'm a firm believer in nothing happens until it's the right time.
What's your favourite number to perform in the show?
Oh, 'I Have Nothing' that's easy. The song is insanely brilliant. The composition, the melody, the way it starts in this key then the chorus elevates to that key then it comes back down again and then the whole tune change at the end. 'I Have Nothing' is the song that says 'I'm not going anywhere' and technically it's the most difficult and emotively it's the most draining because there are so many elements that you've got to pull out of it. You know the audience is waiting for 'I Will Always Love You' at the end of the show, but that is just about a sad goodbye. For me 'I Have Nothing' is showing how someone has fallen in love over the duration of a three and a half minute song and that's remarkable.
What's been the biggest challenge in taking on this role?
The acting element has been the biggest challenge; looking in the mirror and going 'Beverley, tonight you are an actress.' It's getting the feeling of being an actress in my bones that's been the hardest thing and once I am convinced of it I'm sure I can go some way to convincing the audience. I want them to look at me and see the Rachel Marron character, not Beverley Knight singing Whitney Houston songs.
Your last album Soul UK was in 2011. Have you been working on any new material since?
Yeah, I'm always writing. Last year of course was a bit of an anomaly because it was all about getting married and the Olympics and Paralympics. So a lot of last year was taken up and obviously this year I'll be doing The Bodyguard (Laughs.) But I never stop writing; just some periods are more prolific than others. The minute I'm comfortable with the role and I've got that in my bones I know I'll get that itch to get writing and get in the studio again.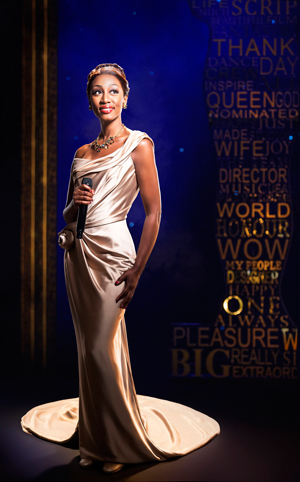 You set up your own record label, Hurricane in 2009. What made you choose to go independent?
I got to a point with Parlophone where they'd offered me a deal that I most certainly could refuse. It was the 360 deal and I just thought 'I am too long in the tooth for no 360 deal.' Creatively, I couldn't keep working with them and rather than go to another major label where I'd be offered exactly the same kind of thing, only with people I didn't know at all I thought, 'Nah. Creatively I'll go it alone.'

I know my own mind and I know I'm working with people who will tell me the truth; if something's crap they'll tell me-which you need! And I knew financially if I worked hard enough I could fund myself, so I thought 'Yeah, why not?' I'm glad I did. The way this industry has gone you've got people like me who are self sufficient and then on the other hand you've got the whole TV led side. Music industry part deux, where people are very much controlled and they sign these contracts where they don't really know what they're getting into. That wasn't the world I wanted to be a part of and so the only way to avoid it was to be independent from it.
What would you like to achieve through doing The Bodyguard?
Well, this is one time where a project really was for me to stretch myself. It was something I thought I could do and by the end of it if people say,' You did a great job' I can't tell you how chuffed I will be; I'll be over the moon. I wanted to do this for me; I know I can sing- no need for the false modesty but it was about challenging myself beyond the world of singing. I'm determined to do this and to do it to the best of my ability.
---
Related links
The Bodyguard Musical is booking until May 31, 2014 at the Adelphi Theatre | Book tickets
Afridiziak preview – The Bodyguard Musical