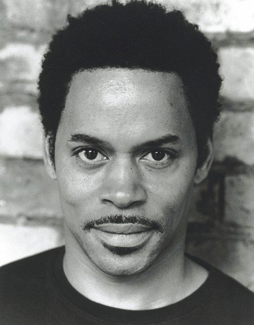 Chris Tummings has many strings to his bow - an actor who also happens to be a talented singer and musician. He is also preparing to play the challenging role of Ike Turner in new musical Soul Sister. Speaking to the actor, singer, writer and stand up comedian the extent of Tummings' experience is astounding. As we discuss his career Tummings is vocal about prejudice within British society and the industry but is adamant that the interview should not be all about race relations. With so many achievements behind him there is plenty to talk about.

Get up, stand up, because Chris Tummings has one or two things to say.
How do you feel about Jamaica celebrating its half a century of independence?
I think it's good and the more we celebrate it the more people recognise the importance of it. I think anybody should celebrate any kind of independence.
As well as being an actor you're also a musician. Who are your main musical inspirations?
I am yeah, I sing and I play the saxophone, the guitar and I do some tinkling on the piano. My main inspiration has gotta be Stevie Wonder really. Nobody can play music with that sort of skill. In terms of vocalists; Luther Vandross and Nat King Cole were just fantastic performers vocally.
Have you ever wanted to pursue a full time career in music?
How many people can do a job they enjoy and actually earn their money from it? Actors are very lucky people".
I wouldn't call myself a musician; I'm an actor trying my best to learn new parts. I've been playing music since God knows when so I'm pretty good at being able to fool an audience into thinking I'm any good! For me it's acting mainly, that's my main passion. I've done music and a little bit of comedy and was in musicals for a while but I'm eager to get back to domestic acting. That's why playing Ike Turner is a fantastic role for me; it's a brilliant show and a very meaty part to play.
At the press launch of Soul Sister it seemed that you were hoping to bring a new element to the character of Ike. Did you feel Laurence Fishburne's portrayal was a bit stylised?
No I wouldn't say that. For me he was a bit one dimensional; all the focus was on the violence and it didn't offer no other side, no other insight, there was just one face. Don't get me wrong; I think Laurence Fishburne is a fantastic and unbelievable actor, I think the script didn't give him the chance to delve deeper and present a more three dimensional character.
Was the Black Theatre Co-operative your first independent project?
Yes. We started the BTC in 79; between (Victor Romero) Evans and myself we saw a need for new British writing. We formed the company and we toured lots of plays and out of that we were asked to produce a TV series and that's how the sitcom No Problem came about, four years after forming the BTC.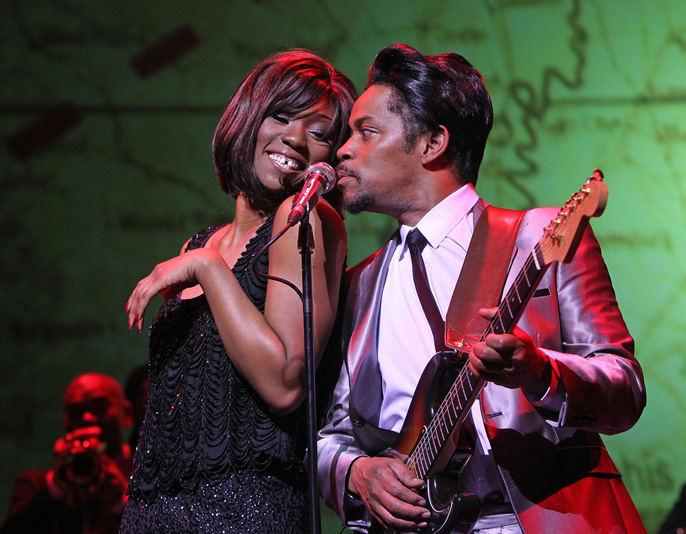 How do you feel that the industry has changed since you started out?
I think people are taking note in our country. Slowly but surely there is a move nowhere near as much as I would like but it's a beginning, it's a gradual process. To change society's outlook you've got to do it one step at a time. When I started out we were considered to be limited as black actors. We had to prove that we were very professional and good at what we did. We showed them that we belonged and that we were British. There were very few parts, and the parts were all stereotypes like muggers and drug dealers and obviously we had to show that we could do a lot more than that.
Do you still feel you still have to prove yourself?
Of course, I mean it's a constant thing but I feel like today I'm not considered a mainstream, I think I'm just a jobbing actor keeping myself in the frame so to speak. I mean most people can't name five black British actors and that's a major problem, but they can all name five black American actors.
Do you feel there's a stark difference between America and the UK in terms of work for black actors?
Well the Americans have an industry; a black film infrastructure and we don't have that over here. They have a lot of independent companies and film makers; you have people like Tyler Perry who writes and distributes his own stuff adding to the history of black American movie making. In America you have the 'blacksploitation' movies; there's a whole industry involved in developing black actors and letting them be seen and known. A lot of people are making films in the UK but these people are not getting the funding or sponsorship and they're all having to do it individually. Everybody is doing their own thing instead of coming together and pooling their talent to make a community; somewhere you can go and even get black producers with the proper set up so you can finance your movie and get your movie made. It's happening slowly but people are still struggling over here.
Why do you think there is still such a struggle for black British filmmakers in 2012?
Because there's generations and generations of American blacks and over there we're only up to second or third generation in this country, so it's going to take a lot longer and we're just going to have to see what will happen. Racism is still in Britain, whether it's in the police force or like recently the big deal over racism in football with John Terry. For my generation these things are obvious. But I'm used to this country treating me wrong. I grew up in Hackney and when I grew up we were at loggerheads with the National Front almost every weekend. I think people have gotten very good at brushing things under the carpet; hiding their racism. There's been an improvement but you open the papers and it's still prevalent. There's lots of hatred silently simmering. Personally I don't live my life like that, but I recognise it when I see it.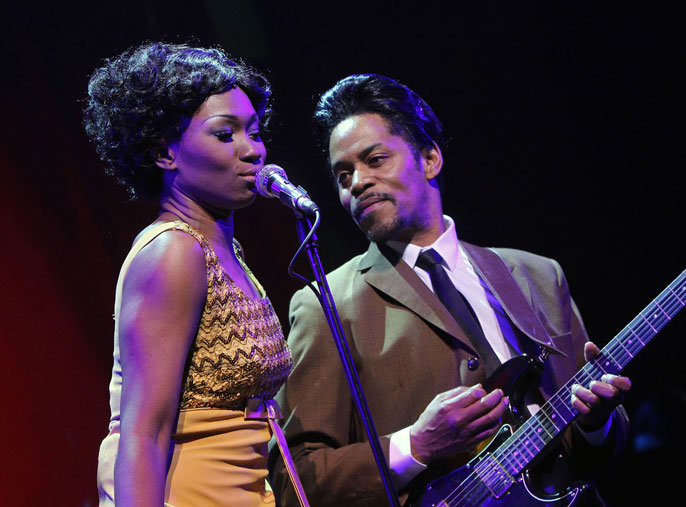 How big a part has being of Jamaican heritage played in your life and career?
My Jamaican family has given me a good sense of stability and also having a close knit extended family just gives a good grounding for life. It's a very colourful loving environment.
How did you get into stand up?
Well what happened was I went to New York on a trip and I first saw people doing street stand up over there. Stand up in the street is absolutely fantastic so I thought I'd bring some of it to Covent Garden. I didn't actually perform it in the street, what I did was I wrote a show with an hour and a half's worth of stand up material in it. I was away for a while so when I came back I put on the show sort of introducing myself back to Britain and it started from there. A few years after that we had a programme called Get Up, Stand Up on Channel 4 where I met lots of new performers. It wasn't planned, it sort of just happened. I was very pleased I had the opportunity to do that 'cos that show gave me the chance to play many many different characters in one week and it enhanced my understanding of many different characters. It was a great experience.
What first got you interested in performance?
When I was at school there was a programme called the Tomorrow People and one of my friends was in it and I thought that was just amazing so I thought "Yeah, I could do that!" So I got into the Old Vic youth theatre and met many people from different walks of life and I was surrounded by theatre. I did my first production there in 77 and that was it. I've always pursued my love of acting and my love of singing. How many people can do a job they enjoy and actually earn their money from it? Actors are very lucky people.
Related Links
Afridiziak Theatre News preview: Soul Sister the Musical, The Savoy
Afridiziak Theatre News review: Soul Sister, Hackney Empire