Nadine Marshall, Random, Channel 4
Published:

Monday, August 22, 2011 13:43

| Interview by

Vernia Mengot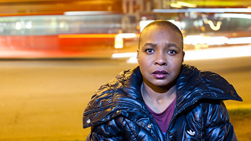 This week Channel 4 brings you a new one off drama 'Random' which stars the accredited actress Nadine Marshall. The program sees Nadine narrating and acting out the inner thoughts of four characters in a Hackney-based Jamaican Family on an ordinary day, whose lives are shattered by the brunt of one random event. Renowned for working in television, film, theatre and on the radio, Afridiziak Theatre News caught up with Nadine to discuss her role in the run up to 'Random's' release, her on going radio series and when we can look forward to seeing her on our television screens again.
Thank you for allowing me to have time to catch up with you. I really enjoyed the sneak peak of your latest project where you played several characters in Channel 4's one off drama- 'Random'. Tell me a little bit more about the concept of the drama and the characters that you played?
Basically it's just about families and experiences. I played a one women show at the Royal Court in 2008 where I played all the characters on stage; the mum, the dad, the people in the office and the police etc. Then they took it on tour, but unfortunately I couldn't do the tour, because I'd just had a baby.
The Channel 4 version is an adaptation to the stage play written by critically acclaimed playwright, Debbie Tucker Green. In your opinion, how do the two compare?
I think they're completely different, in terms of acting it out on stage I had to have a completely different approach. So I suppose just the sense of being in a live theatre and being able to participate with the audience. It was more emotive; maybe because we had a different audience from a wider perspective, we had old people and a few young people. Debbie worked hard at the beginning of the stage productions and went into schools and did workshops with them; usually that section of society doesn't usually go and see theatre. There's nothing at the theatre that relates to them to go and see. So it's refreshing to have that kind of audience to watch this particular style of theatre. The set was basic; there were no props, no fancy lighting and no explosions, just me. Just somebody simply telling a story. It was amazing what came out of it considering; they laughed, clapped and hollered. Some nights it lasted longer than the running time of 45mins, most nights went on for 50 minutes because of the audience participation.
How accurate do you think the story relates to an ordinary family living an ordinary life?
I think it's quite accurate. I relate to the family, especially as it's a Jamaican family. As I'm from a Jamaican background, it's real to me. It's someone else view so you won't always get 100 per cent accuracy but it's close enough.
You are filming a new comedy series for SKY 1 called Gates; tell me about your role in the comedy and what we can look forward to?
It's a sitcom about the school run, it's funny, and I play one of the mums, I have a ten-year- boy called Troy and an older daughter that's 16. She's a hairdresser, she's open and approachable.
Talk me through some of your upcoming projects in the near future?
I'm on the radio in the No1 Ladies Detective Agency. There were books and the TV version which was played by Jill Scott. And then who knows.
As an actress, you've done a lot of work in theatre, film, on TV and radio. What is your most preferred area of work?
[Sighs] I don't know, I like all of them, but I get the biggest buzz out of TV, it's faster paced. You can get a character and run with it. You are not stuck with it night after night you can do your take and move on from it. I love the theatre; I get a buzz from being on stage. I think TV just about tops it.
Who are some of the most unforgettable people that you have worked with?
Unforgettable? Gosh! This will sound like a big cop out, I don't think I've ever had one bad experience; every one I've worked with has been great. I've got something from everybody.
Aside from acting, what else do you get up to?
Well, I've got two boys, ones ten and ones two. So yeah other than that, I've got a family, a husband - a normal family life.
What advice would you recommend for any young person starting out in acting?
I suppose the advice I would give is, be sure you want to get into this business because 99 per cent of it is disappointment. If you don't have hard skin it can break you. Get your studies in; always have something at the back of you. Find something you're passionate about.
Info: Random is on Channel 4 on Tuesday 23 August, 2011 at 10pm
---
Related links
Debbie Tucker Green's latest play Truth and Reconciliation is at Royal Court Theatre from 1-24 Sept 2011
Afridiziak Theatre News review - Random, 2010, Elephant and Castle shopping centre