Ed DuRanté, Clockwork Orange
Published:

Tuesday, August 30, 2011 11:56

| Interview by

Sophia A Jackson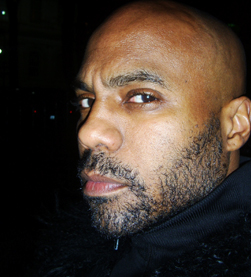 Anthony Burgess' cult novel A Clockwork Orange is re-imagined for the Theatre Royal Stratford East stage on the eve of its 50th anniversary. We caught up with the productions writer Ed DuRanté

Ed DuRanté is a playwright and filmmaker whose work has been produced by Theatre for the New City, Talking Drum Theatre Company and Playwrights Horizons. His play Homeboys is part of the literary anthology "Patchwork of Dreams." He has written, produced and directed a short film called America, which was a Wasserman Award Finalist. His first feature film Jake Gets Paid is in post-production. Ed was awarded a New York Foundation for the Arts Fellowship for Filmmaking. And is a graduate of the NYU/Tisch School of the Arts Film Program.

Ed DuRanté says 'A Clockwork Orange has given us the opportunity to explore a classic piece of literature and use it to comment on the challenges that are faced by the black community, but at the same time speaks to the broader society about every person's responsibility for their own actions.'
What attracted you to working on this production of "A Clockwork Orange?"
The opportunity to adapt such an important literary work was like manna from heaven - no artist in their right mind would not jump at such a fantastic challenge.
Had you read the book / watched the film "A Clockwork Orange" prior to this production? What were your thoughts?
I have seen the film about 20 times. I love it. I had not read the book prior to getting the commission. Now, I've read it about 20 times as well. The novel and the film are quite different. The novel is more fulfilling for me because it tells the story of a character that changes … That grows up. Most people don't know that the film is based upon the novel that was published in the United States. That version did not include the 21 chapter. This last chapter is essential, like any last chapter would be. It deals with Alex and how he has changed and how he is thinking about his possible future life. It deals with hope.
How else have you researched for this production?
Fred Carl and I looked at a bunch of stuff dealing with crime and punishment in both the UK and the USA. We watched many videos of ex-cons who talked about how they've changed their attitude toward life and how they wanted to be present for their families. I also watched and read every interview of Anthony Burgess that I could find. He was a brilliant, funny and fascinating man. He seemed like the kind of guy you'd love to hang out with at a pub.
What are the similarities and differences of the production to the book and film?
Our production is very true to the novel and deals with Anthony Burgess' themes. It's about free will and how every individual is responsible for their own actions.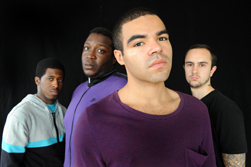 What do you think Stanley Kubrick would say about the production?
He wouldn't say anything. He'd be jealous. [laughs] Okay, maybe not jealous, but he'd love it. I think he'd be intrigued by how we re-imagined the novel. I think he'd be wow'd by Dawn Reid's directing talent. I think he'd love Fred Carl's music and wonder when he could buy the CD and I think he'd wish he'd based his film on the entire novel.
Who have been some of the most influential people in your career?
My father DuRanté, Sarah Schlesinger, Spike Lee, Mick Casale, Yvette Biro, Pascal Aubier, Boris Frumin, Chester Himes, Bill Reilly and Bryce Lambert who was my English teacher at Deerfield Academy.
What's next for you?
Next, I am directing the film "Clay Feet" starring Terrence Howard and Anthony Mackie. I also wrote the script. I like to think of it as a buddy flick. The film examines the early friendship between Muhammad Ali and Malcolm X. It takes place right before Ali beat Sonny Liston and won his first championship.
Why should people come and see this adaptation of a Clockwork Orange?
Because it's great!
---
Info: Clockwork Orange is at Theatre Royal Stratford East from September 3 – October 1, 2011 | www.stratfordeast.com