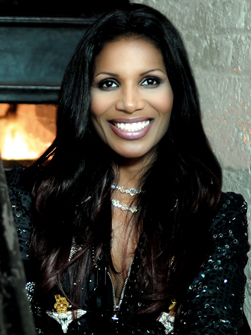 The charismatic Denise Pearson from 1980's group Five Star talks to Afridiziak Theatre News about her upcoming appearance in the production Respect La Diva. She tells us about what you can expect to see in the show, about music and how things have changed since she first started out. It sounds like this show will give you an opportunity to see some talented singers singing songs you know and love. A show that will bring out the inner diva in you, man or woman and it's all going to a worthy cause.
Tell me about the show and what it's in support of?
It's a diva show, Respect La Diva and it's the biggest Diva's in music history; Whitney Houston , Mariah Carey, Tina Turner, Sister Sledge, Aretha Franklin, Alicia Keys, Barbara Streisand, Shirley Bassey, Dusty Springfield, Etta James, all those big, big names. It has songs like Empire State (of mind), Natural Woman, Every Woman, Son of a Preacher man, Big Spender. We're covering the pop and the soul with Aretha and kind of entertainment theatre with Shirley and Barbara. It is a two hour extravaganza of hits. All in aid of a charity called Refuge which helps stop domestic violence towards children and women. I've also written a single called 'I am Me' that I'm going to be donating a part of a percentage to the charity.
How did you get involved in this show?
I'm a singer. I'm one of the lead singers and it's also the same producer that produced the Thriller Live Show, Adrian Grant. I was in the Thriller Live show and he wrote this show and asked me if I would be interested in playing one of the divas in the show. I went along to the workshop and I think that it's an absolutely brilliant show.
What made you want to get involved?
Oh my favourite singers are Mariah Carey, Whitney Houston, and Celine Dion. Celine is another one whose songs I would love to be in the show. Mariah, Whitney, Tina, Aretha, I think I have always sung to those singers, artists, divas throughout the years of my years in the music business and they're my ultimate favourites.
What can an audience take away from coming to the show?
They will feel empowered and they'll have a blast of a time. They'll be taking back and hearing music from the best diva's in the industry. From then to now and I think they'll have a blast singing along and enjoying the show.
What songs are you singing in the show?
When you Believe with Zoe Birkett and I'll be singing Natural Woman, Want to Dance (with somebody), Every woman, Empire State (of mind) and Listen by Beyoncé and many more. You have come to show to see the rest, it will be phenomenal.

A diva is a woman or man with that inner shine, inner confidence, and inner strength that you have and you put it forward and people look up to you. You're glamorous; you wear the heels, you wear the dresses, you wear the big hair and you are just fabulous.
Are you a diva?
I think I do have a diva side. I'm a Gemini. When I'm up, when I am at home I am more normal, I think. But when I'm on stage and there are the lights, camera, action, it's a whole new different thing. Just like Beyoncé is the artist and then she is Sasha, and Sasha is the more wild side to her, more different, a more extroverted side of her.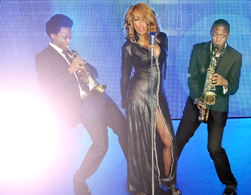 Does yours have a name?
(Laughs)No, it doesn't. Not yet.
Do you think the music industry has changed since you first came out and how?
I think it's changed a lot. I think they are doing great and there is a lot of talent out there. I just wish it wasn't let's grab the first young good looking little boy or girl, put them out or auto tune their voices and sell them. It's little bit like milking the cow, putting them on a machine and milking them. It's mechanical. It's not like the days of Michael (Jackson) and Prince, where there is true talent. That wow talent that touches your heart, which enables the world to relate to you. Just like Michael and how universal he was and the whole world loves Michael. There are some talented kids out there now but I think music is quick and processed now.
What current artist's do you think would feature in a future Respect La Diva?
I love Adele. I love her; I think she is so down to earth. So simple and she has a talent and I love her voice; beautiful voice. It's a shame about Amy Winehouse but what she has left us we can only be grateful for, that we had her and her absolutely incredible voice.
What's next for you?
I'll be putting out my single into iTunes and I am in the process of recording that and getting ready for when Divas start. Next year we will be going on a European and UK tour and we'll also fit together a Five Star reunion tour… I might also make a couple more appearances in Thriller live.
What single thing that you know now; do you wish you knew when you first started out in this industry?
I think how to handle business, I never had to handle business before and it was always left to our manager, my dad. I don't know maybe that but I wouldn't change a thing. I'm still learning and enjoying my life right now. I think I have learnt a lot and I'm still learning. I think this is the beginning of me taking control of my own life. I wish I had taken control earlier. I think I probably would have had more fun, maybe.
---
Related links
Respect La Diva is at the Garrick Theatre from 7-24 September 2011