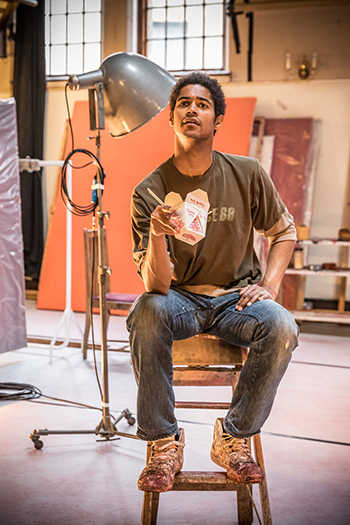 Rothko once said of his series of overlarge mediations on red, commissioned by the Seagram corporation for display in New York's Four Seasons restaurant, "I accepted this assignment with strictly malicious intentions. I hope to ruin the appetite of every son of a bitch who ever eats in that room." Red examines the complicated relationship Rothko had with this project by exploring the dynamic between Rothko and a fictional assistant Ken, who he takes on to "pick up food and cigarettes and anything else I want, any whim, no matter how demanding or demeaning."
I sat down with stars Alfred Molina, who has played Rothko in every production of John Logan's Red since it opened at the Donmar in 2009, and Alfred Enoch, a rising star of US primetime television, who plays the young aspirant Ken. I ask how to address each of them, so it doesn't get confusing. "Well I'm Fred, and he's Alfie. That worked out pretty well didn't it?" Fred asks Alfie as if it's the first time this has come up.
Fred is returning to the West End stage for the first time since the mid-eighties, in the intervening years, he has received Emmy, a Golden Globe and BAFTA nominations. You get a sense of a man, with his quiet confidence, humility and humour, with nothing to prove.
In contrast, Red marks Alfie's West End debut, and he is all animation and eagerness, but focussed and generous with it. "It's not like I've never done a play before, so it's not an unknown quantity, but I've never worked in the Wyndham or the West End. And it's exciting. It's rewarding. I grew up in the City, and I like the theatre. That's what I do with my time, and so on a personal level it's very satisfying." Alfie is the son of actor William Russell, of Doctor Who fame, and was cast as Dean Thomas in the Harry Potter franchise shortly after he started secondary school. For Fred, who grew up in a working-class immigrant community, that was when his interest in acting was first taken seriously.
It's a statistical… something to direct a production in which every cast member is named Alfred" award-winning director Michael Grandage remarks as he introduces his play Red, a two-hander about the two years abstract expressionist Mark Rothko spent painting his infamous Seagram Murals.
Their differences in age, race, background and experience make for a compelling chemistry into which the play leans. "Rothko is an older artist at the top of his game and [I play] a young man starting out and finding his feet" Alfie explains. "It's a good reason to be doing this play now. There's an interesting generational tension right now, I'm not going to say conflict because I think that would simplify it, but that's a lot of what Ken's journey is throughout the play is. He's trying to find his own space and his own way of working, and I don't think that's the easiest place to do that with this totemic figure [of Rothko] …And that in our society, at the minute, is an interesting thing."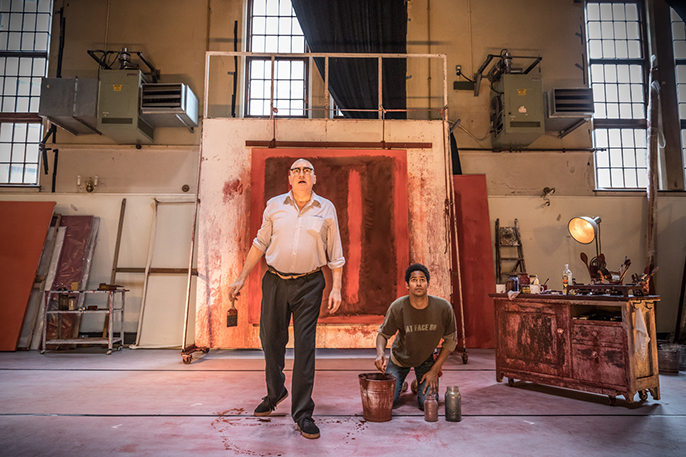 Fred agrees that "there's a lot of parallels in the play about master/servant, teacher/student, father/son. That dynamic between them is there, and then it starts to shift in the way that it tends to do in life - the student supersedes the teacher; the relationship has changed, and in a sense, they become equal. Michael, the director, asked Alfie to think about bringing the outside world in. "Rothko lives in this hermetically sealed bubble where he's in absolute control of everything. Then suddenly, in a way, this door burst open and this breath of the outside world which is both refreshing and threatening because what Ken eventually comes to represent is the new. Jack Lemmon once said if you're lucky enough to get to the top floor, it's your obligation to send the elevator back down. I always think that's the one thing I think Rothko has a little bit of trouble with. He knows he ought to, he knows eventually that he will, but he needs persuading."
Fred knows Rothko inside out. He has played Rothko on and off for nearly a decade; his Broadway turn earned him a Tony nomination. I ask how his performance has evolved over the years. "Well I'm not quite sure, I think that's for other people to judge, I'm still just trying to get it right!" He says laughing. "I think I'm just very fortunate to keep getting another chance to do it. Well, I'm being facetious obviously, but there is a little grain of truth in that because I'm fifty percent of the cast. Changing fifty percent of a cast is a huge shift, a huge chunk that's gonna be different. There's none of us, not Michael, not Chris the designer or I were ever interested in replicating the play the second or third or now the fourth time. So it's less of a revival and hopefully more of a rediscovery." Turning to Alfie, Fred says "we made it clear from the beginning that this is yours now. For the time and place that you occupy this part, Ken is you, and you are Ken, so what you do with it is absolutely up to you, and up for grabs and I can only respond to what you give me."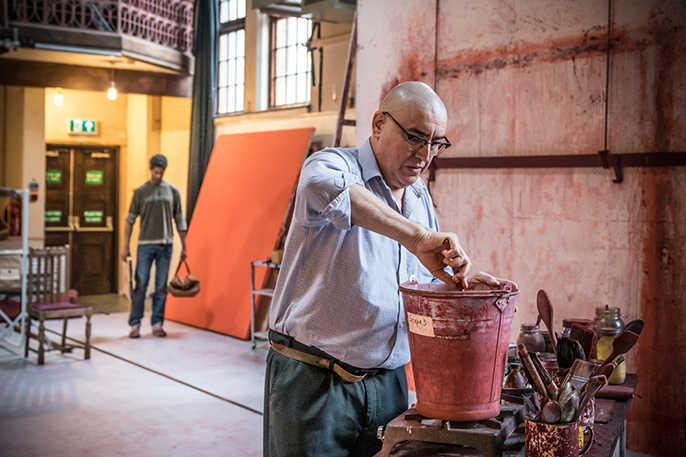 Alfie comes to Rothko and his work as a complete novice. "I wasn't familiar at all [with Rothko], but I was aware of the floating rectangles as people refer to them. I actually went to the Tate Modern before I had my second audition with Michael, and just sat in the room where the Seagram murals are on display. The play gave me a sort of language to approach the work and, not understand it, that's probably too sweeping a word, but to get something out of that, I don't think I would have gotten out of it otherwise. That room is incredible, and my relationship with the text informed the experience and vice versa."
That learning is an essential part of the play. Logan and Grandage both intended to make the play the most authentic experience of creating art ever brought to the stage. To do this, the actors have to learn how to mix the paints, stretch the canvasses, and paint. "We have learnt it all together the craft of what we mean to do, Alfie has had a lot of interaction with an assistant to an artist, so he has taken his own personal research. And we basically learnt the craft as part of our own rehearsal. There are two bits to the rehearsal; one is learning your lines and doing the interaction, the other bit in this play, more than any other play I've ever done, a totally naturalistic play, is doing the actual learning of the craft of stretching a canvass, how do you do it? I don't think a lot of people appreciate that there's a dual role to learning this piece, for us to be entirely authentic we have to make the audience believe they know how to do their craft as artists" Grandage explains.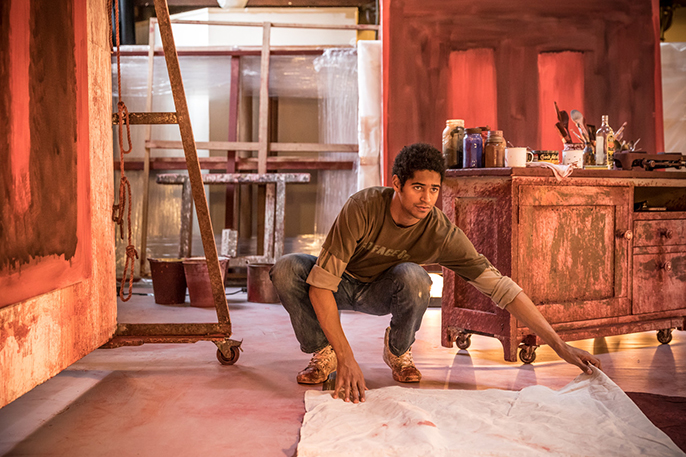 Alfie agrees "it's a lovely thing that you stumble across something that can be a gateway into a whole other passion or range of interests that you would never have had otherwise or had a relationship with… and that makes the play accessible. I didn't know his work and its opened up something for me that I would never have experienced. I think there's something very fascinating about two people who are intelligent and skilled going at it, and they know what they are talking about it. It's like if you never watched tennis match before and you watched Federer and Nadal in the final set at Wimbledon, it would still be amazing. So I think it has that. It's a testament to how well written the play in; it lets you in".
Info: Red will play at the Wyndham's Theatre from the 4th May until the 28th July.