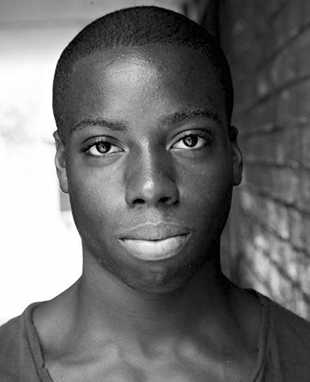 Joseph Rowe is a young actor with his sights firmly set on the London stage. His passion for drama has already seen him work at the Royal Court (The Low Road), the Arcola (Pieces of Vincent) and star in short film, The Lodger. Having only graduated from drama school four years ago, Rowe admits that life as an emerging actor can be challenging. But that hasn't stopped this native Brummie from following his dream. Currently in rehearsals for historical drama Light Shining in Buckinghamshire, Rowe is incredibly enthusiastic about working at the National.
In a production that delves into our political foundations, Rowe prudently draws parallels with our upcoming general election. Throughout the interview, Rowe is wonderfully insightful and friendly as we discuss the play, his ambitions and the lack of roles requiring a Birmingham accent.
How would you describe Caryl Churchill's Light Shining in Buckinghamshire?
It's an epic play. It's completely dense with religion, politics and it's got a lot of soul. The characters have a lot of spirit. There's also a strong message. Although it's relevant to that era, I think it's relevant to this era as well, especially in terms of voting and the upcoming election this year. The best way I can put it is, it's a play about soul, hope and revolution.
The play is set in the 17th century, after the English Civil Wars. Did your role involve a lot of historical research?
Light Shining in Buckinghamshire is about soul, hope and revolution'



Yes, it was massive. I'm in a lot of ensemble scenes and I'm also understudying two characters, but my main role is as the Digger. To get into the world of the play it was essential that we looked back extensively. Lyndsey Turner (Director) is great in terms of detail. There's no question that can't be asked and no question that we haven't been given an answer to. So there was a lot of learning about the history and the political world of the play, so we all understood the world these people were coming from. Funnily enough, during rehearsals literally all of us admitted we didn't know much about this era. It's a massive period of history that we don't typically get taught in schools and you almost wonder if that was deliberate. It was a period where the people took control and executed the monarch and so you can understand why educational institutions don't want to celebrate this period as much as other eras.
During this era the country was divided politically into the Parliamentarians and the Royalists. Which side does your character the Digger affiliate himself with?
My main character is a parliamentarian. He's on the side of the people and on the side of hope and looking towards the future where the poor aren't oppressed. He's part of a community who are called "the Levellers" or "the Ranters" and they're all about the earth, living off the earth and freedom and equality.
You mentioned being in a lot of ensemble pieces. Are there many crowd scenes?
Yes, it's a massive ensemble production; it's all about the ensemble. It's a cast of 18, which I think is needed. So much happens and there's such a variety of different people in different situations at the time, so it would be hard to get the scope of the narrative with anything less. What's great about the National as well, is the colour-blind casting element. It's set in the 17th century, so the majority if not all of the characters would have been white. But Lyndsey has cast people in the roles who are black, Asian or multi heritage. So although it's a period piece, I think seeing that onstage makes it relevant to a modern audience as it visually represents our current society.
The National is well known for its policy on colour-blind casting. As a black actor has your colour ever been an issue during casting for certain roles?
I think it's difficult to start talking about race in terms of casting because it depends on each production, it's best to avoid obvious generalisations. There's been times in the past where the role has specifically called for a black actor. In my last play at the Royal Court, The Low Road I was playing a slave, so it was important that I was black because it was telling a story there. It's a weird thing within the industry; your race can either tell a story or be part of a story but it needn't govern every production, especially classical productions. That's what's great about the National's colour-blind casting. Ignore the historical factor of it being a white society, but allow black people to represent a modern society to the audience. It's important to be creative and tasteful when it comes to race.
You only graduated four years ago. How much of a leap was it going from being a student to a professional actor?
It's different. It's hard, when you turn up at drama school you have all these massive hopes and dreams and you're very looked after. It's an institution where you're fed quite well in terms of knowledge and the trade and you're constantly surrounded by what you love. Then suddenly you're out in the big, wide world. You have ups and down and it's hard to make that transition from student to professional actor, slash adult really. In these four years since I've left drama school there have been long periods where I've been out of work and you can lose hope and you can start to doubt yourself and your choices. If you're passionate and if you love it, it's not really your choice (Laughs.) You have to stick with it because you can't turn your back on what you love. It takes lots and lots of hard work. There's a saying that "Success is when preparation meets opportunity." That's something I heard many years ago and hold quite dear. I kind of use it as a bit of a mantra.
You moved to London after finishing drama school. Do you think you could have had as successful an acting career anywhere else in the UK?
I think once you're an established actor its fine. Really you can go anywhere provided you can get to the locations for the work. But when you're starting out, I think it's difficult to be outside of London because a lot of theatre and a lot of everything is set in London. Often you have to travel to London just for the casting. Realistically I think you need to be in London when starting out. It's the place to be in so many respects.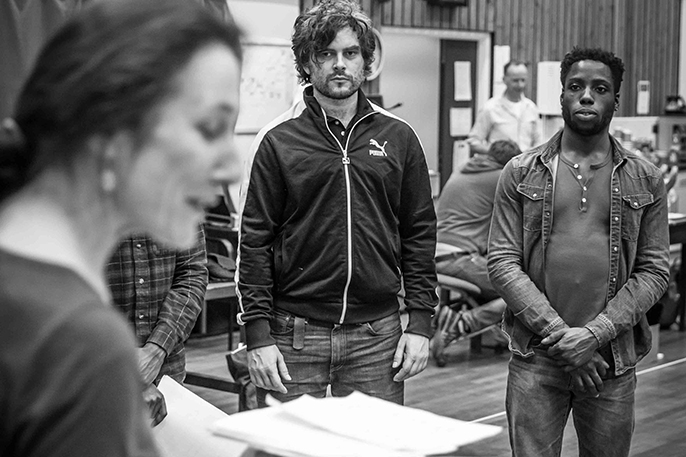 You're originally from Birmingham, but only a few words give away a slight midlands twang. Did you deliberately try and lose your Brummie accent?
Even if it's just for people to strip back to basics and consider what it is to be human and to feel and to question how society could be better, I really believe it's an excellent play.
No, it's not as strong as it could be. I honestly don't remember when I lost it but it wasn't a conscious choice. I remember when I first went home for a family party after I'd moved down here and a few of my relatives were like 'What happened to your accent?' At drama school you have to learn a lot of accents and how to speak correctly, and obviously there's the RP accent which is most useful in terms of classical theatre and texts. Funnily enough in my professional career I've only been asked to audition on my own accent once for a play at the Birmingham Rep. I've been asked to do various African accents and Caribbean accents and RP. But very few plays seem to want regional British accents.
Thus far in your career, what has been your most enjoyable role?
I did a show at the Arcola called Pieces of Vincent where I played a character called Christopher and I truly fell in love with the character. He was a young, autistic guy who obviously had lots of social problems but he was also a brilliant pianist. He also had a strong connection with his piano teacher and so far that's been the best role I've ever had. Just because of the layers needed to bring that role alive and it's was beautifully written by David Watson so I hold that play quite dear.
On a completely practical note, did you have to learn the piano?
No, I had three piano lessons. I had a very bog standard, basic lesson to start with; just getting to know the instrument. The second two were about how to make my playing look realistic. What to do with your hands, how playing feeds through the rest of your body and so on, which was all great.
You're early on in your acting career. What are your main ambitions for the next ten years?
I'm passionate about theatre, I really am. Also, I'm passionate about classical theatre. I'd love to work for the Globe, and the RSC and I'd love to be back here at the National of course. For me over the next ten years my main goal is to get more theatre work and become more established in the theatre industry.
What is it about classical theatre particularly which inspires you?
I think its language. It's written in a way that is difficult to read, difficult to say and difficult to perform. But when you understand the meaning and you connect the meaning with the delivery, I think it's beautiful. When all the elements come together so powerfully, for me that's what excites me about classical texts. It's the rehearsal process as well. Sometimes you get a piece of classical text and you sit down and think 'I don't understands what this means!' and so you analyse it and then you celebrate when you understand it. Then you celebrate that you've formulated the best way to deliver it. When your vocal quality is mixed with the poetry of the language and it all comes into play, it's something that excites me and something I want to pursue more.
What do you think of the work the National does generally?
I think it's great. They produce a lot of exciting stuff, new writing alongside classical work. Obviously the stage is blessed here with lots of brilliant actors from both stage and the screen. I think it's good for ethnic minorities as well. Last week I saw Behind Beautiful Forevers which is a play set in the slums of Mumbai and it was a huge cast of Asian actors. It was a fantastic production, but it's quite rare to see a completely Asian cast on the stage. The National bringing in that sort of diversity is brilliant.
Why should people come and see Light Shining in Buckinghamshire?
Because Caryl Churchill has written a great play and it's about a period of English history that is lost or forgotten. I think it's about a period where for the first time people started asking questions that had never been asked before. It's about choosing the right group of people to lead the country into a better place and with the election coming up, in that sense it's current and relevant. It's historical but is fuelled by a lot of emotion and hope. Even if it's just for people to strip back to basics and consider what it is to be human and to feel and to question how society could be better, I really believe it's an excellent play.
Info: Light Shining in Buckinghamshire is at the National Theatre from April 15, 2015 until june 22, 2015 | Book tickets