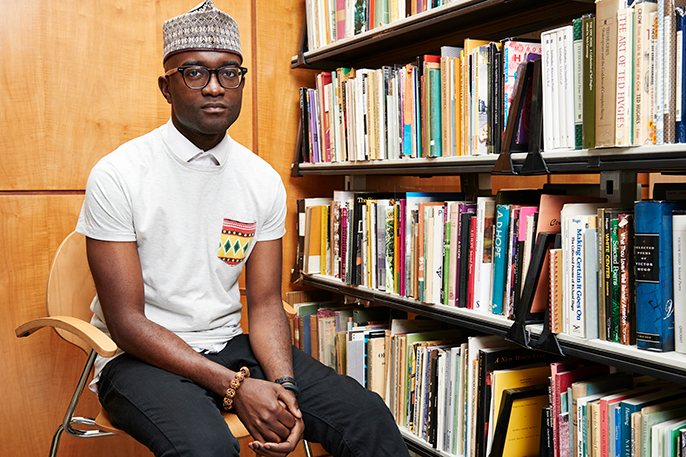 The actual devising of the show has come from the collaboration between myself and Benji Reid. He has transformed it into the piece that it is now.


Award winning poet and playwright, Inua Ellams has travelled the globe presenting his lyrical works. His poetry collections including Thirteen Fairy Negro Tales have taken Ellams as far afield as Malaysia and America to perform at poetry festival. His current production The Spalding Suite sees the Nigerian born artist take his work to a much more localised level. Focusing upon UK basketball culture, the piece is an expansive combination of poetry, physical theatre and music. Having won a Fringe First at the Edinburgh festival for his debut play The 14th Tale, Ellams is a highly accomplished playwright. However, he is quick to avoid taking any credit for the current production's theatrical uniqueness. In fact Ellams is deferential about his considerable achievements, even siting being broke as one of his reasons for pursuing poetry. Having moved to the UK at the age of 12, Ellams work often focuses upon identity and belonging. So it is poignant when the artist explains that it is the particular sense of camaraderie within basketball that attracts him to the sport.
The Spalding Suite includes numerous creative forms such as poetry, beatboxing, physical theatre and music. How would you define this piece?
It's an anthology of poems which is given a physical theatre narrative. It's also performed with a nod to both classical and contemporary music elements. It feels more like performance art than a straight play. There is no dialogue; so the characters don't necessarily speak to each other but there is a brotherhood. The narrative is suggested by Benji Reid (Director)'s work. It is difficult to really label this work and I don't want to do it a disservice by not being eloquent enough. The initial attempt was to try and create a collection of poetry about basketball and I wanted us to tour around reading these poems to audiences. So I was just gathering these poets, such as Nick Makoha and Jacob Sam-La Rose who I respected, and putting a show together. The actual devising of the show has come from the collaboration between myself and Benji Reid. He has transformed it into the piece that it is now.
What elements has the director, Benji Reid brought to this piece?
He wanted there to be a narrative arc, and a definite story tying the poems together. I initially thought the poems stood for themselves, but he drove for there to be developed characters reading the poems. So in the subsequent drafts of the piece, I made the poems specific to characters and broke them down. That was a way of creating a dynamism of these five basketballers who would tell the story of the Spalding Suite. Also having the six basketballers include elements of beatboxing and rap. One of the cast is MC Zani, who is a UK beatboxing champion. So that a couple of ways in which his directorial eye has affected what I wrote.
This piece has UK basketball culture at its core. Are you yourself a basketball fan?
I'm not as big a fan as I was, but I am more because of the conversations I have with my friends who are huge fans. I'm fascinated by the camaraderie and brothership that exists within it, I am more about that than I am just the ins and outs of the game and the various politics around it. Though I am plugged into that as well, loosely. But mainly, I love the neverspace that the basketball court is. In the sense that within it there is no space for hierarchy; you can either play or you can't and nothing about life outside of that affects the game. It brings everything down to the basics, as it does with all sports, but I'm most drawn to basketball. That's what the piece is really about; the camaraderie and family that is within the sport and is largely ignored by the mainstream, British audiences.
Would you say this sense of camaraderie is more pronounced in basketball than it is in other sports such as football?
I think so. I think the racial diversity of the boys I play with is stronger in basketball than it is in rugby or football. Because of that there is a sense of camaraderie which I haven't seen so strongly in other sports. Also, none of the negative stories to do with race are associated with basketball as they are in football. None of the destructiveness of football hooliganism for instance, exist within the basketball subculture. It's a non-contact sport, it's about precision, and it's about team work. Athleticism is really respected but at the same time you get really overweight guys who can shoot hoops amazingly. It kind of caters to all shapes and sizes of people equally, which other sports don't.
Does UK basketball culture differ from basketball culture in America where the sport is more widely known?
Well, yes in obvious ways. The first being there isn't that much money behind it, there isn't much facility behind it. The American National Basketball Association is so well developed and entrenched in American culture, and it really embraces and makes stars of those athletes. I think the British Basketball Association lost its already limited funding and we don't really celebrate our athletes. The best British basketballers go to play in Europe or America because we just don't pay them enough. The most frustrating thing is, it's such an accessible sport. The space you need to play is small and all you really need is something to throw a ball into; even a bucket will do. In football for instance, you need a wider space and eleven people and a goalpost, so it's a great shame. One of the biggest stars in American basketball is Kobe Bryant, and he started playing in Europe before going back to America as a teenager. A lot of the skills that mark him out as unique are from his training in European basketball. I think there is a political overtone to the fact that the sport is largely ignored in Britain but is huge in Europe; there are parallels between it and the fact that Britain used the pound instead of the Euro. Britain likes to differ itself from Europe and I think parallels can be drawn.
As a poet, what first motivated you to write poetry?
There are many reasons, but the first one was that a friend of mine who I grew up with committed suicide in Dublin and I started writing after he died because I wanted to still enjoy literature. Literature was what a lot of our friendship was based on. That and arguments and the language of debating which we had together, drove me to write to continue with that. The other was that I was broke. I wanted to be a visual artist and I couldn't afford to buy paint and I figured that I could paint pictures with words, and that's why I write very descriptively. Another was that it was the cheapest and most direct way to articulate myself to myself and an audience who would listen and acknowledge that I existed and could contribute to a community that I belonged to even though I had no right to belong to it. By that I mean, I began writing when I was an immigrant and I spent the first few years of my career expecting to be deported at any one time. I was invisible, I couldn't work and poetry was a way to reach out to people in a non-commercial way. Also it enabled me to be in places where my background and my anonymity could still be secured, and I could still be commanding as a young, black man.
You mentioned contributing to a community that you felt you had no right to belong to. Having been in the UK since you were 12, do you now feel you do have a right to belong?
The Spalding Suite caters for so many different tastes in terms of entertainment choice.



Yes, I guess I do. Ten years on I definitely feel so because of how the country and the community has nourished me and given me a platform to speak. Also how much in turn I have tried to contribute to the society and the culture, both as an individual and as a voice that is part of contemporary art in Britain. I no longer feel like I don't have a right to belong, but I question if I can feel like I belong and I question what it means to belong. I try to play the game of being able to tick the Black box when I need to, but not the Black British box because I'm African. Therefore I can kind of opt in and opt out of situations like that. It means I can represent British art internationally, which I have done, but at the same time I can represent Nigerian art because I'm still a part of that community and it still informs my work. Sometimes the British community think of me as a Nigerian boy and sometimes the Nigerian community think of me as British boy, so there's still this constant shuffling of identity. Rather than just letting it be what it is, instead of colouring it with nationhood. So, though I do feel I have the right to belong I do question if I can ever really belong to either of these places.
The next show that you're working on is Barbershop Chronicles. How would you describe your new piece?
Yes, hopefully. It's been commissioned but I haven't been given a date for it being produced. That is a far less complicated than The Spalding Suite to describe, though it's not a straight play. Oh God, when am I gonna write a straight play? (Laughs.) It's all set in barbershops between London and five cities in Africa, in Nigeria, Zimbabwe, Kenya, Uganda and Ghana. I travelled to all those countries and hung out with each barber and their clients for a week to find the material. Essentially it's a collection of conversations that happen in these barbershops, that presents a narrative or rather a comment upon contemporary, African masculinity. That's the overarching theme. It's set on one day in the life of all these barbershops, and the conversations flow into each other phonetically and we cover a lot of topics.
Why should people come and see The Spalding Suite?
Because I'm not sure there has been anything like it before and because it caters for so many different tastes in terms of entertainment choice. It's about sport, though it isn't. It's about dance, though it isn't. It's about physical theatre, though it isn't. It's about spoken word, though it isn't. It's about beatboxing, though it isn't. It's about poetry though it isn't. It's about culture and underground culture, though it isn't. It's about identity and displacement and destiny, though it isn't. It's about what it means to be part of a group and to seek friendship and what the nature of friendship is, though it isn't. Also, it's so visual. A friend of mine came to see him with his son and the child said "I really liked that film, Dad." which is to the credit of Benji and how he creates cinematic productions. If you are alive, I think you should come and see it. (Laughs.)
Related links
Inua Ellams interview – The 14th Tale
The 14th Tale - review