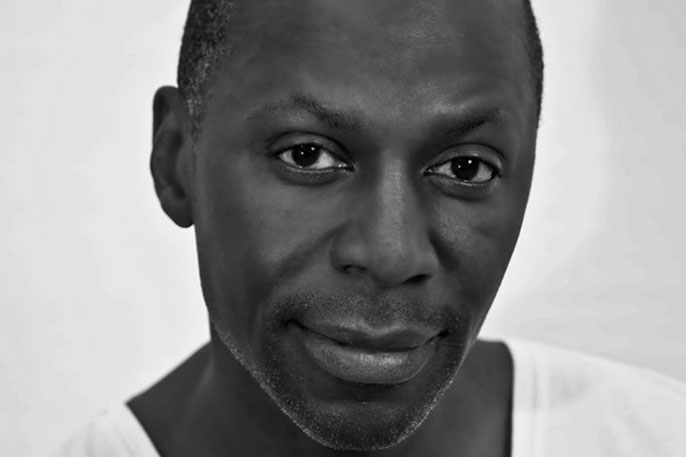 Touring round the country has shown that despite what the media would have us believe, people do hunger for engagement with politics and with what is running their lives.


In his 32-year acting career, Cryil Nri has played a vast assortment of roles. Whether as a shopkeeper in The Sarah Jane Adventures or as Superintendent Adam Okaro in The Bill, the Nigerian born artist has embraced versatility. He has also made televisual history. His portrayal of one half of interracial, gay couple in Cucumber was groundbreaking and has left Nri being frequently recognised by fans. The former RSC member explains his diverse CV is partly due to his determination to avoid stereotypes. Passionate about reflecting the truth, Nri's current role is highly topical as he plays political advisor Oliver Dix in David Hare's Absence of War. Currently on a national tour, the award winning writer describes the differing reactions from the UK's varied demographics. Softly spoken and deeply eloquent, Nri points out the parallels between the 1992 election which is the play's focus and our ongoing electoral backlash.
What is the background of Absence of War?
This play is based on the 1992 election, and interestingly we're going around the country at the same time that the politicians are travelling around canvassing. Whilst it is based on the 1992 election and you can draw certain parallels, the characters aren't the same as the people who were in that election. But they are archetypes. Hopefully what will happen is in fifty to a hundred years this play will be looked at in the same way as looking at Richard the Third or any of those historical political plays. It's really the rise and fall of a man.
Do you know who you're voting for in the upcoming General Election?
I think I do know, but I'm not going to give it away. I think it's fairly easy to tell. I don't like this lot, put it that way. I'm not sure what the alternatives are so it'll be interesting to see what particular dynamic arises.
You're playing Oliver Dix, political advisor to the Labour leader. How would you describe your character?
I would describe him as a mixture of Peter Mandelson, Charles Clarke and Toby Ziegler from The West Wing. He's an extremely bright man, who cares passionately about Labour winning and he has a plan to win. He knows that he can probably win with that plan if everybody will just listen. He will cut corners, he's not above fighting as dirty as the game is willing to be played. So I'd describe him as a British Toby Zeigler. He doesn't take any prisoners.
Obviously, it's fictionalised, but does it follow the same pattern and evolution of the 1992 election itself?
Yes, I don't think I'll be giving anything away to say that it was a surprise to a lot of people that Labour lost that particular election. So it does follow that story. But it's not Neil Kinnock, although sadly there are some parallels in the way in which the press treated Neil and the way that they treat Miliband at the moment. It becomes the tittle tattle of falling over on a beach instead of focusing on the policies. This personality game that they play; it's rather dull. It's a mind-set that I don't subscribe to, I'm of a different generation. For example I don't do Facebook or Twitter. This morning I sat down and wrote a letter to my mum. I still regularly do that, there's something about having the physical pen in your hand. But what I have been thrilled by is that young people seem to be bypassing politicians. For example I was very taken when a short while back all those young people laid down in the west side mall in America to protest about police brutality. A thousand young people had gotten together and made a firm stand against something. I think more and more that will happen, to the point where politics will have to come back and start taking note and listening to the demographic. Touring round the country has shown that despite what the media would have us believe, people do hunger for engagement with politics and with what is running their lives.
You've been touring the country with this play. Have you has a different reaction from the different demographics?
Yes, we've been to Glasgow, Cheltenham, we're going to Bath and we're in Oxford at the moment, so these are widely divergent communities. I think Cheltenham has a 7% Labour vote, whereas Glasgow was firmly Labour and Liverpool was firmly Labour, so all across the political spectrum people are coming to engage in politics. There have been differences. Cheltenham was a lot quieter during the show than they were at the end, whereas in Liverpool it was like playing Shakespeare at the Globe. They want to engage. That was quite something to feel that vocal reaction, it's a really gutsy visceral reaction. Equally in Glasgow, the political awareness was really heightened. People really know their politics and engage with on a real level of involvement. I think actually the referendum has embellished that. Here in Oxford, it's packed and actually we've had the most interesting across the board age range, mostly because it's a student town. I don't know how many of the Bollinger Society will come and see us, they're probably too busy drinking. (Laughs.)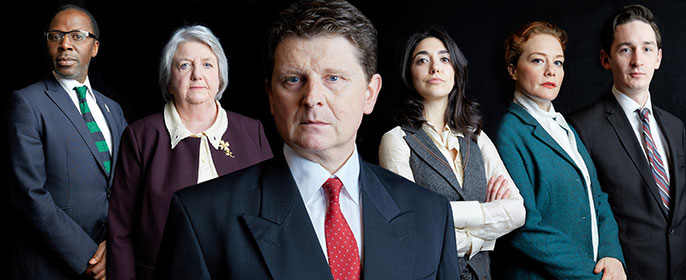 You're probably best known for playing Superintendent Adam Okaro in The Bill, and you've also played a lot of characters in official roles. Are you drawn to playing figures of authority?
I think partly, when I first started out I refused to play what would have been the fodder for a young black actor 32 years ago. So I waited until I got to play a barrister in The Bill. I've got nothing against playing criminals, but I don't want to play any stupid criminals, because I think it's just wrong to perpetuate that image. The people I based Adam Okaro on in The Bill were real people, one of them was a personal friend of my mum's. These are the people I see, so I wanted to represent that. The black community in this country isn't made up of a type; it's wide and various and vast.
Absence of War is both a farce and a tragedy; you will also get to engage with a man who is trying desperately against the tide to keep principals up. I don't know if it will change the way you vote, but it's worth coming and seeing and a blessed relief from having to watch the real elections on TV.


Coming from both a Nigerian and West Indian background I'm here to say that it's right across the board. There's a very strong focus on education which I think is not seen enough of. It's not all rappers and dancers so I've played a lot of doctors, judges, solicitors and so on. But then you say famous for Adam Okaro? I think at the moment having just finished Cucumber, on the street now I'm most recognised for that role. I'm surprised because I think I'm walking around in a fair disguise with my flat cap and scarf, but last night a man just saw me and shouted "Cucumber! Cucumber! You're Lance." I would say the reaction to Cucumber has been the biggest and most visceral in 32 years of playing; so if now I'm known for playing middle aged gay men, it's fine. I prefer not to perpetuate stereotypes because that's not what I see in my everyday life.
Russell T Davies' three interrelated series project Tofu, Banana and Cucumber was groundbreaking. In particular Cucumber was pioneering as a series in focused upon a middle aged gay couple. What attracted you to this role?
What got me about this was reading the first script and it was the proposal in the very first episode. When Lance proposes to Henry and was rejected. It was done on such a nasty level where only people who have been together for years can be that cruel. The simple dismissal of such a heightened moment in somebody's life is so acute. I don't think it's gay or heterosexual, everybody can experience that sort of feeling. That total dismissal and the aftermath of that; the seething resentment. I thought 'I know these guys. I know that human feeling' and it is so brilliantly written and of course I knew how the story was going to evolve. You'll have to include a spoiler alert, but at the end of episode six, where we delve more into Lance's story, the reaction to it, was absolutely amazing. I came off stage the night it was broadcast and spent two hours answering texts or emails. You look across the board and think how fantastic it is to focus upon this relationship between these middle aged, gay characters and then to go into something like Banana and look at young gay couples and lesbians. Then going into the joy of joys which was Tofu, which I think of it as the sexual Gogglebox. All of the characters in there are based on fact, they are based on the truth, it's not everybody's truth but it is some people's and it's wonderful to see that world represented on TV. Particularly to have interracial couples; we don't touch on this in the black community or the white community. There are black gay men out there, there are black bisexuals and black lesbians and so on. What was wonderful about this is Russell is such a good writer that he will cover any subject. It's all down to Russell T. Davies and the strength of his writing.
You moved to the UK from Nigeria at the age of seven. Coming from that background, do you think being gay is more controversial in the black community than it is in say the white community?
I think it is made out to be a more controversial issue than it is. I think there's a lot of pretentious hype that goes on about this. We're living in England where you have laws in place to protect people and the law is ahead of the zealotry that goes on. Realistically, 99 per cent of us know someone who is gay. Even though occasionally people will hide away within some black cultures, they'll say 'Well it's alright but don't mention it outdoors.' there's usually an acceptance of that. If you look at Nigerian culture, element of not only cross-dressing, but artists and griots have a strong place in history. It's only when people begin to interpret religious or other scriptures in a way which suits some of their purposes, that they forget that bigotry is bigotry. I think now we're moving on, those frankly backward thinking people are going to find themselves more and more in the shadows. I think people who believe they have moral superiority over homosexuals or anyone who they don't consider the norm, need to take a step back and look at their humanity. I'm very happy to stand up and say I'm not going to advance bigotry of any kind, whether it be against, colour, sexuality or gender; it really is not my place to do that. As an artist I'm here to reflect the human condition. I'm interested in hope, I'm interested in fate and I'm interested in love.
Do you think it's unusual to see a gay, black man represented on screen?
I think it is, I think Russell always intended it to be. Think there can be more done to show that there are many sides to society. Which is why so far if I've had any choice, the way I've represented humanity has been to avoid representing the stereotypes, because they're dull. That's not my experience of life. This is the brilliance of Russell's writing. In the script at the end of episode six there's a stage direction that you never get to see on screen. It's the last moment as Lance closes his eyes and we go to black and Russell says "And in the end there is only love." That is the absolute brilliance of his empathy and if you look at the character of Lance, despite all that adversity he experiences I think that shines through. The loss of his mother, the lack of understanding from his father, various relationships. Finally ending up trying to compromise in a relationship in which he loves and thinks the other person will eventually get around to loving him in the same way. In the end, hopefully that was obvious in the character and people came away understanding why somebody would hang on in a relationship like that. In the end that's what Russell is writing about. All the sex, all the elements that people who would berate homosexuality in any community, what they can't get away from is that in the end there is only love. Would you deny people that?
As well as being an actor, you're also a writer and director. Do you find much time to pursue that?
I'm a lazy writer, I have to be forced. When I'm doing it, it's great but I lack the discipline. I have the job of being an actor and I'm one of the lucky actors who gets to act quite a lot, so when concentrating on that it can be difficult to find the time. Though that's an excuse because I'm sure if I buckled down I'd be up at 7am every morning. When I do I love it, I potentially get the chance to get stuff out there. Directing wise, when I was shooting the second series of This Life I went back to uni and did an MA. I got to start directing more behind the scenes and I did a short film called Constance which won BBC Most Promising Director among other things, so that was great. Then of course I got the role in The Bill and had to pay my bills (Laughs.) But I'm hoping to do more. I've written a couple more shorts and they're doing the rounds, so hopefully I'll get to direct more. I also write a lot of poetry, a lot of which ends up in my attic, but writing is something I love.
Why should people come and see Absence of War?
Because it is both a farce and a tragedy, so you will have a great laugh and you will get to watch the rise and fall of a man. Hopefully you will cry at his downfall and you will laugh at situations you know. It is a genuine romping farce in the first half, you'll see characters you will know from any political engagement just from watching the news once. You will also get to engage with a man who is trying desperately against the tide to keep principals up - a man who is true and genuine and is crushed by the system. I don't know if it will change the way you vote, but it's definitely worth coming and seeing and a blessed relief from having to watch the real elections on TV.
Info: The Absence of War is on tour: 14-25 Apr, Rose Theatre; 28 Apr – 2 May, Cambridge Arts Theatre and 5-8 May, Bath, Theatre Royal | Visit Headlong Theatre website