Ukweli Roach has been strutting his funky stuff professionally since the age of 18, and has worked with huge names including Mariah Carey and Kylie Minogue. Since founding Birdgang Dance Company in 2006 he has been turning his hands and feet to choreographing acts and pushing modern dance to fantastic new levels. Born in Derby but having lived in London since the age of one, the Brixton local also graduated from RADA and says his acting skills have taught him a lot about performing other art forms on the stage. Currently preparing for the Breakin' Convention tour which kicks off at Sadler's Wells, Roach will be presenting his piece Vice. As the first UK piece that the festival has ever toured, Roach has a lot to be excited about.
When did you get involved with the Breakin' Convention festival?
The first time I took part was with a company called Dance2XS in 2005. Then when me and two other guys started BirdGang Dance Company, our first show was at Breakin' Convention in 2006.
Can you describe your choreography style?
To be honest it's such a mix. In BirdGang we have a term we coined 'Aahehop' which means it's got a hip-hop foundation but there's so much that can be fused into it. With me I don't like to stick to rules of how you should dance to a particular music. I fuse in elements of tap of popping of floorwork and b-boying and certain elements of jazz and I think that's when I'm happiest and when I get my best results choreographically. When I'm not trying to adhere to any format.
I think Breakin' Convention acts as a nurturing platform. There's no other platform like it where you get the support to showcase pieces.
Your piece vice looks cinematic. Is film a big inspiration for your work?
Specifically with the piece Vice which is the piece I'm going to be performing, I wanted it to be cinematic. I'm a massive fan of films. That's what I aim for in any stage piece that I choreograph. I want it to be otherworldly, I want the audience to be removed from their world and be engulfed in whatever world I'm trying to create on the stage. As cliché as that sounds. (Laughs.) I think the lighting is a massive part of that and specifically at Sadler's Wells they have such a great lighting rig. With Breakin' Convention they give you ample time to get your piece done so you can set things up and work with the lighting designers to create something really quite special. The music that you use to create atmosphere is really important as well. It's about the senses and trying to stimulate all of them.
Is there a specific genre of films that you enjoy?
Again there's so much, there's not a type of film that I like. But I love thrillers especially psychological thrillers and I love gangster films but there's so much. I know I'm not too interested in the horror genre. I don't tend to find blood and gore interesting; I've got a bit of a thing about this, you get to the stage where you're like 'well you deserve to die because no sensible human being would be doing what you're doing.' Just had to get that off my chest. (Laughs.)
Breakin' Convention is a hip-hop dance theatre festival. How would you describe what it does for artists?
I think it acts as a nurturing platform. There's no other platform like it where you get the support necessary to showcase pieces. There's a lot of UK choreographers and hip-hop theatre makers who are becoming very successful now and who have used Breakin' Convention to gain recognition on a bigger scene than they would be used to. The Breakin' Convention team are really nurturing in terms of who they get in, they've got a great eye for up and coming talent. I think it's an amazing festival that's exciting and you get acts from around the world to aspire to as British acts.
At Breakin' Convention there is a wide array of dance acts, predominantly hip-hop based but not only, that I am convinced they you would not see anywhere else in the world.
Was dance a big part of your life growing up?
Not really, I never had any interest in being a dancer until I was about 17. I did dance before then at the school disco I'd do my moonwalk and my robot and think I was cool. But I didn't think of taking it past there but my sister took some classes at Pineapple Studio and I wanted to do some breakdancing so I went along and it developed from there. I sort of fell into it and got quite good, so I don't like to be bad at things so if I do something I'm gonna do it well.
You attended RADA. How does that show itself in your work?
It's hard to be objective. I think it taught me about intention and about stage presence; claiming and holding space and getting your intention across to an audience. Even if you're not playing a role, to be able to communicate an idea without necessarily saying it to an audience that's something that RADA taught me.
Is acting something you want to pursue in the future.
For sure that's my career. I'm sure to some extent choreographing will play some role in my career in the future. I enjoy dancing and I enjoy choreographing but acting is what I want to do and eventually writing and directing as well.
Have you had any time to pursue writing and directly recently?
Actually it's only in the last year or so that I've started making my own short dance films. I was directing and creating those. But when you have a dance company that's unfunded you have to do everything yourselves. I'm not special for doing that at all there are choreographers all across the UK who make their own stuff without funding. We get the dancers together, we choreograph it, direct it, storyboard it and we do the whole thing. So when it comes to getting paid for it, that's easy as pie 'cos we've been honing our skills and improving on our own. I'm not trying to big myself up; there's lots of us that do that.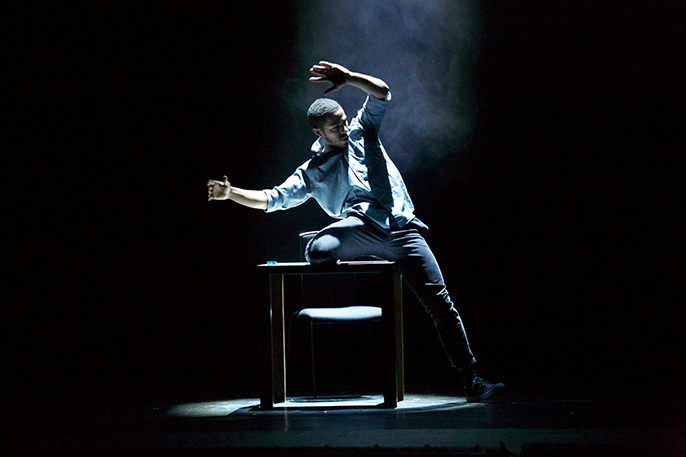 Why do you think there is such a lack of funding for dance artists?
I know there's not much been put into the arts anyway in recent years. I think especially for street dance and hip-hop choreographers I think in the public consciousness it's not taken seriously. It's either seen as something for the kids or negative that involves drugs and guns and sex. So because of that you get contemporary companies that might have half the choreographic and performance talent but will get funding through the roof because they're seen as contemporary, so they must be serious and tackle adult issues and are a bit more civilised. Now it's not the case that because you're doing hip-hop theatre you're gonna be talking about nonsense. That's why with my piece Vice I wanted to make it about an adult issues. There's plenty of companies making family orientated shows and that's great, but we also need to cover the spectrum of things that can be a bit more maturely received. Maybe that will help in terms of getting the art form itself seen in a serious light and getting it some proper finding as well.
Breakin' Convention do a lot of dance workshops, do you think learning to street dance is a beneficial thing for the next generation?
Oh definitely. For young people there's the issue that it moves along with whatever is cool so that's on the edge of what's urban and current. So in that sense it's very good for capturing the attention of young people and drawing them away from what could otherwise be negative influences. Like any sport; football can do the same, especially with young males it can draw them away from other things that could draw their attention.
Aside from as an alternative to more negative pastimes, what do you think dance can do for young people?
Loads, I think the culture itself is about community; it's a social culture at its core. At the Breakin' Convention festival there's so much for young people and the company do so many outreach projects with kids who would otherwise not get the opportunity. So it's kind of invaluable; the list is endless.
Why should people attend Breakin' Convention?
Because there is a wide array of dance acts, predominantly hip-hop based but not only, that I am convinced they would not see anywhere else in the world. They would not see this array of dance both for showcase and for dance with meaning anywhere else. They'll see creative things meaningful things, amazing and artistic and interesting things and I think anyone who is mildly interested in dance should come.
Info: Breakin' Convention is at Sadler's Wells, Rosebery Avenue, London EC1R from Sat 3 – Bank Holiday Mon 5 May 2014 / book tickets / Ukweli Roach performs at Breakin' Convention on Monday 5 May 2014 at 20.15pm.