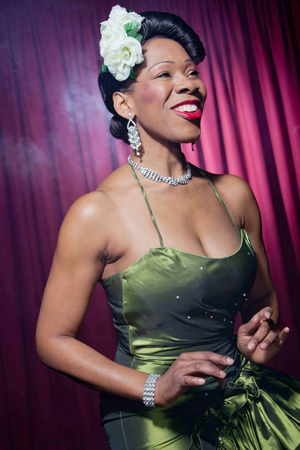 Billie Holiday was one of the most influential jazz musicians of her time and there are few singers who would dare try to replicate the star's phenomenal vocal range. Classically trained opera singer Nina Kristofferson has taken up the hefty challenge and is currently in rehearsals for her one woman show The Billie Holiday Story.

Speaking to this vivacious young woman as she sips tea in a glamorous Cossack hat her passion for music is made obvious by her occasional bursts into song. A dedicated lover of jazz and blues Kristofferson explains her inspiration for writing the show and how she's tried to get under the skin of the late star through her music.
This is a new version of your show The Billie Holiday Story. How has the show changed since the sell out tour in Edinburgh 2011?
When I played Billie Holiday before the show was much more factual and this is much more emotional. It's me trying to work through her emotions and her journey so a lot of different elements have been introduced into the frame of it. Also I've done lots of gigs where I've adlibbed and improvised bits of dialogue which have added to the show. I love jazz and blues; I grew up on it and I've always been engrossed in people like Nina Simone, Dinah Washington, Ella Fitzgerald. The list goes on and on.
Was it specifically female singers that inspired you?
Yeah, very much so. I mean you've got the greats like Louis Armstrong and Nat King Cole who were amazing, but for me the women of that time made such a prominent statement. It was really the first time of coming out for female pop artists of the period and for me that's the interesting thing. I don't know if it was a conscious thing and I suppose you go for your passion; what ignites you at the time.
Why Billie Holiday as opposed to any other artist that you admire?
Well I love Nina Simone; she's another icon. I love what she stood for and all her music but I'm not good enough as a pianist. With Billie Holiday what made me think about her was the drama of the music and how I could put a story behind the backdrop of the music. She was only 44 when she died and when you think of the short life that she had it was hugely dramatic from an early age. Her mother wasn't around and we know that she was raped at ten and eleven, can you imagine? On one occasion it did come to trial but the courts said it seemed that she was 'encouraging' was the phrase. So she got sent to a catholic reformatory and it certainly wasn't a pleasant experience.
With Billie Holiday what made me think about her was the drama of the music and how I could put a story behind the backdrop of the music. She was only 44 when she died and when you think of the short life that she had it was hugely dramatic from an early age.
At a young age how would you feel that you are going through the mental torture of being abused and as a result you had been put into a reformatory? So it's a double whammy. How do you pick up your life when what you've known is that complete hardship and nothing else?
How do you think she did manage to pick up her life or do you feel that she ever did?
I don't think you can ever come to terms with it, but I think you can accept it. I don't know, would you be able to come to terms with something like that? Things like that will certainly leave some sort of scar; some deep psychological residue.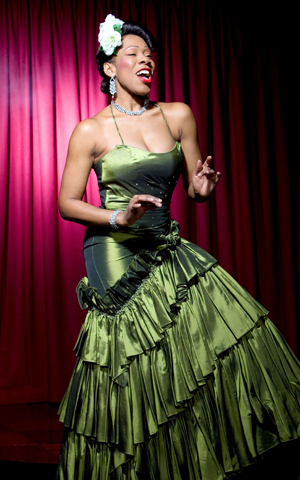 Do you think her later involvement in drugs was a way of coping?
Partly. Partly escapism for sure and then partly the situation of working in music. A lot of them were doing it; it was so common. I mean you get introduced to it and you go with the buzz of it and then it kind of spirals. I think with anything that's addictive you think you have a control over it and you never do. I mean I don't really have an addictive personality but certainly looking at the research I've done I think it's out of your control.

It's difficult to stop something that's bigger than you and has a driving force and an energy. The lows are really bad but the highs outweigh the lows. Even though she had her music, the music journey was never a straight road. You think once someone's successful their life is perfect, but life still throws things at you. Nothing really changes, things evolve but these scandals and issues still happen.
Could you compare Billie Holiday to any modern day stars?
I think Amy Winehouse is an obvious example. I think for her Billie holiday was a huge influence and she copied a lot of what she did musically. There's definitely the same path of dying really young and having that addictive trait where you can't stop. It's quite shocking; but it shows you that it's so common especially in the music industry and actually in society as well. I think it can be related to a lot of high pressured situations because there's that idea that to achieve that standard you have to get those results. You're exhausted and you need something to pick you up. It's a bit disappointing for me the amount of people who rely on it, it's shocking. I've never touched anything and you have to be strong to say no, but in my mind I don't know if I have that addictive trait. My heart goes out to anyone who struggles with it.
You're classically trained as an opera singer. How did you get into opera?
I trained as an actor and in order to get into drama school you had to perform a song, so I did my song and I found out I could sing, so I studied and I got lucky. (Laughs).
Can you remember what song you sang?
She had her own voice, her own style and most musicians want to really make their music their own. Even more obvious is 'Strange Fruit'. It's quite harrowing and it stirs things in you that you didn't know where there.
(Thinks for a moment) 'Fascinating Rhythm' (starts singing the opening lines). For my entry level to Guildford School of Acting you had to do a song and dance number and I think I had a cane, hat and tap shoes; it was all rather Chorus Line! They wanted me to change over from drama to music, but I was like "No, I'm an actor!" But I could sing and continued to do so and I had vocal coaching from the best coaches and went through the mill developing it. I think I've been lucky really. You work hard, but I think luck has a lot to do with it. Also people believing in you; of course you have to deliver but peoples' support and loving what you stand for is how you make that leap.
Prior to your audition did you not know you could sing?
No, not at all. I went to a singing lesson purely because I wanted to get into drama school but my coach at the time probably could hear that I could sing, and he really pushed me and was probably really frustrated that I wasn't practicing enough. It wasn't my first natural passion; my first natural passion was acting. But and then the more you uncover about the voice the more you learn and for me it's a life-long thing. In twenty years from now I still won't think I know anything about the voice.
Did you ever feel you had to sacrifice your acting for your music?
No, I've worked hard but I've managed to do lots of wonderful roles as well as the singing. I've got a great body of acting work and I've been lucky 'cos I've manage to have a great career singing as well as acting. I've tried to give up one for the other but it doesn't work; I miss it too much and I think that's why I enjoy what I do because it bounces from one to the other so you never tire.
Was it difficult to move from opera to jazz?
You always want to get better and it's really enjoyable working in different genres; opera is so different to jazz and blues or musical theatre or R&B. It can be difficult to be faithful to any one style and still embrace it with your voice, but that's how you express yourself. Opera is much more exacting, the colour in your voice and the phrasing has to be so exact within the frame of the music; it can't bleed too much. But jazz and blues on the other hand is very loose but there's a frame still and you can play around within that frame, understanding the packet of the music. (Laughs) Is this making sense? They're so opposite but both so brilliant in their own right. To be a great jazz musician you have to understand music. You don't necessarily have to be able to read music but you have to have a good ear.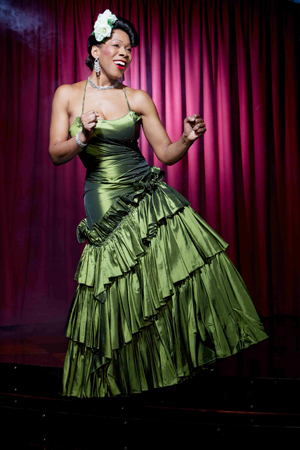 Could Billie Holiday read music?
She could understand the form certainly, but she wasn't a composer as such. She wrote some of her own stuff in conjunction with artists but I wouldn't say she could read music. But she had a great sense of timing and orchestration and knew what she wanted to achieve. She was a great musician and she would have to be in those times. She worked with Louis Armstrong, Artie Shaw, Benny Goodman; she really worked with the best and she came away with a wonderful body of music and a great history. I mean she was phenomenal.
What influence do you think she had on music?
A sense of identity… She had her own voice, her own style and most musicians want to really make their music their own. Even more obvious is 'Strange Fruit'. It's quite harrowing and it stirs things in you that you didn't know where there. It actually opened up a lot of peoples' consciousness to what was happening and I'm not sure if every singer would be able to do that. Every word was weighted; she felt that music and she made you feel it as well.
Do you think 'Strange Fruit' played any role in the abolitionist movement?
They say it did. A lot of places wouldn't let her perform it because of it moved people and woke them up to the dark and ugly reality of what was going on around them. It's very hard to face that. Even if you're against it, it's very hard to know that you're part of that generation where that behaviour is happening.
What do you think people will take away from the Billie Holiday Story?
Oh there are many things at play in the show. Being a struggling artist is still relevant, trying to make it as a woman in the industry. The fact that she wanted to find love; there are so many universal issues that are brought up by her story as well as finding out more about her incredible life. And lots and lots of fantastic music!
---
Related Links
Nina Kristofferson's Billie Holiday Story spring 2014 tour date
The Billie Holiday Story is showing at the Charing Cross Theatre until May 25, 2013