A Deeper Love Inside by Sister Souljah - win a copy
Published:

Thursday, October 3, 2013 3:13 PM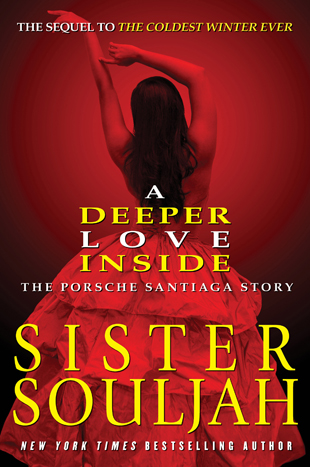 Afridiziak has three copies of Sister Souljah's new book A DEEPER LOVE INSIDE to give-away.
Sister Souljah, political activist and New York Times' bestselling author, will visit the UK in October 2013 to promote her new novel A DEEPER LOVE INSIDE; The Porsche Santiaga Story.
Since its publication in 1999 Sister Souljah's first novel, The Coldest Winter Ever, has sold over one million copies world-wide. Readers were enthralled by its protagonist, Winter Santiaga, the wealthy daughter of a prominent drug dealing family from Brooklyn.
In A DEEPER LOVE INSIDE Sister Souljah revisits the lives of the characters from The Coldest Winter Ever, but this time tells the story through the eyes of Porsche Santiaga, the forgotten middle sister. Porsche is young and beautiful, loyal to her family and friends, and unafraid to fight and love with the same extreme intensity. This is a coming-of-age story, told in Sister Souljah's magnificent signature style.
Sister Souljah is best known for her work as a political activist and educator of underclass urban youth; she is also a bestselling author.
---
Enter competition
To enter, email competition@afridiziak.com with SISTER SOULJAH in the subject header. Please include full name, address and contact number, deadline is Tuesday, October 15, 2013. Good luck!
Related links
Sister Souljah will be at the Fairfield Halls, Croydon on October 10, 2013
Sister Souljah will be at Stratford Picturehouse, London on October 11, 2013