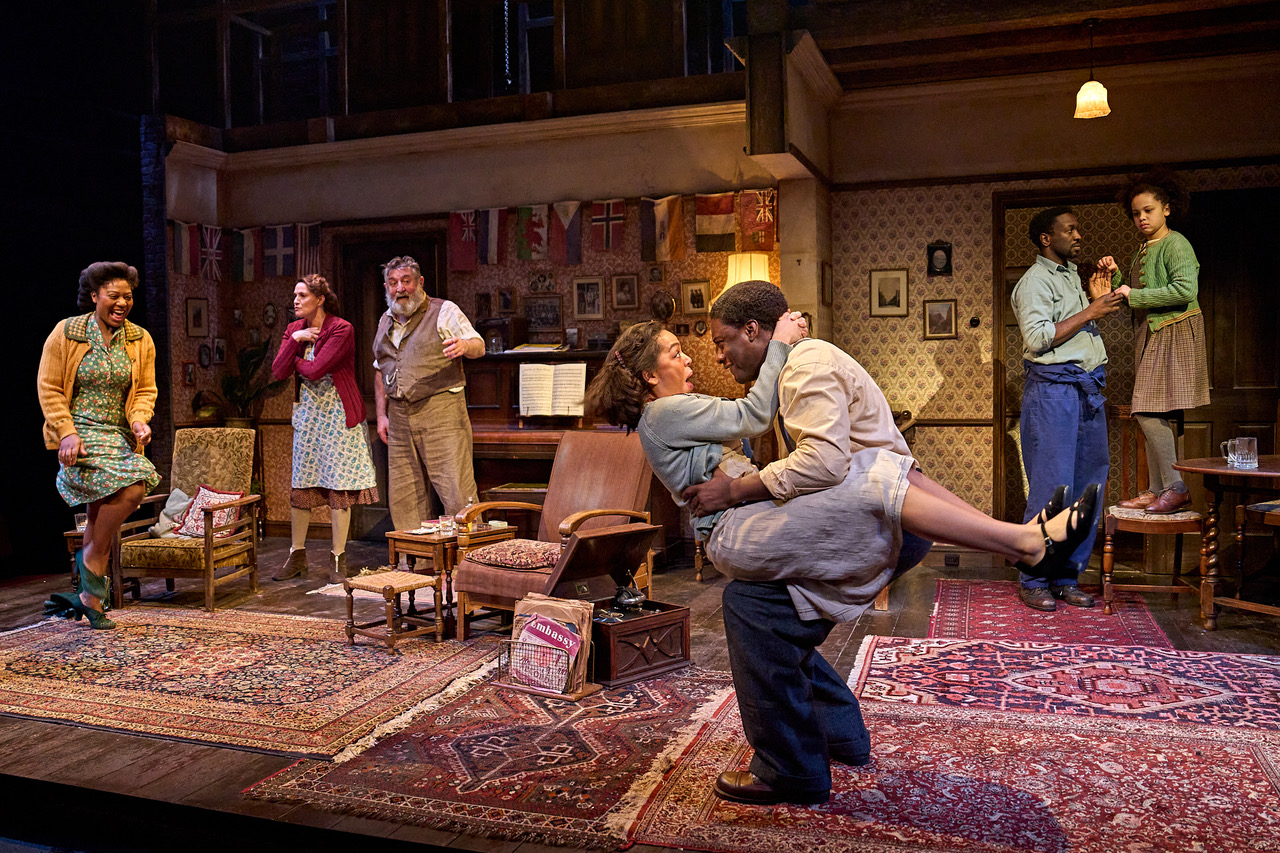 As someone who had never heard of the history of Butetown, a port district in South Cardiff known for being one of the only multicultural areas in the 1940s, I was excited to learn more about this place and uncover some of the secrets the town was keeping.
Trouble in Butetown, beautifully written by Diana Nneka Atuona and fantastically directed by Tinuke Craig, tells the story of how one unexpected encounter can change the course of many people's lives.
Gwyneth (Sarah Parish-Bancroft) is a mother of two mixed-race daughters and three male lodgers of different races and backgrounds. With little opportunity, she turns her home into an illegal boarding house, where she doesn't care where you're from as long as you can pay your keep and respect her house rules. The story takes place in the living room of the boarding house where all the characters spend most of their evenings interacting with one another.
Gwyneth's eldest daughter Connie (Rita Bernard-Shaw) and her good friend Peggy (Bethan Mary-James) have just returned home from a night out at a local dance, which is notoriously known for the spot that American GIs pick up women and have their way with them. With all the lodgers in the house feeding extreme stories about these dances to Gwyneth, she decides that her daughter Connie should not go to places that have American soldiers. However, this decision had to change when an African-American GI solider named Nate (Samuel Adewunmi) turns up in their back garden and in need of a place to hide from the white American GI Snowdrops.
"I highly recommend watching Trouble in Butetown, it's not your typical world war story!"
The story starts to unravel as we find out Nate's secrets while revealing other characters' life stories. With romance, death, laughter, and tears, this play uncovers a wealth of emotions.
There are many things to love about the play, starting with the storytelling. With no set changes and all dialogue taking place in a living room, the script needs to be strong to tell a story and keep the audience engaged. And the script certainly did that. I felt fully invested in each character's story and left in deep thought after the play had ended.
The set designed by Peter McKintosh was also impressive, setting the scene and helping to tell the story of the play, while the props enhanced the set and made it look extremely realistic.
The acting was exceptional, with every actor doing an outstanding job at telling their individual stories. The three male tenants, Patsy (Ifan Huw Dafydd), Dullah (Zaqi Ismail), and Norman (Zephryn Taitte), who were so different, all shared similar emotions towards their boarding family and were sensitive, witty, and unpredictable.
Sarah Parish, who played Gwyneth, was tough yet soft, showing her vulnerability perfectly. Both Bethan Mary-James and Rita Bernard-Shaw had a friendship that resembled a sisterhood, with their chemistry as friends being believable and lovely to see. Rita, who is not only a great actor but also a fab singer, allowed Connie to not only be vulnerable but innocent, brave, and ambitious.
Rosie Ekenna, who played Gwyneth's youngest daughter Georgie, blew the audience away with her energy, sass, and humour. I was impressed that she was able to perform for over two hours as a young child. She certainly is one to watch!
My favourite character was Nate (Samuel Adewunmi), whose story was played to perfection. He was mysterious, confident yet shy, and charming. His story left me in deep reflection and wanting to know more about Black American GIs.
Though the play requires serious concentration, it is a worthwhile experience that inspires and leaves the audience curious. It proves that no matter where you live, it's the people inside that make a house into a home. I highly recommend watching Trouble in Butetown, it's not your typical world war story!
NEED TO KNOW: Trouble in Butetown is at the Donmar Warehouse until 25 March 20233