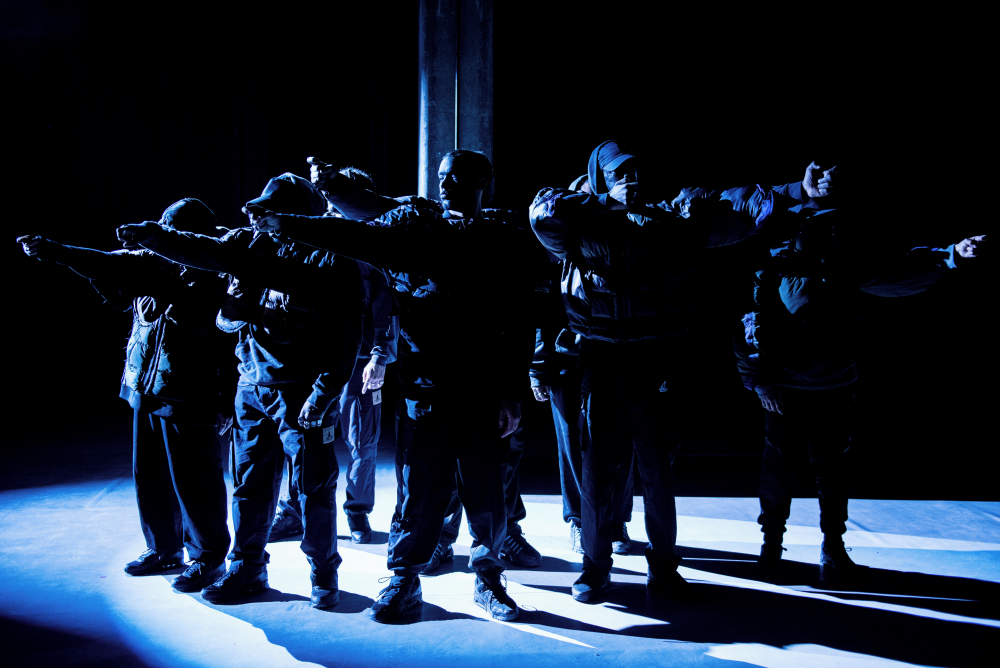 In the wake of Chris Rock's and Will Smith's Oscar debacle and the surge of social commentary surrounding toxic masculinity, violence, and mental health, I went to see Ivan Michael Blackstock's Traplord, at 180 the Strand (a cultural centre that supports emerging talent and provides a platform for creative growth).
I entered the performance space – Industrial in aesthetic, and reminiscent of a church, along with pillars, glassless windows, and an imposing rostrum. Staged in a semi-circle, Trap Lord was upfront and 'very' personal… like entering a dark wonderland and taking a bad trip.
With a soundscape full of vibrated foreboding, a topless figure scurried from the shadows, wearing blackface, and adorned with a rabbit-eared balaclava. We saw glimpses of the figure, lit only by another performer's torchlight. The rabbit in the headlight's theme was echoed by other figures walking paths, staying in their stereotypical prescribed lanes, and playing in the shadows, avoiding the shards of light penetrating the darkness.
The performers were agitated, ready for action, walking their manor, protecting themselves, and defensive of others in the space. Appearing defiant, searching, wanting, yet trapped in a cycle of rage and violence. The feral nature of the performers adds to their explosive movement and dance vocabulary…fierce in execution, visceral and compelling.
The episodic chaos was amplified by MC/rappers, who populated the space like protesters at a rally: narrators speaking to power, a commentary on their broken and short-lived lives. The performers' costumes conjured up images of grenades, protective shells and parachutes, utilitarian in design, ready for combat or warfare in city streets. The performers waiting to explode into dance battles, like pressured time bombs waiting to kick off.
The very air in the space was suffocating, seeing the ensemble trying to live up to be an image of the 'perfect human'. I found their inner conflict and constant struggle were both mentally and physically draining.
We witnessed an MC command the stage, breaking the 4th wall. Akin to Batman's 'Joker', entertaining the audience with dark, historical facts of lynchings and enslavement and humorous twisted riddles.
Elements of bone-breaking and Krump dance styles were used to highlight the manipulation and self-destruction of black men. This manipulation theme was reflected in the image of a giant cartoon pig, projected on a huge screen, and set up as an authority figure, or the police. This character was magnified in the performer, who wore a pig mask, which was horror inducing, and embodied a presence of both anarchy and power.
Other projected images included high rises in council estates, a video game that introduced avatars and almost invited the audience to break free of their own identities and surroundings.
As well as the striking lighting design, there were stand out moments featured: the griot like spoken word artist who wove poetic images, cutting through the pulsating and dominating music -questioning what makes a man. A beautiful rendition of 'Strange Fruit' was staged alongside a haunted performer, who was krumping in front of a mirror and trying to make sense of their identity. Seeing their own life in the mirror, or maybe the lives of those who have been tragically taken.
The audience was surrounded by images of chain gangs, incarcerated black youth, coke-fuelled hedonistic rituals, and toxic masculinity tropes which the performers adopted, or were forced to act out.
Amongst the chaos, a helmet-clad hero entered the space via video, we saw him running through streets, and mountains, searching for eutopia and the light. This seemed to be a precursor to Blackstock's ending solo, which reminded me of the King Arthur and the Sword of Damocles myths. Performers, dressed as angels or past souls, filled the stage to support the flawed human in finding his light and his true self.
This powerful portrayal was diminished at times, as some of what the rappers spoke about was lost, due to the lack of balance between the soundtrack and the voices in the mics. A section where we witnessed the hero interact with a car, (which was assembled from isolated pieces) was a great device, but both hero and car needed further direction and intention driven vocabulary, to extend the context and narrative in which they both lived.
The creative team should be extremely proud of their achievements
The vocabulary/motifs used in the end solo felt like they needed to be threaded through the rest of the performance and needed more time to grow. There were a lot of excellent artistic elements to Traplord but greater attention to coherency was needed towards the end of the performance.
After rapturous applause and a standing ovation, there was a dynamic and crowd-pleasing celebratory reprise of an earlier dance phase. It felt like the high voltage energy was transmuted, exorcised and released into space.
The creative team should be extremely proud of their achievements in bringing Traplord to fruition. Ivan Blackstock is a tour de force combining autobiographical content, storytelling and contemporary dance forms which address society's brutal treatment of black people, its perpetuation of toxic masculinity, and its lack of provision for the traumatised black community.
NEED TO KNOW:
Traplord is running until 16 April 2022 at 180 Studios, The Strand.
|
See listing