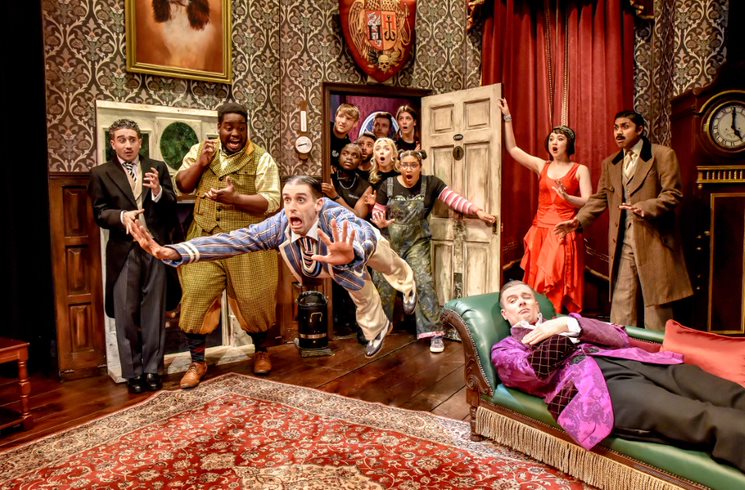 Having heard about this classic play for many years, I was curious and excited to see what all the hype was about and if it was as funny as critics previously acclaimed.
Performed in the well-known Duchess Theatre, 'The Play That Goes Wrong' promises to have you immersed in the show the moment you enter the auditorium. From missing dog posters, all over the walls, to stage managers attempting to fix the set before the actors begin their performance.
The play itself is almost a spoof of a classic murder mystery story. The story follows an amateur dramatic group performing their production of 'Murder at Haverham Manor'. Their production is a whodunit about a wealthy man who is murdered at his own engagement party, and the detective must work out who did the crime.
The group has put on various plays in the past (and failed miserably), so their director Chris Bean (Mikhail Sen) is determined for this performance to go smoothly. Of course, the opposite happens and everything goes wrong. From missed lines to props breaking, the play is looking like it will be Chris Bean's worst one yet.
The play takes a turn for the worse when one of the lead characters falls unconscious, forcing the stage manager (Ashh Blackwood) to take over the role. Although she is apprehensive to perform at first, she starts to enjoy her newfound talent and will do everything she can to keep her new role (even if she must cause havoc). As the whodunit play that the group performs unravels, there are explosions, and fights whilst the stage starts to literally collapse, forcing the group to risk it all for their annual performance.
I am not a huge fan of slapstick comedy, and this play was full-on slapstick. It was a merge of Charlie Chaplin meets Fawlty Towers. However, the 99% White audience found every single second of the play hilarious – whilst I barely found one second funny. I started to wonder if I had no sense of humour, or whether humour was a personal/cultural experience. Either way, the jokes felt silly, cheap, and overrated.
Part of the reason why I struggled to laugh along with the audience was the problematic nature of some of the jokes and characters. Two of the visibly non-white actors; an Asian Detective and a Black Stage manager – both had caricature accents, whilst all other characters had neutral British or American ones.
The moment Inspector Carter/ Chris Bean (Mikhail Sen) opened his mouth the audience was roaring with laughter. He wasn't saying a joke but had a stereotypical Indian accent (think Apu in the Simpsons). As he continued to talk, I started to wonder why the director thought placing this accent on him would add benefit to the play other than to gain cheap laughter. The same thought resonated when I heard Annie (Ashh Blackwood) the stage manager's accent – which was a stereotypical Jamaican accent.
Every word she said resulted in the audience laughing. It frustrated me that these accents were only placed on their two ethnic characters and made me feel extremely uncomfortable. Watching these characters get laughed at for their accents reminds me of how racist Britain can be and how bold they are when it comes to discriminating and poking fun at people's cultures and races. It was a poor directional choice which left a sour taste in my mouth.
Although overall I was disappointed in the play, due to its racist undertones, I did enjoy how well the stunts were performed. Every disaster that happened on the stage was performed to perfection. The actors worked as a team to ensure no one was hurt and moved around the space (whilst props were flying around) seamlessly. The Set designed by Nigel Hooks was created perfectly for disaster and was one of the highlights of the play.
Although I found the story predictable and the jokes forced and silly, I can appreciate how hard the actors and creatives worked on this story. I think the play needs to rethink its accent choices, particularly when these are only being used as cheap laughs and add nothing to the character – especially if they want to diversify their audience. However, if you have older kids, or like shows like Fawlty Towers and want a light-hearted show to watch – then this may be one for you.
NEED TO KNOW: The Play that Goes Wrong is at the Duchess Theatre until 2 April 2023